About this Event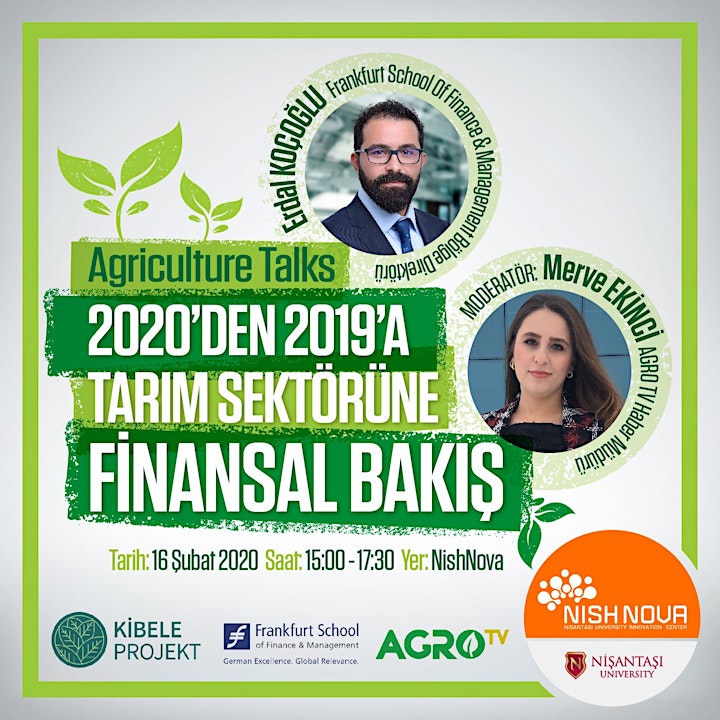 Agriculture Talks; 2020'den 2019'a Tarım Sektörüne Finansal Bakış
(TR)
Kibele Projekt tarafından organize edilen Agriculture Talks etkinliği 16 Şubat günü Nişantaşı Üniversitesi ev sahipliğinde ve AGRO TV Medya Partnerliğinde gerçekleşecek.
AGRO TV Haber Müdürü Merve Ekinci moderatörlüğünde gerçekleşecek etkinlikte konuğumuz; Frankfurt School Of Finance Management Bölge Direktörü Erdal Koçoğlu olacaktır.
Etkinlikte; 2020'den 2019'a Tarım Sektörüne Finansal Bakış konusu ele alınacaktır.
--------
(EN)
The Agricultural Talks event will take place in Nishnova on February 16, between 15:00-17:30. Our guest will be Erdal Koçoğlu, Regional Director of Frankfurt School of Finance & Management, at the event which will be moderated by Agro TV news manager Merve Ekinci. The event will cover the Financial Perspective on Agriculture Sector from 2020 to 2019.
The event organized by Kibele Projekt. The media partner of the event Agro TV.
Erdal Koçoğlu Kimdir?
(TR)
Erdal Koçoğlu, kariyerine girişimci olarak başlamasının ardından 2008 yılında Frankfurt School of Finance & Management'a katılmıştır. Farklı projelerde proje müdürü, kıdemli proje müdürü, iş planlama uzmanı, finans uzmanı, tarımsal kredilendirme uzmanı ve takım lideri gibi rollerin yanı sıra şu anda Frankfurt School Bölge Ofisi Direktörü olarak görev yapmakta olup Türkiye, Azerbaycan, Kıbrıs, Gürcistan, Kazakistan ve Çin'de büyük çaplı teknik destek ve araştırma projelerini yürütmekte ve 80 kişilik danışman ve çalışan kadrosunu yönetmektedir.
Şimdiye kadar Frankfurt School'un tarım finansmanı, KOBİ finansmanı, kadın girişimci finansmanı, mikrofinans, kredi garanti sistemleri alanlarında birçok projesini başarıyla yönetmiş olan Koçoğlu'nun çeşitli sektörlerde iş planlaması, kapasite geliştirme, kredi skorlama ve finansal modellemeler üzerine de çalışmaları bulunmaktadır.
Koçoğlu, bankaların tarımsal kredi kararlarını vermesine yardımcı olan bir tarımsal kredilendirme – değerlendirme sisteminin kurulmasına destek sağlamıştır. Bunun yanı sıra farklı ülkelerde tarımsal değer zinciri finansmanı konseptini geliştirmiştir. Kadın girişimciler, KOBİ'ler, mülteciler ve tarımsal üreticilerin finansmana erişimi için özellikle AB, EBRD, EIB, EIF, AFD, KfW ve Dünya Bankası projelerini yürüterek danışmanlık, proje uygulama ve izleme konularında ulusal ve uluslararası tecrübe kazanmıştır.
ODTÜ İşletme lisansının yanı sıra, aynı üniversitede Avrupa Çalışmaları alanında yan dal yapan Erdal Koçoğlu, Lund Universitesi'nde Avrupa İşletme Hukuku alanında yüksek lisans eğitimini tamamlamış ve halen finans alanında doktora çalışmalarını sürdürmektedir.
-------
(EN)
Mr. Erdal Kocoglu joined Frankfurt School of Finance & Management, a leading private university of Germany, in 2008 and currently works as the Director of Turkey Regional Office in International Advisory Services department of Frankfurt School. He manages a large technical assistance project portfolio in Turkey, Azerbaijan, Kazakhstan, Georgia and China and a team of over 80 experts in various projects. Credit guarantee schemes, agricultural finance, SME finance and women in business are the core competences of Mr. Kocoglu. He holds a MSc. Degree in European Business Law, a BSc. Degree in Business Administration and a Minor Degree in European Studies. He is currently pursuing his PhD in Business Administration.