Description
Agriculture plays an important role in society. Because of our farmers, we have food to eat on our tables. Agriculture is a big chunk of the Philippine economy as an agricultural country, and yet studies show that there is a lack of interest among the youth to go into agriculture.
The digital age has proven that young people can revolutionize agriculture through technology. Award-winning Filipino agritech startups like Cropital and Uproot, are making going into agriculture cooler and funding easier for our local farmers.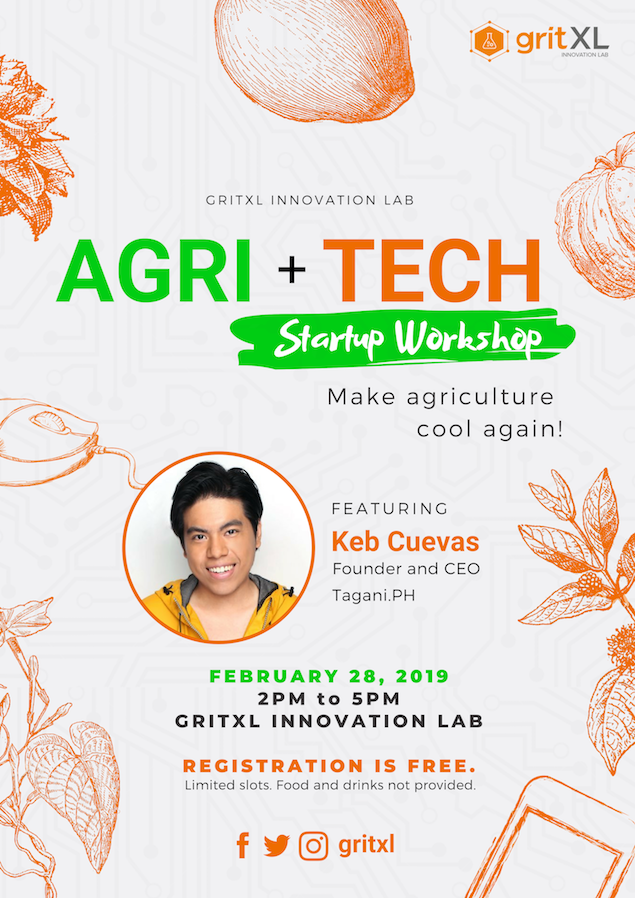 This February 28, GritXL presents Agri + Tech: Make Agriculture Cool Again, a startup workshop that introduces college students and young professionals in Eastern Rizal into how they can merge technology and agriculture and help our agricultural sector to rise up.
Featuring Keb Cuevas, CEO of Tagani.PH, this event includes a discussion on the basics of agritech and agri-based technopreneurship. Aside from this, the participants will also be part of a startup workshop that enables them to form teams and generate startup ideas and pitch it to a panel of judges during the event.
Registration is free, but slots are limited to 40 people. Signing up means you are required to attend the event. No-shows can be potentially blacklisted for our future events.
Please also be advised that since this is a FREE AND OPEN EVENT, food and drinks will not be provided at the venue.