Event Information
Location
Great Oak Cohousing
500 Little Lake Drive
Ann Arbor, MI 48103
Fundraiser for farm-to-school education non-profit in Ann Arbor area.
About this event
AGRARIAN ADVENTURE'S 5th ANNUAL HARVEST BRUNCH on Feb. 9 from 10 AM to 1 PM at Great Oak Co-housing:
This fundraiser event will support the work of The Agrarian Adventure in partnering with K-12 schools to enrich students' connection between the foods they eat, their personal health, and the health of their communities and the environment through farm-to-school programming and seedling distribution to school gardens.
Back by popular demand is Chef Chris Chiapelli (Zingerman's Roadhouse, Ross School of Business Dining), who will be using ingredients from some of our favorite farmers and food producers in the area, such as Tantre Farm, Fluffy Bottom Farms, Old Brick Farm, Granola Tree, The Brinery, etc.
Attendees are encouraged to purchase tickets in advance (which help us determine the number of people who will attend). The suggested donation is a sliding scale of $15-$30/person ($5 for children 10 and under). Tickets will also be sold at the door via cash or PayPal.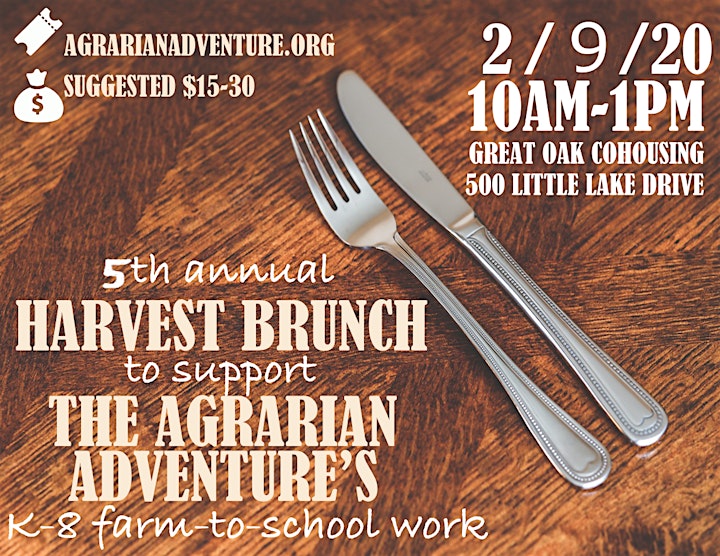 Date and time
Location
Great Oak Cohousing
500 Little Lake Drive
Ann Arbor, MI 48103