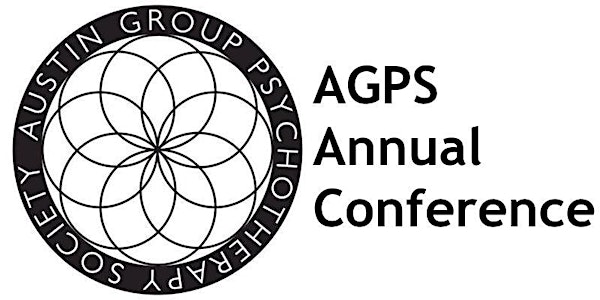 AGPS Annual Conference "The Integrated Group Leader: Mindful Leadership Using Internal Family Systems and Modern Group Therapy"
When and where
Location
DoubleTree by Hilton Austin University Area 1617 North Interstate 35 Frontage Road University Hall Austin, TX 78702
Refund Policy
Contact the organizer to request a refund.
Eventbrite's fee is nonrefundable.
Description
with

Yoon Im Kane, LCSW, CGP
---
CEUs (including 3 Ethics credits)

available for Social Workers, LPCs, LMFTs, & Psychologists.

EARLYBIRD Prices Avaialable until October 4, 2019
EVENT DESCRIPTION

As the central figure in the group, the leader regulates the group's collective nervous system. With so many emotions, projections, and transferences in group, it is easy for the leader to disintegrate and become more of a member than a leader. This can happen through over-identifying, over-empathizing, or becoming dysregulated with countertransference. What can a group leader do to stay grounded enough to anchor the group? How can a group leader both make space for the group's emotional turbulence and contain it when needed?
By integrating an Internal Family Systems (IFS) model with a modern group approach, this conference invites participants to work through resistances that inhibit mindful group leadership. Modern bridging and joining techniques combined with IFS interventions, such as unblending protectors and updating parts, will be demonstrated in a group process format. Participants will learn to work with their own defenses and habitual reactions while staying open-hearted and curious enough to navigate difficult relational moments. Through both didactic and experiential learning, we will explore how group leaders can model an integrated intrapsychic system by acknowledging and working with their own parts as they come up in group.

SMALL GROUP EXPERIENCE
Each person attending the conference will participate in a small group led by highly skilled senior members of our group community. Small group experiences provide all participants with an opportunity to experience the unique dynamics and benefits of group work firsthand. The purpose of this activity is to provide a rich context for development that deepens understanding of our clinical work, our clients, and ourselves. It can remind us of our clients' perspective as a participant and give exposure to the facilitation style of other seasoned group leaders.

SMALL GROUP LEADERS / GROUP OBSERVERS
Details coming soon...
About the Presenter:
Yoon Im Kane is a Yale University trained psychotherapist and the founder and CEO at Mindful Psychotherapy Services, a private outpatient therapy center with offices based in Manhattan. Yoon teaches and supervises clinicians and provides psychotherapy to individuals, couples, and groups. Yoon is passionate about group therapy and has extensive training in modern analytic group psychotherapy through the Center for Group Studies, is a Certified Group Psychotherapist (CGP) through the American Group Psychotherapy Association, and has completed internal family therapy training through The Center for Self Leadership. Yoon integrates both approaches into her workshops, presentations and trainings at national conferences.
Learning Objectives
1. Identify the parts of the self and conceptualize individual and group resistance through an IFS lens.
2. Identify three ways group leaders can model an integrated intrapsychic system, such as by acknowledging their own parts as a group leader and utilizing parts work with members.
3. Describe ways to integrate the modern analytic techniques of bridging and joining with IFS interventions to cultivate immediacy.
4. Describe how the group leader can use therapeutic self-disclosure in alignment with professional and ethical standards.
Conference Schedule
Friday 1:30pm - 8:30pm
1:30 - 2:00pm Arrival and registration
2:00 - 5:45pm Lecture, Demonstration Group, and Discussion
5:45 - 7:00pm Light dinner (Provided)
7:00 - 8:30pm Small Group Experience and Sign out

Saturday 8:30am - 5:45pm
8:30 - 9:00am Sign in, Continental breakfast, Networking
9:00 - 11:30am Lecture, Demonstration Group, and Discussion
11:30 - 12:45pm Small Group Experience
12:45 - 2:00pm Lunch (Provided)
2:00 - 3:30pm Demonstration group, Debriefing and Discussion
3:45 - 5:45pm Small Group Experience, Closing remarks, and Sign out
Refunds: To cancel your registration, please send a request by email to: agps.events@gmail.com. Ticket cost, less the Eventbrite fees, will be refunded for requests received at least 2 weeks before the start of the event.