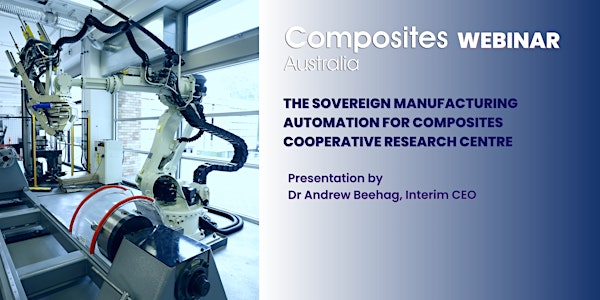 AGM & WEBINAR - The Sovereign Manufacturing Automation for Composites CRC
Join us to learn more about SoMAC - the largest investment in advancing Australian composite technology by any government thus far.
About this event
Composites Australia AGM - Followed by the SoMAC Webinar
WEBINAR Presented by Andrew Beehag, Interim CEO of SoMAC.
Earlier this year, the SoMac CRC was awarded a $70 million grant by the Federal government to transform established composite technology capabilities into an automated, digitally-enabled industry.
The SoMAC bid was led by UNSW Sydney in partnership with five Australian Universities and the Australian Nuclear Science and Technology Organisation (ANSTO) as well as 26 key industry partners that collectively pledged a further $190 mill investment in the initiative.
In this webinar, Dr.Andrew Beehag, Interim CEO of SoMAC will outline how the initiative will co-invest in research and development to digitally-enable composite manufacturing technology.