AGM of Malaysian Community Pharmacy Guild (MCPG) 2017
Actions and Detail Panel
AGM of Malaysian Community Pharmacy Guild (MCPG) 2017
Sat, February 18, 2017, 9:00 AM – 5:00 PM MYT
Description

---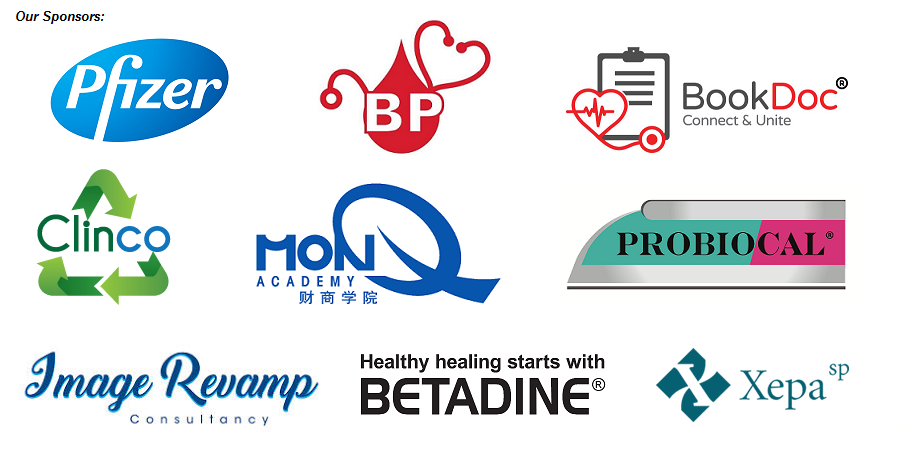 ---
Happy New Year & greetings from MCPG!
A lot of development and innovation as well as accomplishments had been achieved since the new council took office last year. We successfully co-organised with Malaysian Pharmaceutical Society (MPS) the International World Pharmacists' Day (IWPD) Convention as well as Run For Your Health in Sept 2016.
We are pleased to inform that Malaysia Community Pharmacy Guild (MCPG) will be organizing our 12th Annual General Meeting (AGM) 2017.
The theme of this AGM is "The Path of Success Towards Community Pharmacies". This year, the AGM will focus to find the success factor of community pharmacy and discuss on the dilemma or predicament of community pharmacy in both the pharmacy practice as well as business management.
We will have speakers from different field not mainly focusing on pharmaceutical but also from medical, finance, tech apps as well as management to share their knowledge and experience of pharmacy practice and business management with interactive and engaging activities that will surely prove to be an unforgettable experience for all members and invitees. We are expecting a crowd of 500pax for this entire event whereby participating pharmacists in this event will earn their compulsory CPD points.
We eagerly anticipate and look forward to your positive response and continuous support for our AGM. Your presence will definitely make it a more joyful and meaningful event.
We are the future of pharmacy, and it is our responsibility to manage the changes, challenges and opportunities for future pharmacists.
Thank you.
Regards,
Lovy Beh
President
Malaysian Community Pharmacy Guild (MCPG)
---
AGENDA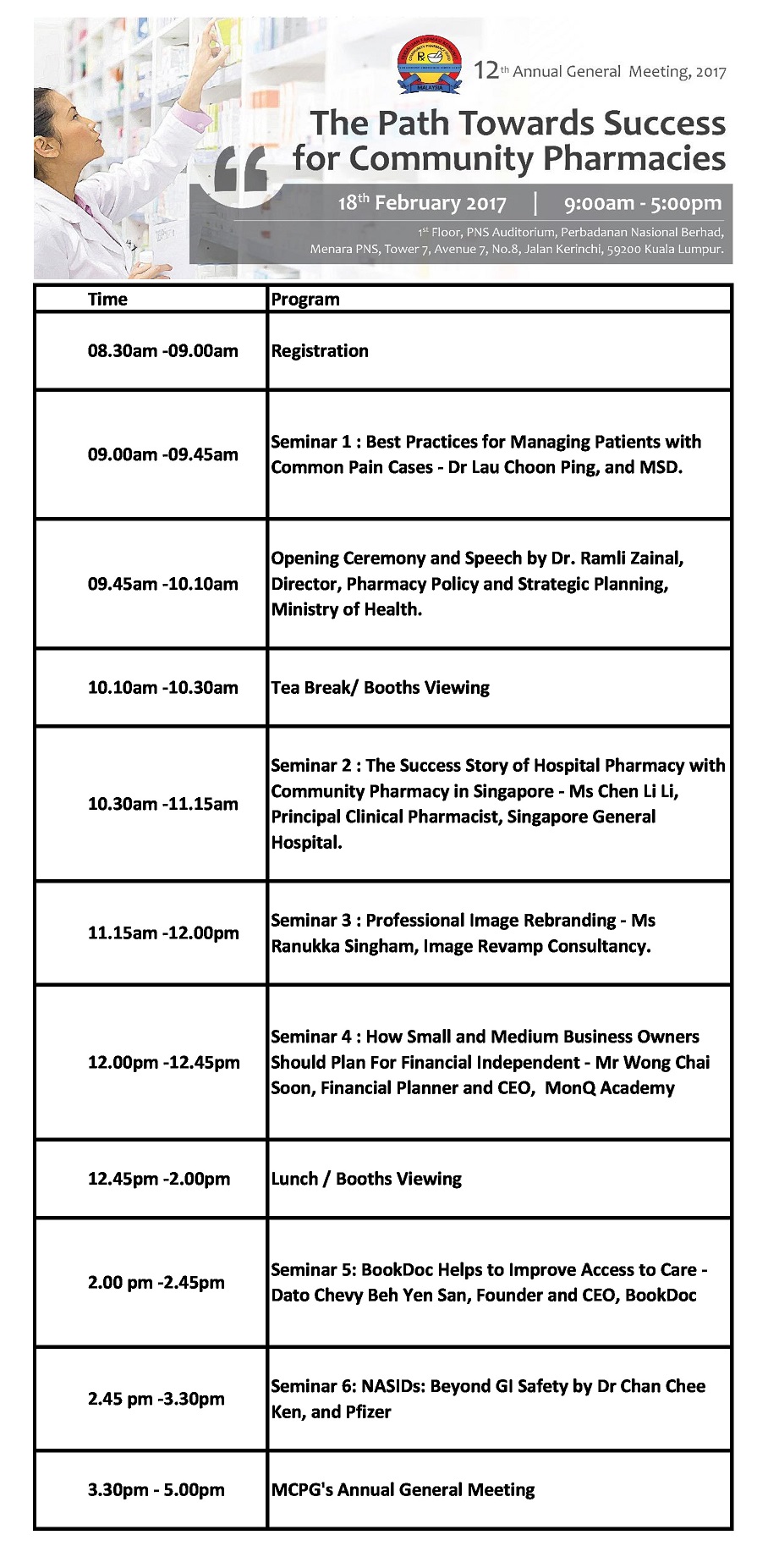 ---
MERCHANDIZE:
I'M A PHARMACIST Dri-Fit T-Shirt of International World Pharmacists' Day 2016


*Self collection at the event venue. No delivery shall be arranged.
---
Introduction of Our Speakers:
Ms Chen Li Li
Clinical Pharmacist, Singapore General Hospital
Ms Chen Li Li is a principal clinical pharmacist with Singapore General Hospital since year 2005. She is also an ambulatory care pharmacist, specializing in anticoagulation management, rheumatology monitoring clinic and medication management in geriatric population. She achieved the designation of Certified Geriatric Pharmacist (U.S.A.) since 2008. Ms. Chen graduated from the Science University of Malaysia with a BSc in Pharmacy (Honours) in 2003. She has also obtained MSc in Clinical Pharmacy with thesis entitled: Potentially Inappropriate Medications Use among Older Residents at Penang Nursing Homes. Ms. Chen is actively involved in geriatric research with geriatricians, including drug pattern evaluation study in older patients with falls and adverse drug related hospitalizations. She is the primary investigator of Project Octo-Pills, which looks into the management of polypharmacy and drug related problems from hospital to community pharmacies – An Octopus Initiative for The Silver Tsunami. Project Octo-Pills was awarded the 8th Ground-Breaking Effective Moments (GEMs) Award by Singhealth group in 2015 and 2016, as part of an integral patient decanting initiatives from the outpatient pharmacy in Singapore General Hospital. She has presented her research results at several local and international scientific meetings, and has co-authored several impact factor publications. Her lifetime mission in her career as a pharmacist is to empower pharmacists from all sectors to support the community in what pharmacists do best, in promoting safe and optimal medications use.
---
Ms Ranukka Singham
Image Consultant, Iage Revamp Consultancy.
Graduating from the National University of Malaysia with a Bachelor's degree in Optometry, she has 6 years of strong optical & pharmaceutical background as well as having trained over 1,000 retail front lines due to the nature of her job. Therefore, it is no surprise that Ranukka understands what it takes to create a good impression when it comes to client-facing professionals. Growing up, she has always found great satisfaction in being able to help others match existing pieces they have into different looks that enhance their best features and complement their overall image. Therefore It only made sense for her to bring this passion to the next level, by getting certified as an image consultant. Throughout her journey as an image consultant, she has helped many transform their image into their desired outcome. From Managing directors of big companies to business owners, Ranukka has made it possible for them to create a good strong first impression in their work and personal life. She is passionate about what she does and is very excited to share the beauty of understanding yourself better. She believes it's not about following the trend, but rather what your best attributes are and knowing how to present them the best possible way.
---
Mr Wong Chai Soon
Certified Financial Planner, MonQ Academy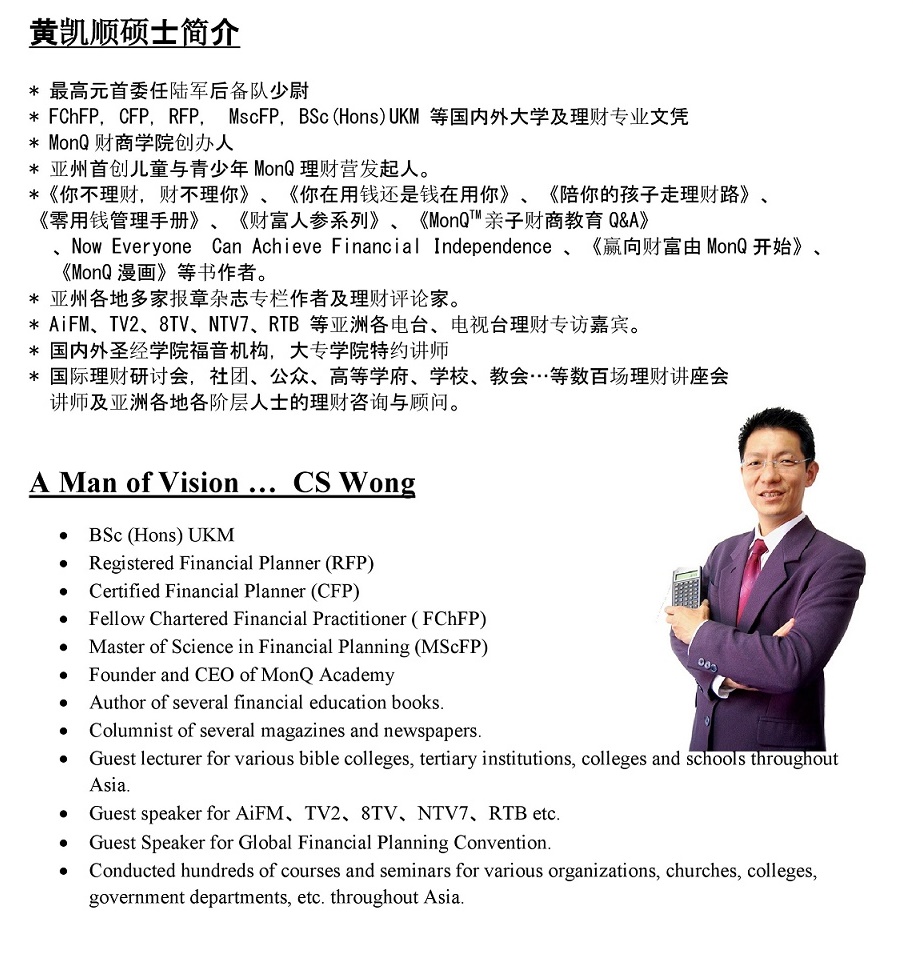 ---
Dato Chevy Beh
Founder and CEO, BookDoc
Dato' Chevy Beh graduated from University of Virginia, US in 2007 with a double major in Bachelor of Arts & Sciences in Economics and East Asian Studies. He is a Chartered Alternative Investment Analyst (CAIA). Started his career in investment banking upon graduation, as an associate with Dominick & Dominick LLC, New York, and subsequently as an analyst with the Maxim Group LLC, New York in 2008.
He joined BP Healthcare Group in 2009 as Managing Director till 2013, and left to found BookDoc, a mobile based platform that connect and unite patients and healthcare professionals.
He served as a Director on the Board of Directors of Pantai Hospital Ipoh from 2008 to 2013 before the said hospital became part of IHH Healthcare Berhad. He also served as a Director of Sunway-City Ipoh which is a JV with Sunway Group Berhad from 2006 to 2013.
Beh was awarded most promising Entrepreneurship Award at the 2012 Asia Pacific Entrepreneurship Awards (APEA) and invited to be one of the participants at the panel discussion of the Forbes Healthcare Summit hosted by Forbes media editor-in-chief Steve Forbes in New York December 2012, 2013, 2014, and 2015. In recognition of his entrepreneurship and his outstanding achievements, he was selected as the Top Nominee for the Ernst & Young Entrepreneur of the Year for the preceding two (2) consecutive years, namely, 2013 and 2014. He was also awarded as the Great Entrepreneur Brand Icon Leadership Award 2015 by the Brand Laureate, and been nominated Malaysia's Most Innovative Young Leaders Award by UCSI Scholars' Circle (U-Schos 2016).
He serves as the Industry Advisory Panel (IAP) of National University of Malaysia (UKM), on Healthcare Innovation and Technopreneurship (2015-2018), and a council member of Malaysia Retail Chain Association (MRCA). Recognized as a specialist, Beh is also the first Health Tech contributor in Asia for Forbes.com.

---
Dato Chevy Beh

BookDoc

Founder and CEO

Dr Chan Chee Ken

UM Specialist Centre

Senior Surgeon and Lecturer

Chen Li Li

Singapore General Hospital

Principal Clinical Pharmacist

Dr Lau Choon Ping

Sunway Medical and Pantai Hospital

Orthopaedic Surgeon

Ranukka Singham

Image Revamp Consultancy

Image Consultant

Mr Wong Chai Soon

MonQ Academy

Financial Independent Coach

Dr Ramli bin Zainal

Ministry of Health Malaysia

Pharmacy Policy and Strategic Planning Director