Description
Aging2.0 #30in30in30 | Sacramento Pitch Event
#30in30in30 is an initiative supported by Aging2.0 to encourage local communities around the world to host pitch events for new innovative products and services that stand to improve the lives of older adults. We are taking part by hosting one of 30 Pitch Events in 30 cities around the world in 30 days.
WHEN: 6:00 - 8:00pm on Wednesday, October 7, 2015
WHERE: The Shop, 1630 I Street, Sacramento, CA
STARTUPS: If you are interested in pitching at this event, please APPLY HERE
SPONSORS: If you are interested in sponsoring this event, please email grace@aging2.com
HOST: Lola Rain
Check our eventbrite page for locations of future Aging2.0 events.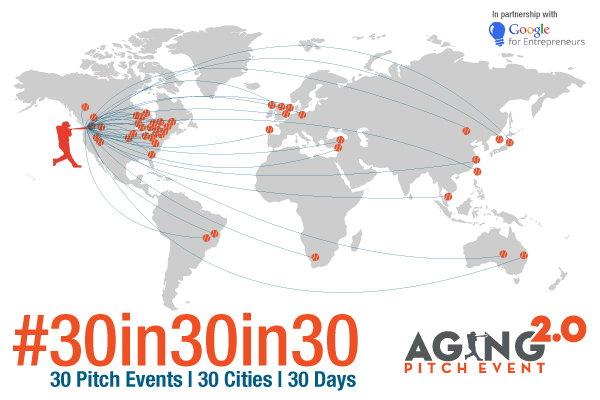 Disclaimers: By registering for, or attending, this event, you are agreeing to the following:
1. Photographs may be taken at the event and appear on social media. You are authorizing Aging2.0 to use your image, likeness and / or name on social media such as Facebook, Twitter, the Aging2.0 blog or other marketing materials in connection with the event.
2. The organizers of this event, Aging2.0, and any of their employees, volunteers, members and representatives are not responsible for any injury, loss or damage of any kind sustained by any person while participating in this event.