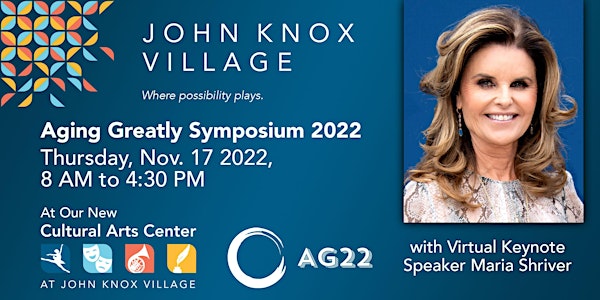 Aging Greatly 2022
"Age is just a number, as the saying goes, but it's also a reminder that we have no time to waste." - Maria Shriver
By John Knox Village of Florida
Date and time
Thursday, November 17, 2022 · 8am - 4:30pm EST
Location
Cultural Arts Center at John Knox Village of Florida 400 SW 3rd Street Pompano Beach, FL 33060
About this event
The Movement to Change The Narrative on Aging
Aging Greatly is a movement to change the narrative on aging. AG22 – is a premier event bringing together leaders in policy, academia, and firsthand direct service expertise in one place to explore opportunities to collaborate and design better policies, systems, products, and services to change the narrative on aging.
The goal is to better meet the needs of the members in our local and regional communities wherever they identify on the spectrum of life's journey. By bringing multidisciplinary representatives together with the community, AG22 will encourage conversation and generate collaborative initiatives in the context of health and wellbeing that will transform individuals who in turn transform their own communities.
Please visit ag22.org
_____________________________________________
Event Schedule:
7:00 AM to 8:00 AM Registration
8:00 AM to 8:15 AM Welcome and Introductions
8:15 AM to 9:00 AM Ben Nemtin, Founder of the Buried Life Movement
9:00 AM to 9:45 AM Chris Brickler, CEO MyndVR
9:45 AM to 10:00 AM Break
10:00 AM to 10:45 AM Dr. Joseph Coughlin, Director MIT Aging Lab
11:00 AM to 11:30 AM Dr. Michael Roizen, Co-Founder Real Age, Inc. and Chief Wellness Officer of the Cleveland Clinic (Virtual)
11:30 AM to 12:00 PM Dr. Alice Bonner, Director of Strategic Partnerships CAPABLE at Johns Hopkins University (Virtual)
12:00 PM to 12:30 PM Lunch
12:30 PM to 1:30 PM Lunch Keynote- Maria Shriver (Virtual)
1:45 PM to 2:30 PM Dr. Jean Accius, SVP Global Thought Leadership AARP
2:30 PM to 3:15 PM Gail Kohn, Age Friendly DC Coordinator at the Office of the Deputy Mayor for Health and Human Services
3:15 PM to 4:30 PM Isabel Hinestrosa, Manager Convergence Center for Policy Resolution
_____________________________________________
THANK YOU TO OUR SPONSORS!
Lunch Sponsor- Northern Trust
Supporting Sponsors:
J&K Cabinetry
Perkins Eastman
Moody Plumbing
 Gallo Herbert Architects
 Sun Sentinel
_____________________________________________
Directions and Parking for the John Knox Village of Florida Cultural Arts Center
The address for your GPS is: 400 Southwest 3rd Street, Pompano Beach, FL 33060
Enter through the Main Gate on Southwest 3rd Street.
Event signage and JKV employees will direct you to the appropriate parking locations on JKV's campus.