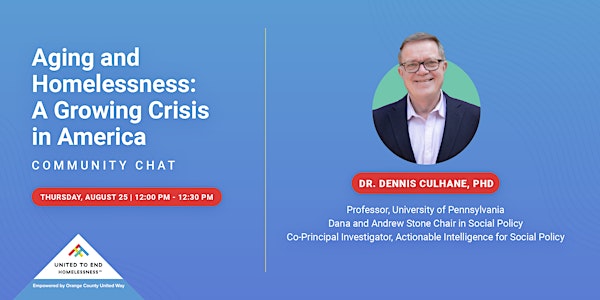 Aging and Homelessness: A Growing Crisis in America | Community Chat
Community Chats are short learning opportunities where we discuss trending topics related to homelessness in OC with local experts.
About this event
Join us for the first in a two-part series about senior homelessness!
Over the past few years, senior homelessness has been on the rise across the country, and we've seen this trend happen in Orange County as well.
In the first session of this series, we're excited to have national expert on senior homelessness, Dr. Dennis Culhane, PhD, from the University of Pennsylvania, as our guest speaker.
He has led national research about this topic and we're excited to have him present on what is happening in regards to senior homelessness, why we're seeing these increases, and what it means for communities across the country.
Join us on Thursday, August 25 at 12:00 p.m. to learn more about this growing crisis.
Additional Information
When you register you will have the opportunity to submit questions about the topic that you'd like our guest speakers to answer. We will do our best to answer as many questions as possible, but we cannot guarantee that your questions will be answered during the event.
Registration will close an hour before the event and attendees are sent the Zoom link in advance. If you miss the registration deadline, you can watch via our Facebook.