"Agility" is a contemporary response to help negotiate these uncertain times. But what further steps could be beneficial?
About this event
We live in an era subject to disruptions from technological innovation, geopolitical challenges, and climate change. Add in the latest pandemic, and these all create substantial stresses for business professionals, its leadership, and individuals.
"Agility" is a contemporary response to help negotiate these uncertain times. But, how do organisations build it, what does agility entail, and what further steps could be beneficial? In this webinar, two distinguished leaders in Singapore will share their perspectives and discuss how organisations and individuals can embrace agility to help them navigate these more uncertain times.
Our speakers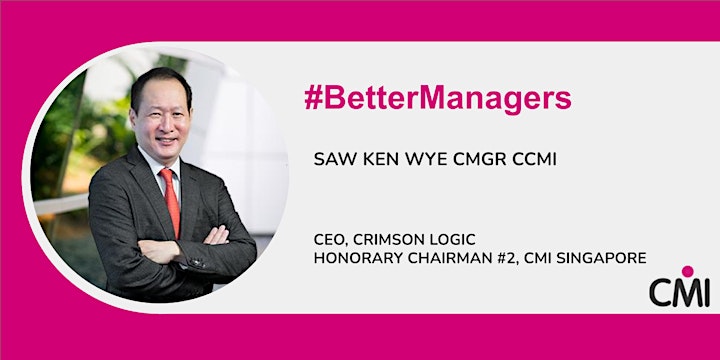 Saw Ken Wye CMgr CCMI
CEO, Crimson Logic
Saw Ken Wye is CEO of CrimsonLogic, a company focusing on solutions, products and services for cross border trade (Single Window, Customs Management Systems), Legal and Digital Government. He is responsible for leading the business teams in growing customer relationships and driving sales in regions such as Asia, Middle East, Africa, Latin America and the Caribbean. To date, the company has 19 offices worldwide.
Prior to joining CrimsonLogic in 2013, Ken Wye worked in Microsoft for nearly 16 years with his last appointment as the Vice President for Public Sector (Asia). He was responsible for the company's business with Government and Government organisations across Asia.
Ken Wye started his IT career with the National Computer Board (NCB) in 1983 and his last appointment was Assistant Chief Executive (Industry). Ken Wye is actively involved in the local Singapore IT community, and is currently a member of the Info-communications Media Development Authority (IMDA) Board. He is also the Chair of the Advisory Committee for the School of Infocomm Technology in Ngee Ann Polytechnic, and the immediate past Chairman of SGTech. He is also a council member of the Singapore Manufacturing Federation (SMF).
He is a Chartered Companion of CMI UK and an Honorary Chairman of CMI Singapore.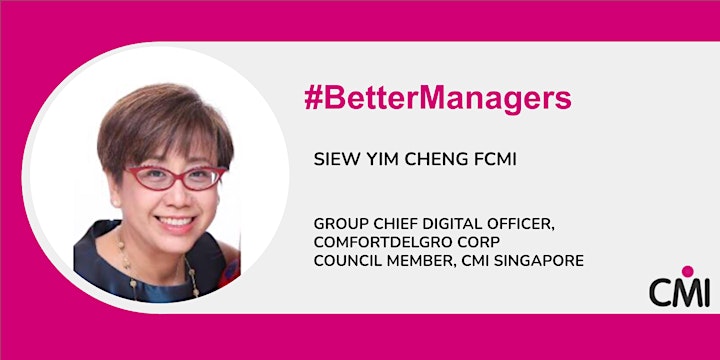 Siew Yim Cheng FCMI
Group Chief Digital Officer, ComfortDelGro Corp.
Siew Yim Cheng is Group Chief Digital Officer, ComfortDelGro Corp, leading the digital transformation of one of the largest land transport companies in the world.
Prior to joining ComfortDelgro Group, she was Global VP with Chinese greentech company, Envision-Digital, leading the development of AIoT and Smart City products and solutions.
She was Chief Digital Officer of JTC Corporation where she was responsible for the digital transformation of JTC and its estates and has a rich background in ICT and smart city.
Yim Cheng has a proven track record in both public and private sectors. Her career spans a diverse range of roles from software R&D, AI systems development, enterprise sales and marketing for Microsoft across Singapore, Asia Pacific, Greater China and Japan markets and driving digital transformation for Government and private sector.
She is Deputy Chair of Ngee Ann Polytechnic's ICT Advisory Committee, Member of Ngee Ann Polytechnic's IT & Data Sub-Committee, Council Member of the Chartered Management Institute (CMI) Singapore, member of the Industry Expert Panel for Singapore International Mediation Centre and Immediate Past President of the IT Management Association (ITMA). Yim Cheng was recognized in the inaugural SCS/IMDA SG100 Women in Tech.
Our Host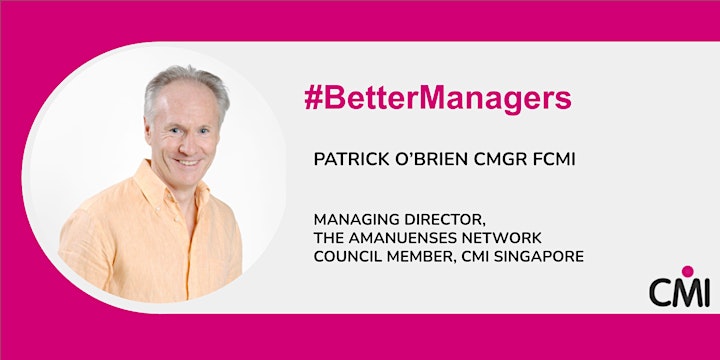 Patrick O'Brien CMgr FCMI
Managing Director, The Amanuenses Network
Patrick O'Brien is Managing Director of The Amanuenses Network Pte Ltd, a company that focuses on personal growth, and the development of "Soft Skills".
Patrick started out in business life in the land of technological capital, building computer Operating Systems. Nowadays, he works in the land of human capital, developing "Soft Skills", the Operating Systems for our Minds.
Patrick is also a Council Member of CMI Singapore.
For more information about the CMI Singapore Regional Board you can visit the Board's webpage here:
https://www.managers.org.uk/community/regional-networks/singapore/
And you can also join the CMI APAC LinkedIn Group here:
In the meantime…
If you're a member of CMI, or subscribe to our content, don't forget you can find thousands of exclusive, practical development resources in ManagementDirect. Log in here and search for a topic to get started.
Not yet subscribed?
From free newsletters packed with the latest trends, insights and tips for managers and leaders, to the full suite of invaluable tools and benefits that come with being a CMI member, we've got something for everyone. Visit our website to find out more.
Organizer of Agility in an Era of Uncertainty and Disruption