Description
Sunday, December 10
Riverdale Country School
5250 Fieldston Rd., Bronx, NY 10471

Sunday, April 22
location TBD



Overview
The Agile Youth Challenge™ is a hackathon for students in grades 6-12, at any NYC or area school, with any level of programming experience. AYCNYC™ connects students to industry experts, developers, and designers from all over New York City.
AYCNYC was founded by members of several NYC schools. It grew out of the organizers' desire to blend ongoing learning experiences into the immediate and intense challenges of a hackathon. AYCNYC's goal is to bring teams together in friendly competition, give them a chance to evaluate and learn from their performance back at school, and then present another chance to compete and apply what they've learned.
Why "Agile" Youth Challenge?
Agile software development philosophy encourages a nimble, responsive, and iterative approach to coding. We employ some of these principles in the AYCNYC by encouraging participants to work in sprints, iterate on their work, and quickly learn from failure. More details on Agile philosophy are here.
Activities
Your team will develop a solution to a problem in any language / technology of your choice. You'll work with partners, in sprints, throughout the day. By the end of the day your team will create a working prototype of your solution.
For instance, suppose you choose to improve the experience of studying a foreign language. You might design and develop a learning app that mimics the addictive gaming experience of Flappy Bird but simultaneously teaches vocabulary. Or you might design and develop a system that connects you with other language learners (utilizing social networking APIs to extend an existing social network's reach) to build spoken language skills in an engaging and authentic way.
You can use any technology to solve the problem. Platforms could include desktop, web, and/or mobile; languages could include Java, JavaScript, Objective C, Swift, PHP, Processing, Scratch, Snap!, C#, or any others; physical devices could include computers, tablets, mobile devices, robots, boards, droids, spaceships… If you bring it, you can use it.
During the day you'll have the option to consult on your project with developers, designers, entrepreneurs, and teachers. They won't solve your problems for you but they'll help you pick your way through the difficult problems you experience.
At the end of the day you'll present your work to the judges. If you are selected as a winner you'll present your project to everyone. Prizes will be awarded for several levels of age and ability, as well as a single audience favorite. And everyone will take home some great swag (physical, digital, and experiential) donated by our sponsors.
Schedule
8:30am - Registration
9:00 - Welcome / Keynote / Agile intro
9:30 - Brainstorming
10:15 - Sprints begin
12ish - Working lunch
3:00 - Judging
4:00 - Presentations
5:30 - Day ends

Team structure
Ideal teams have four members but can be three to five people. Your school can register as many teams as you like. We hope you'll participate in both days -- the whole point is to learn from the first experience so you can improve in the second -- but you can join either one.
Selection of teams will be made according to timing of application (first-come, likely first-served) as well as space and resource limitations. Teams that can commit to both dates may be given a higher priority for selection. But we hope to accept as many teams as we can cram in the doors!
What should I bring?
Please bring all the technology you'll use during the event. You'll need a laptop. Perhaps tablets or mobile devices. Any hardware you might incorporate: Arduino boards, sensors, wires, cables, etc. If your computer has a non-standard video out port, bring a VGA or HDMI adapter. And bring anything else you might need. Better to have it there just in case.
If you do not have the equipment you need, you must specify this in your application. We can probably help, but we'll need to plan ahead.
We'll provide pizza, drinks, and snacks throughout the day. You don't need to bring food, though you're welcome to do so if you prefer or if you have any dietary restrictions.
Cost
We want to give as many kids as possible the opportunity to participate in AYCNYC™, and we want all participants to go home with awesome memories and some really cool prizes... especially if they can't afford to participate in other hackathons due to the cost. We are committed to supporting all students and you can sign up for free if necessary! However, AYCNYC™ is a not-for-profit event; every paid entry helps offset our operating costs (like the suggested donation at a museum). So please help support us if you can.
Transportation
On Dec 10 we'll provide free buses from the Upper East and Upper West Sides of Manhattan to Riverdale Country School and back. After you register on Eventbrite you'll be directed to a form that'll collect more information about your team including travel needs.
Sponsorship
AYCNYC needs your help! This is an all-volunteer, zero-budget event. Therefore we need the following (and you could be more than one!):
"Sponsors"
Sponsors provide prizes in the form of physical stuff (e.g. t-shirts, laptop stickers), digital stuff (e.g. coupons to coding-related sites), or experiential opportunities (e.g. site visits, internships, courses, virtual mentoring or teaching sessions). Sponsors can also help provide financial assistance to pay for things like drinks, lunch, and snacks. And Sponsors get to showcase their company to the participants -- by talking to them, bringing brochures or signs, giving away goodies, or some other method -- as well as with their logo on this page and on our poster at the event.

Note: prizes are awarded to teams, so please consider how you will accommodate the 3-5 students on each team. You can not give a single-person prize, but giving multiple individual items (e.g. 10 coupons for winning teams) is fine.
"Consultants"
Consultants work with the coders during the day, help them through tricky problems, and inspire them to keep going. They then evaluate the coders' work and select finalists and winners at the end of the day.
2017-18 HOSTS AND SPONSORS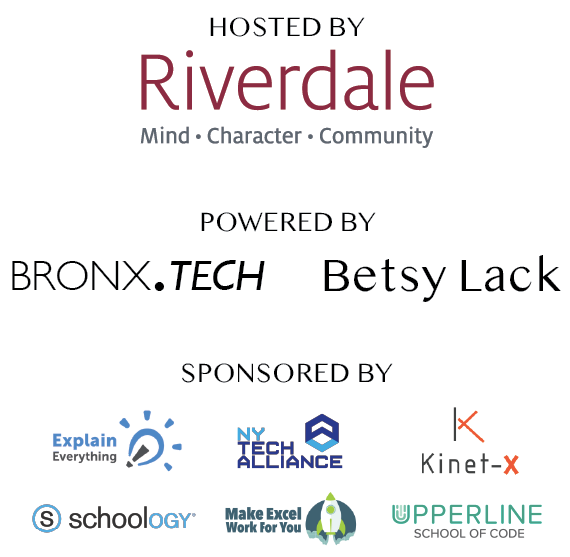 Previous sponsors
Amazon Avenues: The World School Microsoft Bronx.TECH Upperline School of Code Genius NY Tech Alliance Codesters CDW-G Laconia Capital Group Riverdale Pie Guys Code/Interactive Samsung Global Innovation Center ipo LuckyDiem NextGenVest wheelhouse hopscotch tutorlist GoJimGo Fornes Technologies techstars LiquidTalent Wonder Zahn Innovation Center StartEd Accelerator Kinet-X Code/Interactive