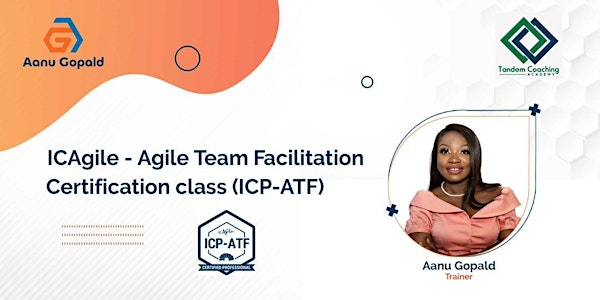 Agile Team Facilitation Certification (ICP-ATF)
A virtual interactive experience focused on the mindset, roles and responsibilities of an agile team facilitator.
Refund Policy
Refunds up to 7 days before event
About this event
The Online Agile Team Facilitation Certification training (ICP-ATF) is a highly interactive and deeply experiential 14-hour program that focuses on the mindset, roles and responsibilities of an agile team facilitator. This course is taught using techniques from "Training from the Back of the Room" and "Liberating structures", among others. The variety of activities and feedback sessions will help you acquire essential agile team facilitation mindset, skills such as maintaining neutrality, facilitator stances and anti-patterns, different facilitation techniques, active listening, powerful questioning and facilitation tools for small or large groups. A lot of attention is given to the exchange of experiences and, above all, to the skills required to becoming an exceptional facilitator in the Agile environment.
We have built this course around the steps involved in facilitating a meeting: Before, During and After so you will have a broad perspective of your role as facilitator and your responsibilities for ensuring the meeting meets the outcomes and purposes as defined.
Participants will take away group facilitation tools and techniques to design effective meetings and workshops that engage the entire audience and drive towards agreed-upon outcomes. Participants will develop their facilitation skills and capability to foster collaboration and enable self-organizing teams. They will gain practical experience facilitating specific agile practices. Experience activities, games and discussions that will focus on:
The Scrum Master as an Agile Team Facilitator
Mindset, Skills, and Tools for Facilitation
Creating a Collaborative Space.
Effective Facilitation of Agile Meetings
Facilitating Problem Solving
Facilitating Decision Making
Facilitating Collaboration
Facilitating Team Maturity
Group Facilitation Tools and Techniques for Effectively Designing Meetings and Workshops that Both Engage the Entire Audience and Drives Toward Desired Outcomes
What makes this course different?
Even online, our courses are highly immersive, which means that you will not see many PowerPoint presentations. You are put to work immediately and start learning by doing and experimenting with the tools explained and modeled by your peers and your ICAgile Accredited Instructor.
Certifications:
This is accredited by the ICAgile (International Consortium for Agile) as fulfilling all Learning Objectives in the Agile Team Facilitation track.
ICAgile Certified Professional - Agile Team Facilitator (ICP-ATF)
Professional development Unit & Scrum Education Unit
Successful completion of this Boot camp enables you to be eligible for the following:
14 Scrum Education Units toward Certified Scrum Professional (CSP)
14 PDUs toward the PMI-ACP or for PMP continuing education