Agile Strengths Based Team (Clifton StrengthsFinder assessment with 34-Theme)
About this event
การเตรียมพร้อมเพื่อไปสู่อนาคตหลีกเลี่ยงไม่ได้ที่ทุกคนจะต้องมีความคล่องตัว (agility) และปรับเปลี่ยนให้ได้เร็ว ดังนั้น DNA ของทีมจึงเป็นกลไก สำคัญในการสร้างทีม Agile ให้แข็งแกร่ง สามารถส่งมอบผลงานได้อย่างประสบความสำเร็จ ทีมมีส่วนร่วม และทีมมีความสุข
หลักสูตรนี้ จะช่วยให้คุณได้เรียนรู้ และเข้าใจพรสวรรค์ที่แตกต่างของคุณ ซึ่งช่วยให้สร้างกลยุทธ์ พัฒนาให้เป็นจุดแข็ง และยกระดับความสำเร็จสู่เป้าหมายที่ใหญ่ขึ้น และยั่งยืนขึ้น
หัวข้อหลักสูตร
- ผู้นำที่ประสบความสำเร็จพัฒนาศักยภาพอย่างไร
- ทำความเข้าใจพรสวรรค์ของคุณ
- เริ่มต้นที่พรสวรรค์ จบที่จุดแข็ง
- การพัฒนาทีม Agile ที่ประสบความสำเร็จจากจุดแข็ง
- กลยุทธ์ในการจัดการจุดอ่อน
คลาสนี้เหมาะสำหรับ:
- Agile Leaders, Product Owner (PO), Scrum Master (SM)
- Agile Team Members
- All interested persons who want to achieve through their strengths
สิ่งที่ผู้อบรมจะได้รับ
ผู้อบรมจะได้ทำแบบประเมิน Clifton StrengthsFinder 34 มูลค่า 1,800 บาท
อบรมวันเสาร์ที่ 30 ตุลาคม เวลา 09:00 - 12:00
อบรมผ่าน Zoom Application
คลาสเล็กๆ อบอุ่น มาสนุกด้วยกันนะคะ
==============================================
Today's context and the future of work requires agility. DNA of the Agile Team is vital to build a successful, happy, and engaging workplace.
This program will help you understand your unique talents and able to create a strategy to leverage your achievement to the next level.
Program outline:
- How successful leaders maximize their potential
- Understand your unique talents
- Start from talents, end with strengths
- Develop Strengths-Based Agile Team
- Strategies to handle weaknesses
Suitable for:
- Agile Leaders, PO, SM
- Agile Team Members
- All interested persons who want to achieve through their strengths
Date : Sat, 30 Oct (09.00 - 12:00)
Online class with Zoom application
Including :
* Participants will take a Clifton StrengthsFinder assessment with 34-Theme Report value THB 1,800.-
Instructed by Gallup's Certified Strengths Coach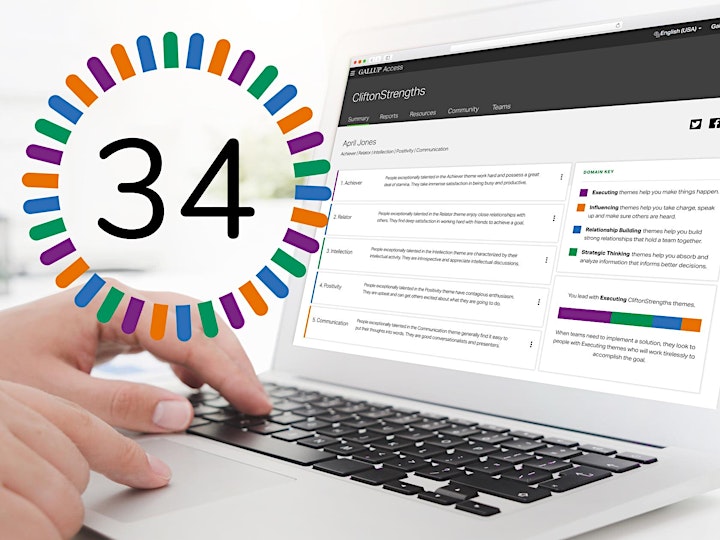 Organizer of Agile Strengths Based Team (Clifton StrengthsFinder assessment 34-Theme)