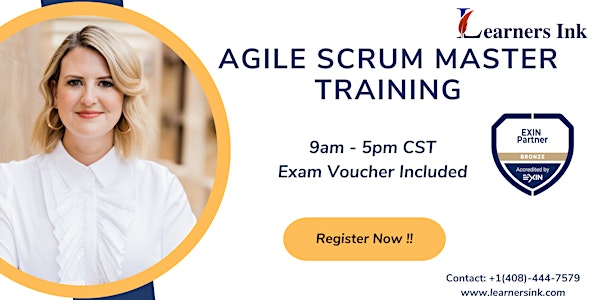 Agile Scrum Master Training -Manchester, NH
Agile Scrum Master Live Virtual Training
About this event
The EXIN Agile Scrum Master is a unique certification that combines understanding of agile principles and applying scrum practices. It tests the competences required to facilitate, coach and enable a cross-functional team as a Scrum Master.
Imagine a team that looks to you as a leader. They are radically collaborative, focused on creating value, driven to raise the bar and continuously working to improve. With a ASM from Learners Ink, you will learn valuable leadership skills that will enable you to:
• Agile and Scrum concepts including the Agile way of thinking
• Use the Scrum framework effectively, employing the latest in best practices
• Keep your team focused on the problems they are trying to solve
• Set and control work in process limits
• Maximize the business value your team produces
• Improve the performance of your teams
• Identifying impediments, deviations, roadblocks and other obstacles that
influence the progress positively and negatively
• Shorten meetings while making them incredibly productive
and so much more!
During the training event, we will cover the following topics:
• Agile Way of Thinking
• Scrum Master Role
• Agile Estimating, Planning, Monitoring and Control
• Complex Projects
• Adopting Agile
What you will receive:
• High-quality content.
• 100% Pass Guarantee.
• End of Chapter Quizzes.
• Downloadable courseware.
• Learn from industry experts End of Chapter Quizzes.
• Exam Voucher.
• 24/7 Support via Email, Online Chat, Telephone.
For Remote Training Events:
You will receive an email about five days before the training event begins. This email provides the Zoom link, the student handbook, and other information about the class and the certification.
Private Events
If you need something geared specifically for your team, just contact us at info@learnersink.com. We routinely hold classes for 5 or more people in private settings and at a lower price than our regular registration prices.
Register on or before August 10th to avail Early Bird Price: USD899
You can also contact our Training Coordinator at byrne@learnersink.com or +1(408)-444-7579 for course details.