About this Event
The digital transformation, the agile transformation, startups scaling fast, the talent war, the future of work, agile HR! Wow!
HR teams are under a lot of pressure right now with companies wanting to change and speed up and it can be overwhelming to feel that what you learned at the university is not helping you to cope with the new challenges.
Breath. We've also been there.
Seyda and Madlen worked for two intense years in the headquarters of Nestlé redesigning and digitalising internal processes and services. New CEO, New strategy. They wanted to be faster to market so we, the Internal Innovation Team, needed to help the company adapt to these new requirements, at a global scale. So we know how overwhelming it can get.
That's why in this training we want to share with you all the strategies and methods and the customized Design Thinking approach we used to help more than 20 global teams to improve and digitalise their processes to meet the business goals while making colleagues have a better experience at work.
💎WHAT YOU GET:
This is not a generic Design Thinking training made by agencies who have never experienced the struggles of changing an organisation from within. Who haven't dealt with cumbersome processes, the complexity of multiple stakeholders and their skepticism.
We have curated a toolbox of Design Thinking Methods specially for HR Teams inside organisations. We've collaborated with HR professionals and structured our experience into best practices to help you work more effectively with your team, delight your stakeholders and make your company achieve its goals.
The training is a hands-on experience where you work in teams to solve HR challenges brought by you. You will learn to:
-Frame your projects to define the right scope to contribute to your company's strategy, involve the right people and use your time effectively.
-Improve or create processes and services in an agile way with your team to reduce re-work and complains.
-Engage your multiple stakeholders to understand, love and support your new processes.
All with an easy-to-follow approach and a comprehensive toolbox.
⚡️AFTER THIS TRAINING YOU CAN:
Design new processes and ways of working for & with multiple stakeholders
Make administrative practices more pleasant for your colleagues
Make any stage of the Employee Life Cycle more people-friendly
Create a competitive candidate experience to attract exceptional talent
Digitalize processes and gather requirements to choose the right tool
💥WHY SHOULD YOU JOIN OUR TRAINING:
If you're already working with agile principles and your colleagues are happy with your processes and services, this training is not for you.
But if you are not sure how to organise your work in an agile way, how to include your stakeholders feedback without getting lost or you'd like to make your administrative and compliance processes more appealing, then we can help you.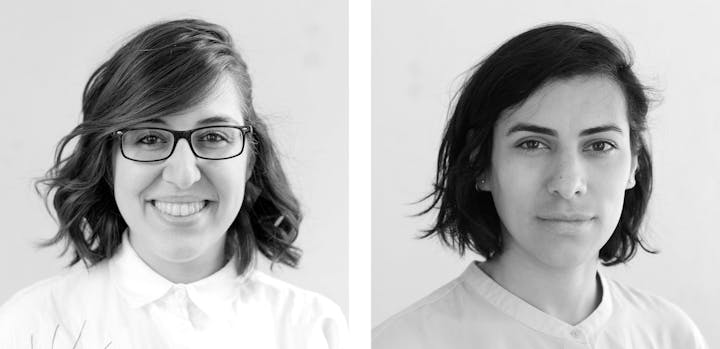 YOUR TRAINERS
Seyda and Madlen are innovation coaches with more than 5 years of experience in Design Thinking. They both graduated from the HPI School of Design Thinking and together they have trained more than 800 people from different industries
The past two years they joined the Internal Innovation Team in the Nestlé Headquarters in Switzerland where they coached more than 20 teams in Business to Employee Innovation: transforming company processes bringing together employees' and business' needs. To scale up they also designed and executed the Design Thinking Coach Certification Program to train colleagues with employee-centric design mindset and methods to modernise the organisation and improve the employee experience for its people.
We have worked with: Nestlé, Daimler, Porsche, Airbus, HPI Academy, Bauhaus, Design at Business Community.
📋THE AGENDA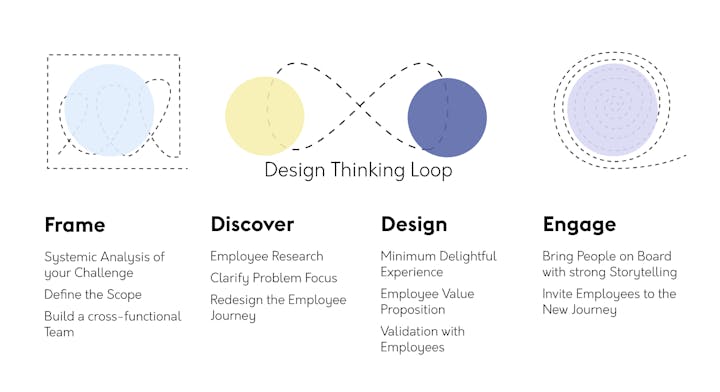 Day 1
Get an overview of Employee Experience Design: how it fits with AGILE HR, how to use it to innovate your processes, and examples of our work and different industries.
Working in the chosen topics you will:
Learn how to scope your project using the business strategies, stakeholder maps and agile principles
Map the Employee Journey for multiple Stakeholders
Use data to guide employee-research
Identify Moments that Matter to strategically choose what to improve
Use Agile Principles to structure your team's work
We will work everyday using Agile principles for you to experience how to include them in your day-to-day.
Day 2
Solution day! We will draw inspiration from current trends and craft and test ideas to guarantee employee-solution fit. Then, learn how to pitch and engage!
You'll practice how to:
Innovate practices co-creating with a cross-functional team
Create and test prototypes to find the best fitting solution
Craft Employee Value Propositions
Use storytelling and user's insights to engage colleagues and leadership
You get a EX Toolbox with templates for you to quickly apply the methods in your daily work.
🔸GOOD TO KNOW
Not sure? get a taste of how it works joining our Employee Experience Meetup and experience it in a short session with other HR professionals.
If you'd like to come with your team, let us know, we have team packages 😃
Full refund only possible if cancellation happen 30 days before the training. We reserve the right to cancel the training 30 days before in case the minimum amount of participants is not met and of course you will receive a full refund of your ticket 🤜🤛