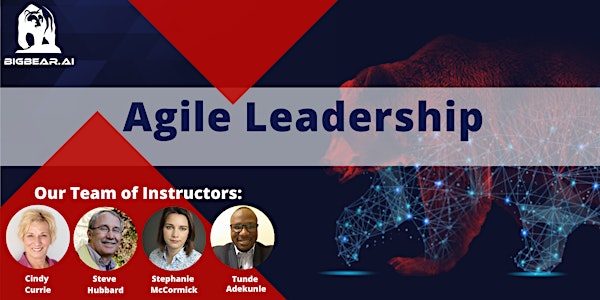 Agile Leadership
Come learn what it takes to be an effective Agile Leader and the principles, practices, and activities you need to undertake to excel!
About this event
Your company is moving to Agile (or perhaps you've already started on your journey) and you're wondering how leadership in an Agile environment may differ from the traditional leadership role you're accustomed to. Agile leadership is more people-oriented, more humanistic, more collaborative. (Let the Agile Manifesto value "People and interactions over processes and tools" be your guide). This means your mindset and approach to leadership may need some fine-tuning for you to be truly effective in an Agile environment. The concept of valuing people over processes goes beyond how we manage work; it also greatly impacts how we organize and motivate our team members, as well as how we assume our roles as leaders.
During this three-hour course, we'll take a close look at what it means to be an effective servant leader and the principles, practices, and activities (yes, your role is an active one!) that you need to undertake to excel.
This course also includes several activities, exercises, and knowledge checks to reinforce learning. And, of course, there will be an extensive Q&A session at the end of the class to ensure that you walk away with the information you need to continue your Agile journey and learn the ways and practices of effective Agile leaders.
What you get
A digital student workbook that includes the training slides, activities and exercises, and knowledge checks.
At least two instructors to share their knowledge and experience with Agile Leadership to enhance the instruction and provide the answers to your specific questions.
A certificate of course completion.*
*Those with PMI or other certifications may be able to obtain 3 PDUs or SEUs for taking this course.
About BigBear.ai
BigBear.ai brings over six years of experience transforming multiple complex government programs from waterfall to Lean-Agile processes. We have cleared professionals across the US embedded in the DoD, DHS, FAA, and IC, with numerous SPCs certified to coach and train. BigBear.ai offers on-site and remote coaching tailored to your program, including Large Solution implementations, with support for Agile tools and templates. We are well-versed in the government budgeting and investment system, so we can also work with your Business/Mission Owners and senior stakeholders to implement Agile contracting and budgeting and Lean Portfolio Management in a government context. We believe it is critical for employees to understand their roles in a Lean-Agile organization. Therefore, we also provide executive overviews for senior leaders and a variety of Agile basic concepts courses and SAFe role-based courses and workshops - including SAFe for Government - all aimed primarily at government customers.
Your instructors
Steve Hubbard, SPC, RTE, SDP, SGP, PMP®, ITIL® v3
For more than 50 years, I've believed in servant leadership and I'm passionate about helping others become servant leaders. I believe that a "boss" who is not a servant leader is really nothing more than a manager, and that leadership and management are not the same. Leaders, and effective servant leaders, can be found at all levels. In many cases, our peers, colleagues, & co-workers are performing as servant leaders in their everyday efforts.
Servant leaders exhibit three important characteristics: compassion, approachability, & loyalty. A servant leader shows compassion by empathizing with others – trying to listen and "be present" for others as they navigate tough situations. Co-workers know that servant leaders are approachable, humble, and open-minded – empathizing and guiding without judging. And, while we often think of loyalty as something that "goes up," I believe that it's actually more important to show loyalty "down." The servant leader is loyal and supportive to others regardless of their position in the hierarchy. Colleagues know they can depend on the servant leader and rely on that loyalty.
I've led small groups, groups as large as 850 people, and everything in between. I strive to be a servant leader in every aspect of my life. I did it in my teenage years as an Eagle Scout; in athletics at the high school & college levels; during my first career as a Naval Officer; during my second career as a Defense Contractor, primarily in the Intelligence Community; in my current volunteer work with a number of church and community organizations, particularly in coaching/ mentoring youth; as a husband for over 46 years, a dad of four for over 43 years, & a "Pop" of five for over twelve years; and, finally, in my work as an Agile Trainer. I hope my compassion, approachability, & loyalty come through as well in the classroom as in the rest of my life!
Cindy Currie, SPC, RTE, SDP, SGP, PMI-ACP, PMP
Change is hard, no doubt about it. Radical change is even harder, but so very necessary in today's business climate. To remain competitive and to thrive, businesses must be willing to transform how they work to ensure a consistent, timely flow of value to their customers. It takes strong leadership, knowledge, and guidance to transform an organization and achieve true business agility.
I believe that anyone can be a leader, regardless of hierarchical position. I believe that true leaders lead with authenticity, are strong advocates for what they believe in, and are adventurous because they view radical change as an opportunity to move forward in ways that are difficult, but possible. Great leaders are engaged, motivated, and inspired by the journey. That's why I teach. I am deeply committed to helping clients gain the knowledge and common language necessary to embark on their transformational journey, relentlessly improve their solution development processes, and create environments where true cultural transformation takes place.
I'm an SPC with a bachelor's degree in Classical Languages and Literature. With 25+ years of experience as a program manager for a global IT services company, I've guided and supported numerous organizations successfully through their digital transformation efforts. I'd like to guide your organization too. Outside of work, you can find me in southern New Hampshire spending time with my family and friends, trying new things (ax throwing anyone?), and attending concerts and musical theater performances, or traveling.
Additional information
• Please let us know if you will not be able to attend and request a refund no later than 7 calendar days before the first day of class.
• We will be using Zoom for the virtual class.
• Please provide a phone number during registration so we can contact you in case of technical difficulties.
• You will receive a welcome email with additional information before the start of class.
Please contact us at AgileTraining@bigbear.ai with any questions.