Agile Games Night

Tuesday, February 24, 2015 from 6:00 PM to 9:00 PM (CET)
Event Details
Du inviteres til Agile Games Night !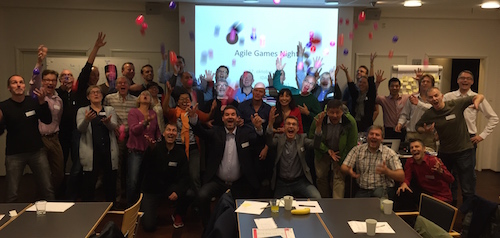 Både Scrum og Kanban forsyner os med en række metoder og værktøjer til at optimere og effektivisere arbejdet i selvorganiserende teams, og de er vigtige for at sikre et stabilt gennemløb og leveringer af høj kvalitet. Men også disse udmærkede metoder har deres begrænsning. Du har sikkert oplevet som teamcoach eller Scrummaster at komme til kort og ikke vide, hvordan I kommer videre. Som om en usynlig bremse bliver aktiveret og forhindrer teamet i at tage det næste nødvendige skidt.
Vi vil på workshoppen dykke ned bag metoderne og kigge på de dybere aspekter, der i et team kan være forhindrende for vækst og kreativitet. Når forhindringerne ligger indlejret i selve teamets interne dynamik og struktur, kan opgaven blive tung at løfte. Du vil på workshoppen blive præsenteret for værktøjer til at tackle og bringe gruppedynamiske spændinger til overfladen.
Med udgangspunkt i dit personlige lederskab og din integritet vil du få indsigt i
Hvordan du kan frisætte fastlåste spændinger i teamet og transformere dem til kreativitet.

Hvordan du skifter fokus fra at være problemløser til problemforløser.

Hvordan du inddrager teamets proces i de overordnede mål for teamet.

Hvordan tekniske forhindringer og problemer kan have rod i teamets dynamik.

Hvornår skal du lade gruppen arbejde selv, og hvornår skal du blande dig i teamets organisering. 

Hvordan du skærper din opmærksomhed i forhold til gruppedynamikken og åbent stiller dine observationer og intuition til rådighed for teamet.
Workshoppen vil være praksis baseret, og vi vil blandt andet arbejde med den dynamik, der opstår på selve workshoppen samt cases fra det virkelige liv. Du er velkommen til at medbring cases og problemstillinger fra din egen hverdag.
Aftenens gæsteindlægsholder og -facilitator er psykoterapeut Søren Stistrup.
Praktiske oplysninger:
Arrangementet er gratis

Billetter distribueres efter "først til mølle" princippet.

Der etableres en venteliste, såfremt arrangementet overbookes.

Forplejning: gratis kaffe, te.

Deltagerne bedes møde op ved hovedindgangen. Der er et stort parkeringsområde foran hovedindgangen.

Der opkræves et gebyr på 300 kr. eks. moms ved aflysning mindre end 48 timer før arrangementet eller ved manglende fremmøde.
When & Where

SEGES
Agro Food Park 15, Skejby
8200 Aarhus N
Denmark


Tuesday, February 24, 2015 from 6:00 PM to 9:00 PM (CET)
Add to my calendar
Organizer
Læs mere om arrangøren, Søren Weiss, på www.version1.biz.