Agile Games Night, Aarhus - SAFe®

Monday, January 16, 2017 from 5:00 PM to 8:00 PM (CET)
Event Details
Du inviteres til Agile Games Night !
Aarhus den 16. januar kl. 17

---
SAFe®
I dag er det ikke længere et spørgsmål om, hvorvidt man skal arbejde agilt. Det er snarere et spørgsmål om, hvordan man optimerer at arbejde agilt. Hvordan lykkes man bedst mulig?
Når store virksomheder på enterpriseniveau vælger at arbejde agilt, stiller det nye krav til planlægning, eksekvering og levering af software. Scaled Agile Framework (SAFe®) er et komplet rammeværk til agil udvikling i store organisationer. Rammeværket indeholder elementer til gennemførelse af store programmer agilt, herunder et "Agile Release Train" eller "ART", som typisk består af 50-125 personer, der arbejder sammen i en fælles, koordineret rytme på tværs af organisationen.
Med SAFe bliver agil udvikling indarbejdet på både portfolio-, program- og teamniveau og skaber derigennem sammenhæng mellem strategiske mål og den praktiske udførelse i teams.
Se video af Dean Leffingwell (opfinder af SAFe®).
Til at lede os sikkert igennem aftenen får vi besøg af Allan Rennebo Jepsen, der er en af Danmarks dygtigste SAFe® instruktører. Allan lover os en inspirerende aften med inspiration, teori, erfaringsudveksling og hands-on som vi plejer på Agile Games Nights.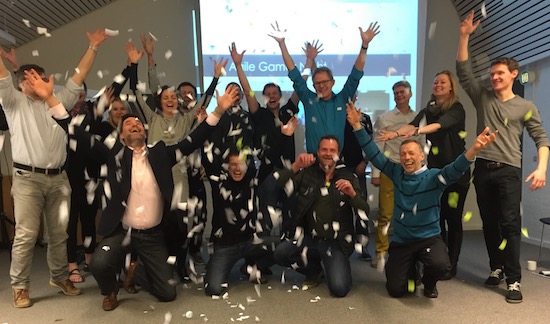 Praktiske oplysninger
Arrangementet er gratis

Billetter distribueres efter "først til mølle" princippet.

Der etableres en venteliste, såfremt arrangementet overbookes.

Forplejning: gratis kaffe, te.

Arrangementet starter præcis på starttidspunktet, så kom gerne 5 minutter før start.

Der opkræves et gebyr på 350 kr. eks. moms ved aflysning (uagtet årsag) mindre end 72 timer før arrangementet eller ved manglende fremmøde.
Dette siger tidligere deltagere om Agile Games Night
Agile lege, som kan anvendes af alle uanset forudsætninger, til at opleve og forstå innovation/lærende principper via praksis. Kan varmt anbefales. /Mark Chaudhry, Damco

Sjov og legesyg stemning - rum til at grine. /Nino Stokbro, BestBrains,

En sjov, engagerende, lærerig og tankevækkende oplevelse. Det var en af de bedste og sjoveste oplevelser ud fra blot 2,5 times investering en onsdag aften. Det var en stor fornøjelse! /Mai Madelung, NNIT

Virkelig god inspiration til spil, der kan bruges i det daglige projektarbejde - også udenfor de agile udviklingsprojekter. Jeg vil bruge det til projektkick-off og til at skabe energi i møder og projektteams. /Katharina Duarte

Super input og inspiration. Jeg kan bruge, at eksemplerne bliver tænkt ind i deltagernes hverdags-scenarier, som kravmøder, projektmøder mm. En skam vi ikke havde mere tid. /Carsten Nielsen Permin, Danica

Dejlig sjov og inspirativt, samt lærerigt med gode øvelser der let kan tages i anvendelse i dagligdagen. Uformelle øvelser uden for meget teori. /Tom Hansen 

En yderst spændende spille-aften! Det var meget inspirerende og udviklende for mig. /Mads Søndergaard

Jeg glæder mig helt vildt til at afprøve det her i mit projekt. Det er jo en helt ny verden af muligheder, som har åbnet sig for mig her. /Kristian Mogensen.
When & Where

SEGES
Agro Food Park 15
8200 Skejby
Denmark


Monday, January 16, 2017 from 5:00 PM to 8:00 PM (CET)
Add to my calendar
Organizer
Læs mere om arrangøren, Søren Weiss, på www.version1.biz.