Agile for Marketers Certified Training in the Twin Cities

Monday, October 7, 2019 at 8:30 AM

-

Tuesday, October 8, 2019 at 4:30 PM (CDT)
Event Details
Agile for Marketers Certified Training

---
Register by August 31 and save $150!!!
---
Becoming a certified agile marketer gives you the relevant skills to keep up with the new world of marketing.
You know you need to keep your skills relevant, and agile marketing isn't just a fad---it's a totally different way to work that focuses on customer-centric campaigns that can be delivered in just a few weeks.


Why Agile Marketing?
More than 60 percent of Marketing Departments plan to implement agile marketing this year. To stay relevant as a marketer, it's time to learn agile marketing.
Agile marketers are able to:
Create valuable campaigns that reach customers in one-to-two weeks (not months or years).


Make informed business decisions made from actual customer feedback (not from whoever is screaming the loudest).


Thrive in a culture of innovation (without it, most companies won't survive).

---
"Even though I've been practicing agile for a long time, I learned so much in this class! It was so refreshing to have a class that's just for marketers using marketing language!"

-Stephanie, Health Partners 
---


What You'll Learn
In this class you'll learn what it means to be agile and how to apply it to your marketing practice. This isn't just another class for software. We apply agile to the marketing world. 
(See full learning outcomes)
This course is certified by ICAgile and successful participants will be able earn the ICP-Marketing Certified Professional accreditation.


Course Outline
1) The Need for Agile Marketing
You'll start by learning the basics around agile marketing and why it's more than a fad.

Discover how new brand categories are disrupting marketing as we know it.


Explore six key challenges marketers are facing with traditional marketing.


Learn how agile marketing can help you overcome these challenges. 


2) Defining Agile Marketing
Uncover what agile marketing really means and doesn't (we'll expel some of the common myths). 
Discover the differences between agile marketing and common frameworks such as Scrum, Kanban and Lean.


Take a deep dive into the Agile Marketing Manifesto's Values & Principles and discover where you're aligned and areas that will require culture change at your company.


Learn what agile marketers do differently than traditional marketers.


3) Customer-Centric Marketing
In this section, you'll learn how to center campaigns around your customer (instead of your company).

Learn how to create campaigns that don't lose sight of your customers.


Explore social media and how personalization and quick response is imperative.


Practice writing minimally viable personas and customer stories to understand customers' needs quickly.


4) Marketing Planning that's Flexible
Discover flexible planning options that allow you to ditch your five-year marketing plan!

Learn how to focus your marketing on outcome vs. output.


Practice mapping out your work to discover your minimally viable campaign.


Learn to organize work in a single, prioritized marketing backlog.


5) Teams & Teamwork
Learn the importance of collaboration and teamwork with agile marketing.

Understand how teams of generalists rather than specialists deliver marketing value sooner.


Discover why dedicated team players are key to the teams' success.


Learn how working at a sustainable pace determined by the team improves outcomes.


6) Kanban Practices for Agile Marketers
During this Kanban simulation, you'll discover if this flow-based approach is right for your team.

Learn the basics of Kanban and its key principles.


Discover how to limit work in progress so work doesn't get 'stuck'.


See how visualizing work helps the team.


Determine how your team can discover its ideal flow to maximize done work.


7) Using the Scrum Framework in Agile Marketing
You'll learn how Scrum has worked for software teams and how it can be applied in marketing.
Learn the basics of the Scrum framework.


Understand the three roles in Scrum and how marketers are changing it up.


Simulate the Scrum framework with an interactive game.


8) Getting Started with Agile Marketing
Leave having an action plan for getting started with agile marketing at your company.
Select which agile practices best fit your team and culture.


Explore how agile marketing teams have been formed by other companies.


Learn best practices for piloting and agile marketing team.


About the Instructor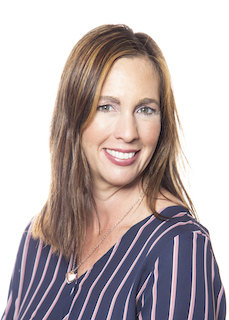 Stacey Ackerman knows what it's like to be a marketer, after all she's one of the few agile coaches and trainers that got her start there.
After graduating from Journalism school, she worked as a content writer, strategist, director and adjunct marketing professor.
She became passionate about agile as a better way to work in 2012 when she experimented with it for an ad agency client.
Since then she has been a Scrum Master, agile coach and has helped with numerous agile transformations with teams across the globe.
Stacey speaks at several agile conferences, serves as a community manager for Mountain Goat Software, is a contributing writer on agile marketing with MarTech Today and has more certs to her name than she can remember and loves to practice agile at home with her family.
Save This Event
When & Where

Minneapolis
Improving Twin Cities
3600 American Blvd. W
Bloomington, MN 55431


Monday, October 7, 2019 at 8:30 AM

-

Tuesday, October 8, 2019 at 4:30 PM (CDT)
Add to my calendar
Organizer

At Agilify Coaching & Training, we've all worked in traditional waterfall organizations where handoffs, sign-offs and other "offs" get in the way of producing really cool, innovative campaigns.
In 2012, founder Stacey Ackerman began experimenting with agile for her advertising agency clients and saw first-hand how the collaboration, structure and mindset changes really paid off! In no time at all work was getting out the door faster, the relationship with the agency and its client was better and quality improved.
In 2014, Agilify Coaching & Training launched and set out on its mission to help companies find a better way to work.
Please email Stacey@agilifytraining.com or call 651.285.3524 with questions.