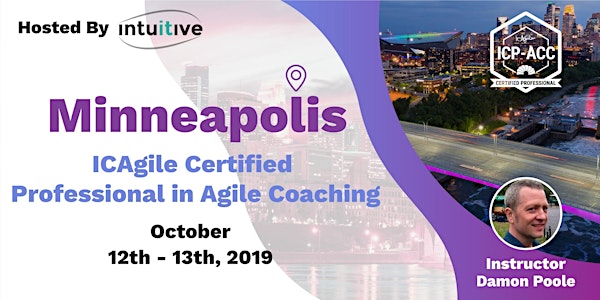 Agile Coach Workshop with ICP-ACC Certification Minneapolis Oct 12
When and where
Location
Building next to Intuitive 4550 West 77th Street Edina, MN 55435
Refund Policy
Refunds up to 1 day before event
Eventbrite's fee is nonrefundable.
Description
"Attending this workshop produced an immediate improvement in how I approach coaching!! Practical application started the next day with the first team member I met with, and I now have stronger goals around practicing and improving specific coaching skills." David Kiersznowski
IC Agile Certified Professional in Agile Coaching Workshop
This is an intensive interactive experience that provides an opportunity to discover where you are in your Agile Coach journey and to learn new skills and techniques to progress further and faster in that journey. In all, you will learn fifteen tools to use with your teams. Two thirds of the workshop is spent in fun hands-on group activities and games with between 2-5 people depending on the activity. The workshop is methodology agnostic. What you learn is applicable for coaching in any Agile-oriented environment whether people are using Scrum, Kanban, SAFe, LeSS, or any other Agile-oriented set of practices. The focus here is on building your Agile coaching skillset and toolbox, not on increasing your Agile expertise.

Certification
At the successful completion of the learning objectives for the course, each participant will receive the IC Agile ICP-ACC, Certified Professional: Agile Coaching. It is one of the steps towards becoming an IC Agile certified expert in Agile Coaching (ICE-AC). This accredited course meets ICAgile's recently updated 2018 Learning Outcomes for ICP-ACC.
Audience & P

rerequisites
While the workshop has obvious appeal for Scrum Masters and Agile Coaches, other roles that can benefit from the workshop include: tech leads, project managers, managers, and product owners. All of the skills in the workshop are useful for anyone looking to increase their organization's level of Agility or to become even more effective when working within an Agile environment.
A working knowledge of Agile and at least one Agile methodology is required. Recent experience on an Agile team is highly recommended.
Logistics
Certification consists of 21 learning hours as follows.
Main Workshop - 2 days in-person
8:30 doors open
9:00am Class Begins
noon Lunch
5:00pm Class Ends
On the first day, there will be a social hour directly after the class.
Live virtual sessions - there are six 1-hour sessions offered with a variety of daytime and evening options before and after the in-person event.

Course Content
All of the games and activities run in the workshop are designed to be used by you after the workshop for use with your teams and your organization.
What is Agile Coaching? – the role of the Agile Coach is often misunderstood as "Agile Expert." While Agile expertise is necessary and allows a Coach to work in the modes of mentor and teacher, the modes of facilitator and coach are just as important. Introduces the formal concept of professional coaching and shows how it is different from mentoring, teaching and facilitating with examples, games, and live demonstrations.

Powerful Questions – you will learn about a wide variety of open ended and neutral (non-leading) questions used during coaching to gather information, explore, deepen the conversation, and get commitment from the coachee.
Coaching Dojos – there will be many opportunities to practice and apply what you are learning through a series of coaching dojos. Move step by step through each dojo, from "Flash Card Coaching" to "Choose Your Own Coaching Adventure" to "Coaching in Slow Motion" and many more.
Mentor Coaching - a session where you are the coach and in which you receive feedback from an instructor on how you are applying what you have learned to the coaching session.
Emotional Intelligence (EQ) - learning about the four skills of emotional intelligence and practicing them to enhance your ability to navigate the muddy waters of human interaction.
Active Listening - going beyond the typical "levels of listening"; learning about and practicing multi-spectrum awareness that utilizes presence, emotional intelligence, and the texture and context of a conversation to form a deep two-way connection with the coachee(s).
Presence – our minds can distract us from what is happening in the moment. We may have something weighing us down, we may be thinking of something we need to do, the coachee may trigger something that distracts us, or we may be trying to remember something that we want to bring up. By noticing the "thought bubbles" that pop up while we are coaching, we can adjust our coaching as we are coaching.
Live Demonstrations – the instructor will do live demos of techniques throughout the workshop using real-world examples provided by participants.
Coaching Triggers – an introduction to Coaching Triggers including the basic coaching triggers that represent the essence of professional coaching: rapport building, determining session purpose, prioritization, goal setting, exploration, and planning.
Advice and Feedback – giving and receiving feedback and advice can be daunting. We'll explore COIN and awards as methods for giving feedback, learn about the three levels of advice and mentoring conversations, play an advice game, and also extend from feedback to advice.
Your Agile Coaching Journey - get a sense of where you currently are and potential areas of improvement across 11 different areas from coaching to emotional intelligence using a unique and comfortable feedback system.

Coaching Agility – so often we and those we coach have a specific methodology in mind as we coach. In the extreme, we worry that people are not standing up in the standup. We will explore ways to define "Agility" such that we can focus on coaching towards higher levels of Agility and mindset change rather than focusing on standups, retrospectives, program increments, velocity, and other Agile mechanics.
Finding and facilitating change – techniques for finding impediments and opportunities to affect change through observation, facilitation, and group activities. Leverages ADKAR, a change management model based on individual change, and an understanding of blindspots (yours and theirs).
Building great teams – great teams live and breathe the Agile principles and values, trust each other, have high morale, are self-organizing, and have the support of the organization to succeed. Learn new tools, techniques, and activities for how to instill these values and capabilities into individuals and teams and help to increase the organizational support for Agile teams. One of the activities we will run is the "Agile Game" which demonstrates everything in the Agile Manifesto and Scrum in 20 minutes. Alternative activity: Agile "Dungeon Crawler" game where you team up as an adventuring party to defeat monsters!

Shared vision – there are many things in an Agile ecosystem that work best when working towards a shared vision such as what it means to be Agile, product vision, team working agreement, and iteration goals. We will explore this concept with a unique activity that can be run with whatever medium participants are comfortable with: words, drawing, legos, pipe-cleaners, or whatever is on hand.

Conflict management – learn about different conflict management approaches including the Thomas-Kilman conflict mode instrument.
Teaching as an Agile Coach - much of the job of an Agile Coach is actually teaching. We will look at when to teach vs use another mode as well as how to incorporate a coaching mindset in our teaching.
Coaching at multiple levels - see how everything you learn about coaching that is oriented to either the individual, team, or organizational level can actually be applied at all of those levels.
Coaching Agreements - working with the organization, teams, and individuals to set, manage, and document expectations between the coach and others in both directions.
Testimonials from Attendees
"I've worked as a change leader and team coach for a long time in the Agile space but had never taken formal training specifically for coaching before attending Damon's course. A key epiphany for me was understanding the difference between coaching modes and recognizing the best time in a person's change journey to apply them. I came away with a very helpful framework for coaching which I am applying now." Rob Scebold
"Damon is a seasoned Agilist and very experienced coach's coach. His class is informative, provocative, and delivered with a wry sense of humor. I am sure you will enjoy the class and come away learning a lot." Shyam Kumar, President of Agile New England
"I got transformed mentally and professionally by Damon Poole's ICP-ACC workshop. It was a defining moment in my Agile coaching career. The knowledge, potential unleashed and the impactful connections I made have been speaking to me louder than I envisaged." Ajibade Momolosho