Description
Agile Change Agent Workshop
---
Join Organizational Agility Advisor, Chad Beier, for a half-day workshop focused on improving your team, department, or organization's agility.


Who Should Attend
Anyone is welcome. If you are interested in this workshop, you may be in one or more of the following roles: Scrum Masters, Product Owners, Managers, Leaders, Development Teams, Business Analysts, Project Managers.
Regardless of your job title or role, you will get the most out of this workshop if you are a person driving or navigating change in the realm of agility inside your organization. Change typically occurs when frustrated people who believe there is a better way take action - that's this workshop!


What You Need To Know
Coaching and advising is about continuously learning, improving, and getting the nudge you need to move forward and drive change.
For those who have worked with coaches before, this workshop is essentially a small group public coaching session. Bring your problems, questions, ideas, and stories to this workshop and leave with knowledge, new ideas, and actionable things to apply in your organization.
Workshop size is limited to ensure each attendee has sufficient time to work through questions and suggestions.


Topic Areas
There aren't really limits on topics but the following are areas that may be discussed during the workshop: Scrum, Kanban, Scaling Agility, Lean Thinking, Systems Thinking, Complexity Theory, Modern Management, Organizational Structure, Team Dynamics.
---
About Chad Beier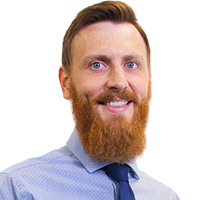 I work with all levels of the organization to optimize your business to respond to change. I am passionate about moving organizations and people closer to agility.
My first experience with "agile", Scrum specifically, was in 2005. I was part of a global transformation team responsible for software customizations driven by a global consolidation of accounting software. We ran into typical implementation challenges and organizational impediments.
Around 2012 I attended an event at which Ken Schwaber spoke that reignited my passion for lean, agile, and continuous improvement. I left my traditional business analyst and project manager roles behind and evolved into an internal change agent kickstarting an agile transformation. I soon realized by stepping into a consulting role I could make a bigger impact across many organizations as an external change agent.
---
Questions?
Email training@whiteboardconsulting.org
---