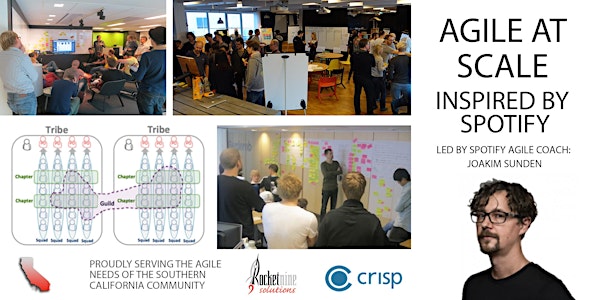 Agile at Scale, Inspired by Spotify - Orange County - June 2019
Location
Fairfield Inn and Suites, Tustin, Orange County
15011 Newport Ave.
Tustin, CA 92780
Description
+++Guaranteed to Run+++
Inspired by Spotify? Take the Agile Organizational Design Course!
How do you build an organization that enables agile at scale and unleashes the power of small autonomous teams? After this two-day training you will have plenty of examples and inspiration from how Spotify grew a dynamic learning organization that continually reinforces a high-trust culture and supports engaged autonomous teams.
Joakim Sundén, the teacher of the course, has long experience from working at Spotify and has been involved in developing several of the concepts of "the Spotify Model". During this training Joakim shares his experience and viewpoint as an independent agile coach and trainer, not as a representative of Spotify. "The Spotify Model" of Agile at scale has been getting a surprising amount of attention in the Agile community since it was first shared widely in 2012. The Spotify Engineering Culture videos have more than 800,000 views. It was never intended as a framework or a model, it was just a case study of the Spotify way of working at the time. That has not stopped a large number of organizations from copying or imitating the model, often without understanding what it was optimized for, what challenges it comes with or how Spotify has adapted and continued to evolve in the five years since.
During this training you will gain a deep and wide knowledge of how Spotify works under the hood. With this deeper understanding you will be able to see more options on how to improve your organizational design with regards to your context and boundaries. You will learn why Spotify made the decisions they made, what other options were considered, which changes were intentional and which ones were emergent, and so on. We will explore the underlying principles as well as go into specific practices and mechanisms. You will learn how Spotify combines small autonomous teams with strategic business alignment. How Spotify works with leadership and growing leaders. How they work with innovation. Which values and beliefs shape their culture. And much much more.
Example topics covered in the course:
The history of Spotify
How to build great autonomous teams (a.k.a. Squads)
Organizational structure to support the squads (Chapters, Tribes and Guilds)
The Spotify Rhythm & OKRs (Cross team, strategic business alignment and prioritization)
Team and Tribe leadership
Roles and responsibilities
Competence and development frameworks
Culture, principles and values
How Scrum, Kanban and XP fits into the Spotify culture
Think It, Build It, Ship It, Tweak It – The Spotify Product Development Framework
Sharing and spreading knowledge
Transparency and communication
Challenges, lessons learned and failed experiments
Goals
The goal of this course is to provide tangible examples of how to create a great place to work that enables Agile at scale. Participants will leave inspired with ideas on how to redesign their organization to better engage employees and leverage the power of autonomous teams.
This course is for…
Progressive leaders and managers
Agile Coaches, Scrum Masters, Product Managers, Project Managers and Agile Practitioners
Organizational change agents, consultants and HR
Prerequisites
Basic knowledge in Agile principles and practices, e.g., experience with Scrum, will help you better understand some of the content.
Here are some quotes from participants to previous trainings:
"I literally woke up at 2:00 am thinking of how I can affect change in my company and couldn't fall back to sleep"
"Great content that covers all aspects"
"Authentic real insights from someone who actually worked at Spotify"
"Great to learn about all examples on how to support the autonomous squad"
"I cannot wait to start thinking what I will apply/tweak/convert/…"
"Great combo of theory, examples and exercises"
"Love the energy and enthusiasm of the teachers"
First time in United States!
Although Agile at Scale, Inspired by Spotify has run several times in Sweden, this course has never before run publicly in the US!
Joakim Sunden, agile coach with Crisp in Sweden, and the trainer for this course, has partnered with Rocket Nine Solutions, a Southern California-based agile training and coaching consultancy led by Scott Dunn, CST, to host this course. Please refer any logistical questions about this training to our training coordinator whose contact information can be found below. Course content related information can be found on Crisp.se.
Cancellation Policy - Reschedule to another of Rocket Nine Solutions class anytime, or cancel anytime up to 7 days before class for 100% refund. Fewer than 7 days notice will result in a 75% refund to cover hard costs. For minimum learning experience, the course must run with a minimum five registrants. If fewer than five are registered, the class may be cancelled three to seven days in advance, and attendees will be offered seats in the next Rocket Nine Solutions classes in the area or a full refund.
Please note that depending on class size and instructor availability Joakim and Jimmy may choose to teach the class individually rather than together.
Please be aware that Rocket Nine Solutions may choose to record electronic and traditional media (e.g., photographs, video, audio footage, testimonials) at this event and attendees may appear in these recordings. By submitting a registration for yourself or someone else, or by attending this event, you grant permission for Rocket Nine Solutions to store those recordings in a database and to use them in future print, electronic, or other visual media for educational and promotional purposes. If you do not wish to grant permission, please contact the event coordinator listed below prior to attending the event.
If you need assistance with other logistical details of the class, larger group rates (8 or more), etc., please contact Cliff Rosa at cliff@rocketninesolutions.com or call 714-699-4679.