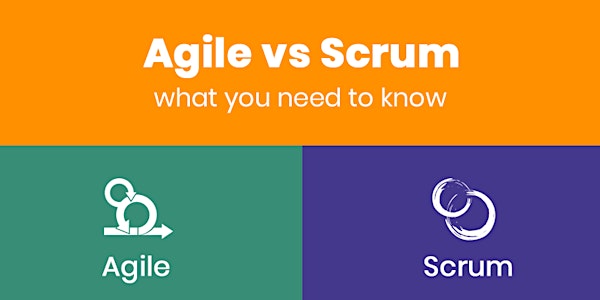 Agile and Scrum Certification Training in Albany, NY
Agile and Scrum Methodologies
When and where
Location
Albany, NY Regus Bussiness Centre/Hotel Albany, NY 12084
Refund Policy
Contact the organizer to request a refund.
About this event
Agile and Scrum are two versatile methodologies that have proven to be highly effective ways to transform businesses, catalyze innovation, and accelerate profitable growth. Scrum stands out as the most dominant Agile framework with a 58 percent adoption rate across organizations globally.
Get introduced to the incredible concepts of Agile and Scrum with this beginner's skills development course. Start with the basics of Agile and its foundations (values, principles, and pillars) and move on to learn about the various Agile variants including Scrum, Kanban, XP, and their tools. Master Agile Project Management (APM) and the 5-stage process for Agile software development, before diving deep into Scrum.
Understand how Agile is used in project development, including Agile estimation, planning, monitoring, and tracking, and Agile metrics and tools. Gain an understanding of SAFe®, Disciplined Agile Delivery (DAD), and Large-Scale Scrum (LeSS) frameworks and get ready to take advantage of career-defining certification opportunities from global accreditation bodies like Scrum Alliance®, Scaled Agile Inc.® and Scrum.org.
Leading organizations around the world have adopted this powerful framework to improve time-to-market, boost quality, raise employee morale, and become truly adaptive organizations.
Agile and Scrum roles are in high demand across industries, Build your Agile and Scrum skills and future-proof your job and business.
Prerequisites:
There are no eligibility requirements to attend the Agile and Scrum training. Everyone is welcome in the world of Agile and Scrum.
Key Features:
8 Hours of Online Instructor-Led/Classroom
Earn 8 PDUs and 8 SEUs
15 Assessments and 13 Recall Quizzes
Lifetime Access to Courseware
11 Comprehensive Assignments
Course completion certificate
Real-world simulations and hands-on exercises for learning reinforcement
What will you learn?
Agile Fundamentals: Understand Agile values and 12 Agile principles at work, Agile variants
Agile Planning Events: Learn about product planning workshops, release planning workshops, iteration planning meetings, and more.
Scrum Ceremonies: Sprint, sprint planning, sprint review, sprint retrospective, and daily scrum.
Agile Estimation & Metrics: Understand the Techniques of Agile estimation and learn how to calculate Agile metrics and use them
Scaling Agile: Get an overview of scaling Agile at the enterprise level
Running Project lifecycle for Agile Product development
Applying techniques of Agile estimation
Running iteration planning meetings
Identifying Scrum Artefacts
Applying SAFE®, DAD, and LeSS where applicable
Leading and facilitating change
Stakeholder management
Risk management
Enabling high team performance
Why global Corporates prefer Leaning Zone Inc as a training partner
A provider of Enterprise Learning Solutions (ELS), Learning Zone Inc creates industry-fit talents through training, coaching, and consulting by globally-acclaimed trainers. Much of Learning Zone's repute in co-creating business value stems from:
Training delivered in 45+ countries.
250+ industry-relevant courses.
Consulting and coaching to transform organizations.
Trainers with experience in Retail, E-commerce, Energy & Utilities, etc.
We stand out because
Best value for time & money invested.
Get trained at the best fee compared to other vendors
Discounted fee offered for 5 and more attendees
Training delivered by the industry expert
*We do conduct corporate training in your preferred location and dates with no additional cost.
Contact us for more information:
Name: Debbie Riel
Email: debbie.riel@learninzone.com
Phone: +1 302.251.9769