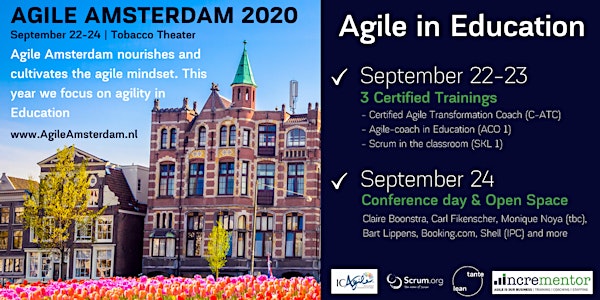 AGILE AMSTERDAM 2020 | 09.22 - 09.24 | Conference, Workshops and Open Space
Agile Amsterdam nourishes and cultivates the agile mindset. This year we want to spread the agile mindset throughout the schooling system.
When and where
Location
TOBACCO Theater 75-87 Nes 1012 KD Amsterdam Netherlands
About this event
AGILE AMSTERDAM 2020 (fourth edition!)
Agile Amsterdam 2020 | Conference, Workshops, Open Space and optional Certified Trainings
 As Agile Amsterdam nourishes and cultivates the agile mindset, we decided this year to focus on agile in Education. Our mission is to further spread the agile mindset throughout the entire schooling system; when managing your school, for teachers to collaborate and for their students to adapt agile competencies and character skills.
The agile manifesto and the agile Scrum framework has been around for decades within business, and we believe that there are lessons to be learned from both sides. As such, Incrementor and Tante Lean decided to team up this year to realize this years' mission. Incrementor has fast experience with Agile Transformations within businesses, while Tante Lean is experienced with agile transformations in schools. Together they further developed Scrum in the Classroom, as there is no greater satisfaction than an all-inclusive school wide agile transformation.
Who do we expect?
We are expecting anyone that wants to contribute in spreading the agile mindset amongst the school boards, the teachers and their students.
To name a few roles that we expect: teachers, school board members, educational developers, and anyone with an agile mindset within business, such as scrum masters and agile coaches.
Why you should go
Better than any formal training. Get tomorrow's training from today's leading voices.
Obtain a thorough understanding of the power of the agile mindset
Walk away with hands-on techniques that you can apply immediately in your school
Connect with expert speakers in the field of agility and educational visionaries.
Massive learnings are shared from agile companies such as Booking.com, Shell and from the leading agile schools and agile educators
Join our workshops and Open Space. An excellent way to get your questions answered.
Join a unique sense of community within the field of education
And, when time permits, enjoy Amsterdam with its canals, museums and rich nightlife.