Description
Enabling Agility Through DevOps


Topic Overview:
DevOps breaks down the barriers between Development and Operations teams enabling faster delivery, with higher quality and lower risk. In this talk, Bob Fischer, Agile Delivery Lead for Eliassen Group, will talk about the business case for adopting a DevOps approach, what it entails and how you get started.


Here's what will be covered:
What's the business case?
Why DevOps now?
How does DevOps fit in with Agile?
Why is culture critical to DevOps success?
How do you get started?


Agenda:
6:00 p.m. - 6:30 p.m. - Registration, Networking, Hors D'oeuvres
6:30 p.m. - 7:15 p.m. - Keynote Presentation
Enabling Agility Through DevOps
7:30 p.m. - 7:45 p.m. - Audience Questions
7:45 p.m. - 8:00 p.m. - Closing Remarks and Networking
---


About The Presenters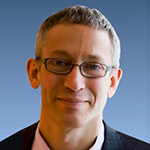 Bob Fischer
Senior Agile Consultant
Bob Fischer works with organizations that have found agility to be essential to their ability to not only survive but to thrive in a time of rapid change, technology upheaval and intense competition. His systemic approach enables companies to look across their whole organization to envision, design, build and deliver high value products to existing customer and new markets.
Prior to becoming an organizational agility consultant, Bob was a Vice President at Fidelity Investments, which included responsibility for the deployment of Agile to over 400 people, including both coaching at the team and program level as well as working with functional groups not directly involved in Agile such as Finance, HR, and Process Ownership. The cultural change included getting agreement between the Business Unit President, CIO, CFO, and the head of Product Development on a common strategy for deploying Agile. Bob was also an organization-wide catalyst at Fidelity, helping to broaden the deployment of Agile across the larger organization.
Mr. Fischer has over 30 years in IT, with a wide range of roles and responsibilities and is credentialed as a SAFe Program Consultant (SPC).