AGGIE HOMECOMING BARCRAWL 2018- 4 BARS, 4 DJS, 1 PRICE! #GHOE #NCAT
Description
AGGIE HOMECOMING BARCRAWL 2018 - 4 BARS, 4 DJS, 1 PRICE #GHOE
1st 500 tickets have already been sold to this event! We apologize if you missed the $15 earlybirds! We now have the next 100 tix at $25 so hurry!
PRICES WILL RISE EACH WEEK AS CAPACITY AT EACH VENUE BECOMES AN ISSUE. TELL A FRIEND TO TELL A FRIEND!!
AGGIE HOMECOMING | FRI NOV 2ND, 2018
#GHOEBARCRAWL
Prepare yourselves for the offical #GHOEBARCRAWL homecoming weekend. We will be Bar hopping from bar to bar every hour. With tons of different drink specials make sure you secure your passes today. The hottest idea ever for homecoming will sell out early online and there will only be a limited amount of passes available the day of based on capacity. This year we're giving you something you're not use to. Why party at just (1) location when you can have fun at (4)! Make sure you secure your online pass today and to get locked in for (4) of the most live day parties you're going to hear about this GHOE....
[SCHEDULE]
REGISTRATION - Begins at 1pm @ Tranquilo (You must go to Tranquilo 1st to pick up your All-Access Wristband(s) and our earlybird ticket holders can partake in our FREE BUFFET which includes Shrimp & Grits and Fried Fish) Buffet is exclusive ONLY for the earlybird ticket holders.
BUFFET TIME - [1pm - 2pm] - Tranquilo

1ST STOP - [2pm - 5pm] - SouthSide Restaraunt (DJ TJ)
2ND STOP - [3pm - 6pm] - The 'All-New' Rue Bar (DJ Lil Vegas)
3RD STOP - [4pm - 7pm] - Box Car & Arcade (Dj NGenius)
4TH STOP - [5pm - 8pm] - Tranquilo Bar & Grill (DJ Diesel)
*Entry Into Each Venue Is Subject To Capacity*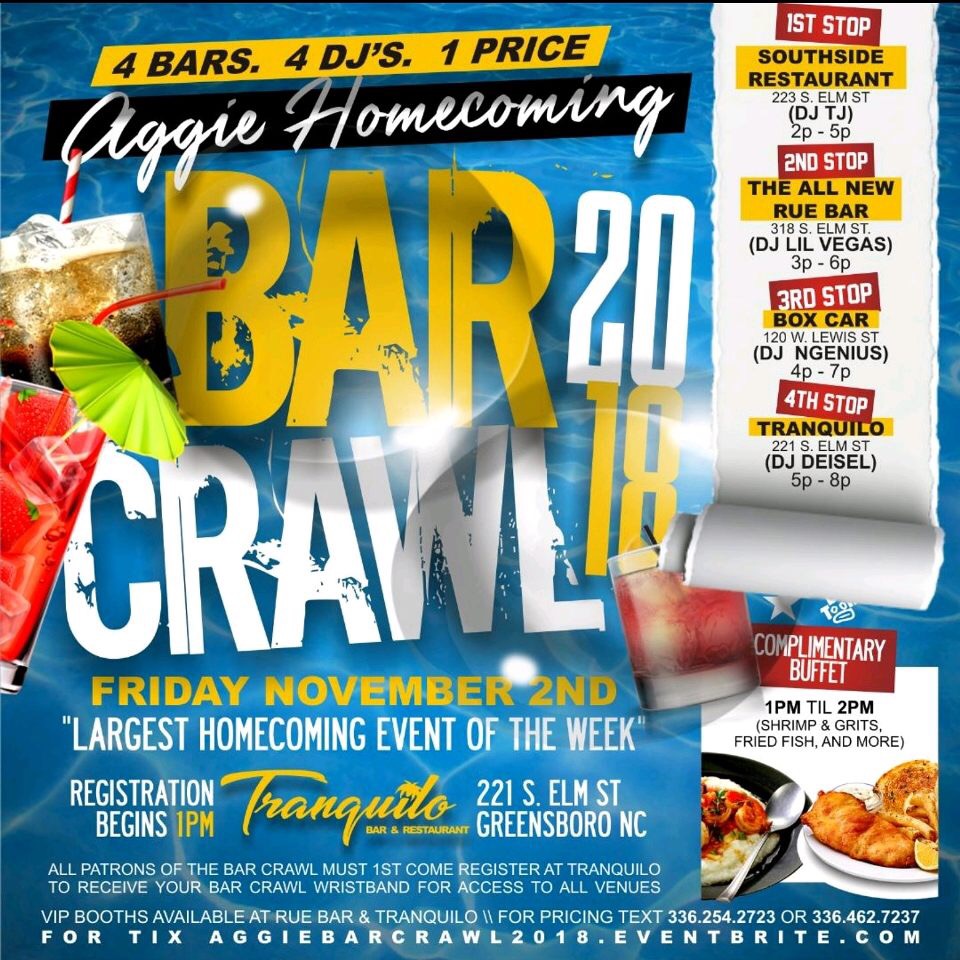 Complete the #GHOEBARCRAWL and receive a FREE AGGIE BARCRAWL shot glass! Once you arrive back at Tranquilo you will be presented with your own shot glass as a keepsake!
The 1st 100 tickets at $15 sold out in less than 24hrs! The next 300 at $25 sold out in 2 weeks! We now have another 100 for sale at $30! SO HURRY!! With each ticket you get ALL ACCESS wristband allowing you to barhop in 4 different venues along Elm St. in Downtown Greensboro!
For tickets log onto http://aggiebarcrawl2018.eventbrite.com
For VIP Tables/Booths at Tranquilo or Rue Bar Text 336-462-7237