Multiple Dates
Aggie Agora Friday Lecture Series: Featuring "Hidden Figures" author Margot...
Description
Aggie Agora Friday Lecture Series: NYT Bestselling Author of Hidden Figures, Margot Lee Shetterly.
Register for lecture here:
https://www.eventbrite.com/e/aggie-agora-friday-lecture-series-new-york-times-bestselling-author-of-hidden-figures-margot-lee-tickets-25954391283?aff=es2
BWISE will host a lunch discussion immediately afterwards to discuss the book and the current challenges facing women in STEM.
La Riviera Restaurant - 3700 S. Texas Ave., Bryan, TX 77802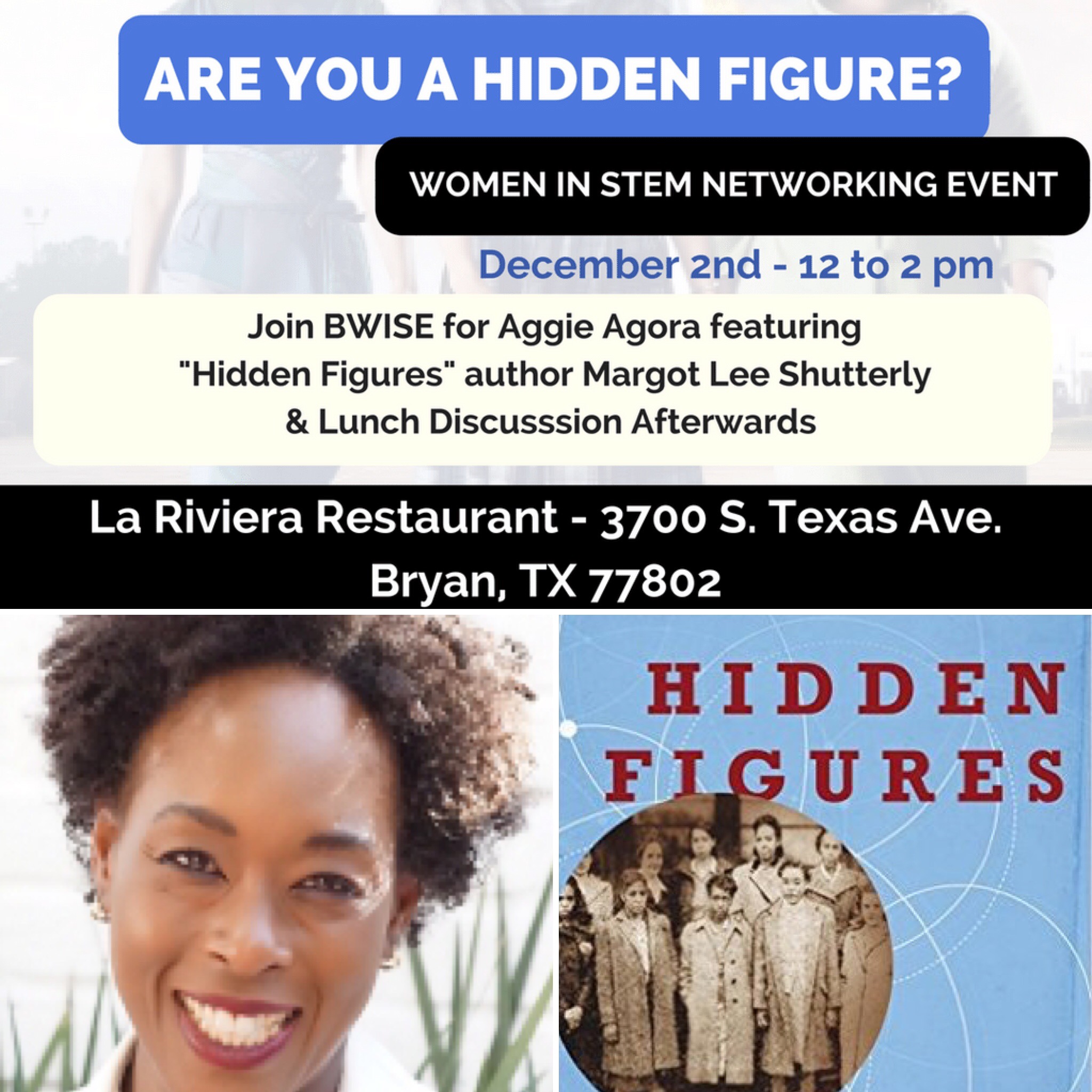 Margot Lee Shetterly's Hidden Figures—an instant NYTbestseller—is the true story of the black women mathematicians at NASA who helped fuel some of America's greatest achievements in space. It's an epic history set during WWII and the Civil Rights Era, and soon to be a major motion picture! In talks, Shetterly celebrates these unsung heroes, teasing out issues of race, gender, science, and innovation.
Writer, researcher, and entrepreneur Margot Lee Shetterly is the author of Hidden Figures: The American Dream and the Untold Story of the Black Women Mathematicians Who Helped Win the Space Race (Fall 2016, HarperCollins). A highly anticipated film based on her book will be released in January 2017. It stars Taraji P. Henson (Empire), Octavia Spencer, Janelle Monae, Kirsten Dunst, and Kevin Costner.