Sales Have Ended
Ticket sales have ended
Thank you for your interest in our community education program. We look forward to meeting you on Saturday November 12, 2016
Sales Have Ended
Ticket sales have ended
Thank you for your interest in our community education program. We look forward to meeting you on Saturday November 12, 2016
Description
AgeWell's Care Partners Conference
"Palliative Care: Any Age, Any Stage"
Are you dealing with a serious illness or caring for an older adult with a serious illness? If so, you probably have questions about getting the best care without sacrificing quality of life. Palliative care can help provide relief from the symptoms, pain and stress of a serious illness.
Join us for this one-day conference featuring national palliative care expert Diane E. Meier, MD, FACP, director of the Center to Advance Palliative Care.(CAPC) Dr. Meier can help you understand how palliative care can help your older loved one, even if curative treatments are underway. The program will feature information you can use, like how palliative care can help your loved one stay as healthy and independent as possible, how to make sure your loved one's goals and desires are the top priority, and how to manage your own stress.

Key Note Speaker, Diane E. Meier, MD, FACP
Dr. Meier
Dr. Meier has been featured on CBS Evening News, PBS News Hour, ABC World News Tonight, the New York Times, NewsWeek and The Los Angeles Times to name a few.

"Palliative Care Futurist: Matching Care to our Patient's Needs"
Other topics will include:
Chronic Pain: What you really need to know

Palliative Care for Persons with Dementia

Caregivers Decisions: Love and Comfort Without Guilt

Challenging Communications

Creating a New Hope: Navigating the Difficult Choices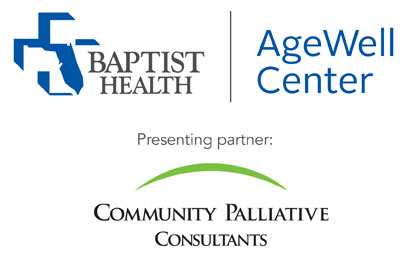 Baptist AgeWell Center for Senior Health
At AgeWell, we help older adults facing challenging medical issues live more independent and productive lives by providing them with an enriched level of specialized primary care in one central location. AgeWell provides peace of mind to those who are caring for an older loved one by promoting healthy aging through a comprehensive plan of medical care.
For more information visit: www.baptistjax.com/agewell
NOTE: THE BALLROOM AT UNF/UNIVERSITY CENTER CAN BE COLD, PLEASE BE SURE TO BRING A SWEATER OR JACKET WITH YOU SO YOU'LL BE COMFORTABLE.
EVENT CANCELLATION POLICY:
No Refunds due to limited seating capacity.
DISCLAIMER:
Views and conclusions expressed in this program are those of the presenters(s) and not necessarily those of the employees, administration or medical staff of Baptist Medical Center. All material presented in this program is provided for information only, and may not be construed as professional advice. Use of Baptist Medical Center's facilities for this presentation does not imply endorsement of any product, service or opinion discussed.
PRIVACY DISCLOSURE:
All faculties participating in continuing medical education activities sponsored by Baptist Health are required to disclose to the audience whether or not they do or no not have any real or apparent conflict(s) of interest or other relationships to the content of their presentation(s).
Baptist Health has engaged EventBrite, an unaffiliated company, to provide a convenient event scheduling and processing service for our patients. Any information that you enter into EventBrite is governed by the EventBrite Privacy Policy and the EventBrite Terms of Service Agreement.