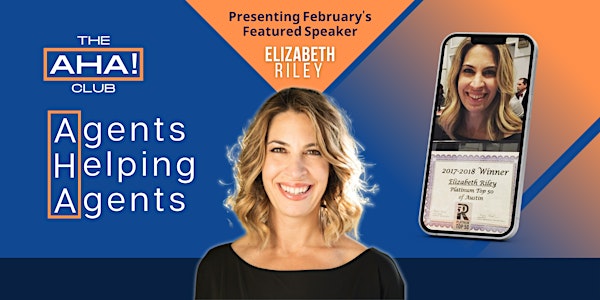 Agents Helping Agents (AHA Cub) February 17th, 2022- Elizabeth Riley
Monthly AHA (Agents Helping Agents) CLUB (Collaboratively Learn to Unlock Business)
When and where
Location
Lantana Community Event Center 1301 Haverford Lane Lantana, TX 76226
About this event
The AHA Club is a group designed for ALL real estate agents in the local DFW Metroplex. We meet monthly to foster a community of Agents Helping Agents to Collaboratively Learn to Unlock Business (AHA CLUB).
The goal is to raise the bar in our industry by helping each other improve all aspects of our knowledge and real estate businesses through sharing our best practices and niche skills and networking.
Lunch will be provided.
The January session was 🔥 and our February speaker is going to keep that going. Elizabeth Riley is joining us from Austin.
Elizabeth Riley is one of the most generous people I know and she's an exceptional leader. She's been one of the Platinum Top 50 Agents in Austin since 2016, was the #1 Agent at KW in Austin and has been the #1 solo Agent at EXP Realty in multiple years.
Somehow, Elizabeth finds a way to balance life with a husband and 4 kids, sitting on multiple boards, speaking to audiences of thousands and leading a RELATIONSHIP Real Estate business. Yeah, I said it. Relationship, Sphere of Influence, business.
Elizabeth is going to share with us how you CAN have it all and live a generous life in the process.