About this Event
Demographics are shifting and, with that, come both challenges and opportunities for innovators and entrepreneurs. With this in mind, AGE-WELL will spotlight top entrepreneurs and startups in the technology and aging sector.
Five finalists will compete for $20,000 in cash, as well as in-kind prizes and a future opportunity to pitch to regional investors.
Watch the pitches and a panel on the impact of AgeTech on brain health during our live-streamed event.
The live stream link will be sent out in advance of the event.
Format: 5 finalists, 5-minute pitches, 5-minute Q&A with a panel of expert judges
THE FINALISTS:
Braze Mobility develops innovative solutions to increase safe and independent mobility. After launching the first blind spot sensor system for wheelchairs that can detect obstacles and provide multi-modal alerts, Braze is now developing MOANA (Module for Obstacle Avoidance and Navigation Assistance), which can prevent collisions and increase access to independent mobility.
Neurofit is the FitBit for the brain. We connect the dots in your care using adaptive virtual reality exercises to bring together patient and practitioner to inspire, motivate, and personalize your recovery. We use AI to generate deep insights according to your mood and abilities to track engagement, as well as brain health and wellness according to your unique needs.
Able Innovations is solving the painful and labour-intensive process of transfers by developing technology that enables effortless, single caregiver, safe and dignified transfers. Our first product, the DELTA Platform, is capable of automated transfers of supine individuals who need to be moved laterally (ex. Bed to stretcher, imaging table) in healthcare facilities bringing immense value to all stakeholders.
VitalTracer is a startup whose focus is on healthcare in the domain of personalized medicine. We use biomedical sensors through the wrist to continuously detect vital signs and store them in a secure cloud base environment, that allows the patient to share them with their doctor or caregiver as needed.
Stabilo Medical is developing a smart vest that allows inpatients undergoing neurological rehabilitation to exercise safely and properly outside of their limited time with a therapist. The Stabilo Vest leverages the key element of repetition to improve recovery and makes previously unusable time in rehab more productive.
AgeTech and Brain Health Panelists:
Dr. Garth Smith is the VP of Business Development and Partnerships at the Ontario Brain Institute
Jim Mann is on the federal Minister of Health's first Advisory Board on Dementia, is an Advisory Council member of Research Ethics BC, and a member of AGE-WELL's Research Management Committee. Diagnosed with Alzheimer's in 2007, Jim now volunteers his time to focus on living as well as possible with dementia.
Dr. Lili Liu is the Dean of Applied Health Sciences at the University of Waterloo. Her research examines ways technologies can help older adults and family caregivers.
At the event, you will receive a link that will allow you to vote and post questions for our panel. Attend and participate for a chance to win a Kobo Clara HD eReader!*
Sponsors
Sponsors of the competition are: Innovacorp, Innovation PEI, New Brunswick Innovation Foundation as well as BC Seniors Living Association, CARP, IBM, Ontario Brain Institute, Spectrum Health Care, and YouAreUNLTD.
AGE-WELL NCE is Canada's technology and aging network. The federally-funded network is dedicated to the creation of technologies and services that benefit older adults and caregivers. Applicants may also be interested in AGE-WELL's Startup Affiliate Program.
*Available to Canadian residents only.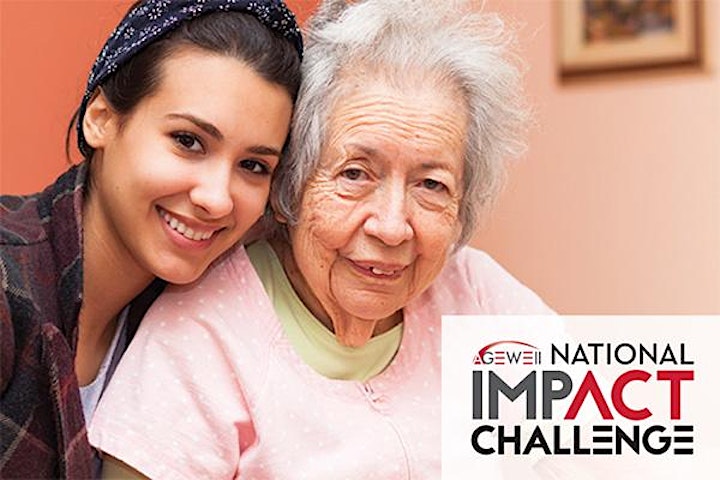 Cinq entreprises en démarrage de premier plan participeront à cette édition du Défi d'impact national d'AGE-WELL, mettant en vedette les meilleures entreprises en démarrage dans le secteur de la technologie et du vieillissement.
Regardez les présentations et un groupe d'experts à ne pas manquer sur l'avenir de l'innovation dans le secteur de la technologie et du vieillissement pendant notre événement en direct.
Le lien en direct sera envoyé avant l'événement.
Déroulement : Les cinq finalistes disposeront de cinq minutes pour présenter leur solution à un jury composé d'experts, et de cinq minutes pour répondre à leurs questions.
Panélistes sur le secteur de la technologie et du vieillissement et la santé du cerveau
Garth Smith est vice-président du développement des affaires et des partenariats à l'Institut ontarien du cerveau.
Jim Mann siège au premier Conseil consultatif sur la démence du ministre fédéral de la Santé, est membre du Conseil consultatif de Research Ethics BC et membre du Comité de gestion de la recherche d'AGE-WELL. Diagnostiqué de la maladie d'Alzheimer en 2007, Jim donne maintenant de son temps pour se concentrer sur la façon de vivre le mieux possible avec la démence.
Lili Liu est doyenne des sciences appliquées de la santé à l'Université de Waterloo. Ses recherches portent sur les façons dont les technologies peuvent aider les personnes âgées et les aidants naturels.
Lors de l'événement, vous recevrez un lien qui vous permettra de voter et de poser des questions à notre groupe d'experts. Participez et courez la chance de gagner une liseuse numérique Kobo Clara HD*!
AGE-WELL NCE est le réseau canadien axé sur les technologies et le vieillissement. Financé par le gouvernement fédéral, AGE-WELL déploie beaucoup d'efforts pour mettre au point des technologies et des services qui avantagent les personnes âgées et les aidants naturels. Les candidats pourraient également s'intéresser au programme d'affiliation des entreprises en démarrage d'AGE-WELL.
*Pour les résidents canadiens seulement.