Description
Join us in the Garden at AGE of Central Texas to unveil the newest AGE Legacy Lanterns and to appreciate those already proudly displayed!
The Legacy Lanterns represent the significant generosity of each individual donor and group who gives to the AGE Legacy Fund. These members lay the foundation for another successful 30 years of serving older adults and those who care for them, profoundly expanding the AGE mission and impact. We will unveil the new Legacy Lanterns alongside those already displayed in the Garden on the evening of the event to celebrate the immense passion, generosity, and impact of the donors that they represent.
Learn more about the AGE Legacy Fund here: http://ageofcentraltx.org/legacy_fund.php
What to Expect:
Heavy hors d'oeuvres, beer, and wine will be served, as well as a specialty cocktail! There will be a short presentation at 8:00 pm.
Parking Options:
Legal street parking within the neighborhood, and parking behind the AGE Building in the parking lot is available. There will be additional parking at Hyde Park Baptist Church in Lot A, with a bus shuttle to the AGE Building. See map below for more details.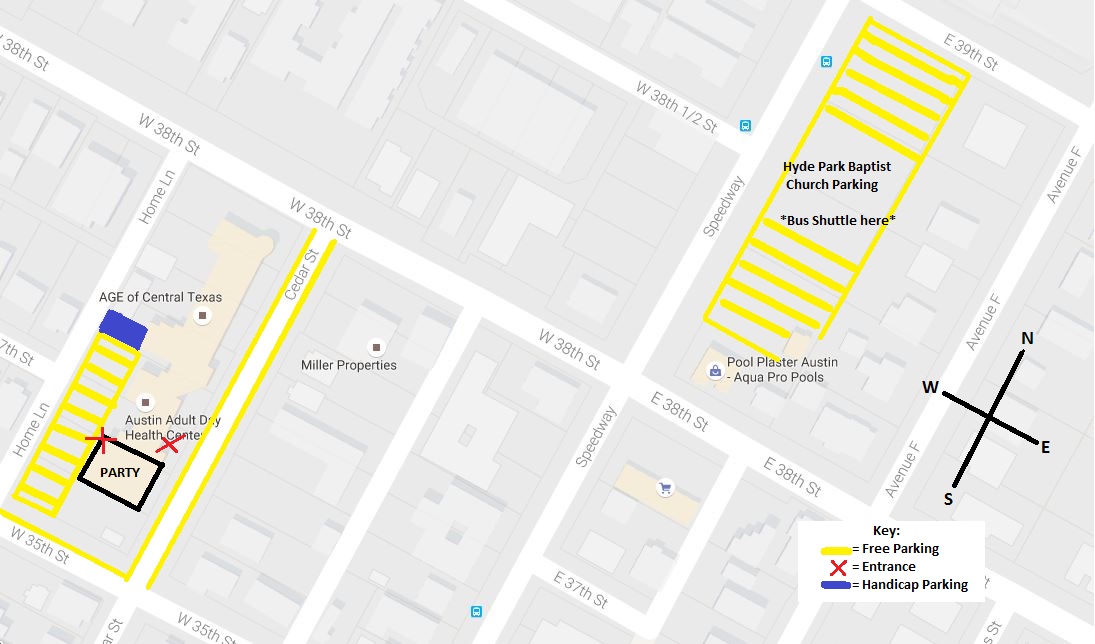 Have additional questions or concerns?
Contact Christian via email: craley@ageofcentraltx.org or phone: (512) 600- 9283