Description
Please join America Succeeds and the U.S. Chamber of Commerce Foundation for the Age of Agility Summit D.C. on January 24, 2019.
PROGRAM 3 pm - 5 pm | RECEPTION 5 pm - 6 pm
This event is the culmination of the Age of Agility National Tour that convened business, education, and policy leaders to develop solutions for aligning education pathways to the future of work.
---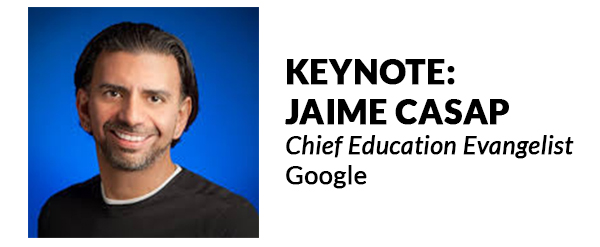 Jaime Casap is the Education Evangelist at Google. Jaime evangelizes the power and potential of technology and the web as enabling and supporting tools in pursuit of inquiry-based learning models. Jaime collaborates with school systems, educational organizations, and leaders around the world focused on building innovation into our education policies and practices. He speaks on education, technology, innovation, and generation z, at events around the world.
In addition to his role at Google, Jaime is also the author of "Our First Talk About Poverty," as a way to talk to children about poverty. He serves on a number of boards for organizations focused on education and equity. Jaime teaches a 10th grade communication class at the Phoenix Coding Academy, a computer science public school he helped launch in Phoenix, and guest lectures at Arizona State University. He was recently named as the ASU GSV 2018 Innovator of Color and received an Honorary Doctorate of Humanities from Felician University. You can follow and reach him on Twitter at @jcasap.
---
We are living in a time of extreme and rapid innovation in technology, causing radical shifts in the workforce. Consequently, drastic changes must be made to how we educate students. Technologists, futurists, and business leaders alike are referring to this fundamental shift as the next Industrial Revolution. We call it the Age of Agility and we are calling for changes in education that match the forces of change within the modern economy.
Over the past year, America Succeeds and the U.S. Chamber of Commerce Foundation have led the Age of Agility National Tour. We brought together nearly 1000 stakeholders from across the country, including governors, state legislators, chambers of commerce, business leaders, educators, school administrators, and reform groups. Collectively, these stakeholders represent a national movement of changemakers ready to confront the challenges and champion the solutions needed to make a systems-level impact on education.
The Age of Agility Summit D.C. will present the insights and innovations we uncovered across the national tour. Join us to connect with local leaders from each state and get an inside look at where this movement is heading next.