Agape Yaad Wellness + Camping Experience Offers Exclusive Green and Ag Space for Stress Reduction, Yoga, Art, Games and Building Community.
About this event
Agape Yaad. A place where peace, love and wellbeing grows. Discover the grounds of our organic farm and sacred space for overnight camping experiences. Guests will learn to practice meditation in nature, plus enjoy yoga, art therapy and games. Evening activities include a bonfire and a screen on the green movie showing! Optimized wellness for body + mind + spirit is our hosting goal. There are two ticket options: Guests can purchase a day pass to kick it for the day or apply to camp overnight! Once approved for camping space at Agape Yaad, guests will be notified and will have 48 hours to pay the formal camping fee (details and instructions will be provided in the approval email). For our August date, we are asking for the introductory fee of only $100 for up to 2 people per tent, which is a 50% discount of the formal camping fee. Play Date Guests will also receive a 50% discount and will have access to the Yaad for $25!!! Essentially, we are creating space for friends old + new to come out to the organic farm and share some positive vibes under the sun + moon + stars!!! Know that we are excited to connect, rejuvenate and cultivate community wellness in this way! PLEASE NOTE, THIS EVENT IS RSVP ONLY AND THE LOCATION WILL BE DISCLOSED ONCE WE HAVE THE FINAL PARTICIPATION COUNT THE WEEK OF THE EVENT.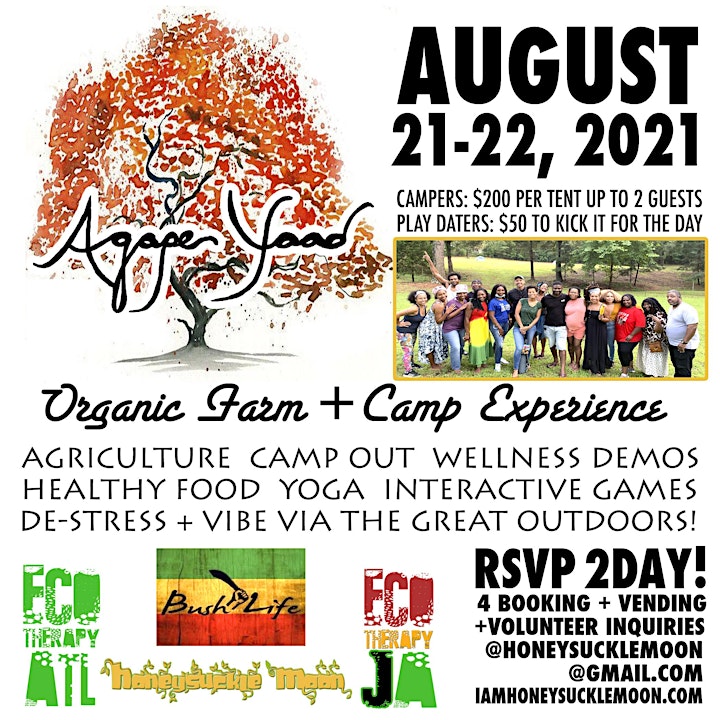 Organizer of Agape Yaad Wellness + Camping Experience
Community Organizer, Plant-Based Wellness Educator and Licensed Skin Therapist... Organic Spa Developer. Artist, Herbalist and Apothecary... Chief Product Developer of Honeysuckle Moon Natural Skin Care + Wellness Products. My Mission Remains to Support the Wholistic Wellbeing of Black + Brown People Through Offering Stress Reduction Exercises, Self Care Sessions and Multi Sensory Plant-Based Wellness Experiences.