About this Event
About Against Me!
Website | Facebook | Twitter | Spotify
Before becoming a full-fledged punk band, Against Me! was an acoustic solo project spearheaded by Laura Jane Grace, who began playing shows as a 17-year-old in Gainesville, Florida.
Starting in 1997, Grace performed as a solo act wherever anyone would have her, drawing much influence from early acoustic protest music. By 2001, she'd beefed up her sound with the help of a full band -- including guitarist James Bowman, drummer Warren Oakes, and bassist Andrew Seward -- but there would always be some anarchism and Billy Bragg in the group's raucous braggadocio. After a few initial 12" and 7" releases, Against Me! issued the fan favorite Reinventing Axl Rose in 2002. The underground hit blended elements of punk, folk, and country into socially conscious and impassioned anthems. Continuing their reputation of always being on the road, the musicians logged countless tour dates around the country in support of their early material.
A slightly more polished album, As the Eternal Cowboy, was released in 2003 on the indie label Fat Wreck, followed by a compilation of that album's demos titled The Original Cowboy. After the release of a DVD (We're Never Going Home) and another 7", the band returned with its most mature effort to date, 2005's Searching for a Former Clarity. A subsequent headlining tour in support of the introspective, politically aggressive album saw Against Me! proudly hitting every U.S. state, and they signed with Sire Records in December 2005. Later they issued a rough version of Searching for a Former Clarity, titled Total Clarity. They were back on the road by spring 2006, this time opening for the Alkaline Trio, and spent the summer months playing the main stage at the Warped Tour. Though Against Me! were officially signed to Sire's roster, they released their last indie album in the form of Americans Abroad!!! Against Me!!! Live in London!!!, a concert album recorded while on tour in London with Murder by Death.
In July 2007, the band's major-label debut -- New Wave, a decidedly more rock-oriented record produced by Butch Vig -- hit shelves. New Wave was the first album by Against Me! with no acoustic tracks; it was also their first on a major label's tab. Reviews were generally favorable, and the band toured heavily in support of its release. By the summer of 2009, drummer Warren Oakes had officially left the group to pursue an alternate career as a restaurateur, eventually opening up a Tex-Mex eatery in Gainesville. Hot Water Music's George Rebelo joined in his place, and the revised lineup re-enlisted Butch Vig to produce the White Crosses album, which appeared in mid-2010. White Crosses debuted at 34 on the Billboard 200 and Against Me! were prepared to launch an international tour when they canceled a planned leg through Australia and New Zealand in September of 2010. Two months later, the band parted ways with Sire, and then prepared for some end-of-the-year shows with Jay Weinberg sitting in for Rebelo on drums, a move that was made permanent early in 2011. That spring, the demos collection Total Clarity appeared on Fat Wreck Chords, and as Against Me! started work on a new album, they launched their own record label called Total Treble Music; that year, Grace also opened an Elkton, Florida-based recording studio bearing the same name.
In a May 2012 interview with Rolling Stone, Laura Jane Grace went public with her gender dysphoria, announcing her plans to transition to living as a woman and abandon her birth name, Tom Gabel. Against Me! began working on a new album called Transgender Dysphoria Blues in 2012 and, a few months after the interview, the band played its first dates since Grace's news. Toward the end of the year, Weinberg left the troupe and, the following May, Against Me! announced bassist Andrew Seward had left the band. Laura Jane Grace continued working with guitarist James Bowman and the band released Transgender Dysphoria Blues to wide acclaim in January 2014.
Transgender Dysphoria Blues was something of a breakthrough, achieving their highest chart placement to date -- it peaked at 23 on Billboard's Top 200 -- and strong reviews. On its supporting tour, Against Me! recorded the material that became their 2015 live album, 23 Live Sex Acts. During that tour, bassist Inge Johansson and drummer Atom Willard became full-time members of Against Me!, and this is the lineup that recorded 2016's Shape Shift with Me. ~ Johnny Loftus, Rovi
About Baroness
Baroness formed in Savannah, Georgia in 2003, a home-base where they formed their creative ideology, booked their own shows, hand-printed their merchandise, and began a relentless touring regimen, with a DIY/punk-ethic that they had shared since adolescence.
In 2007, they released their critically-acclaimed debut, the sludgy, guitar-banging The Red Album, which Revolver magazine awarded "Album of the Year". They followed it up two years later with the proggier, heavier Blue Record, extreme-metal magazine Decibel's "Album of the Year." On 2012's double-album Yellow & Green the band began to really open up, exploring a much broader variety of songs with more melodic vocals and alt-rock arrangements, earning a Top 30 chart debut in the U.S. and Spin magazine's "Metal Album of the Year."
In 2015 the band formed their own label, Abraxan Hymns, and released Purple, which Rolling Stone proclaimed "…a ferociously cathartic and brilliantly crafted blast of progressive metal." This year, the Grammy-nominated band return with their most ambitious work to date, Gold & Grey, due June 14th. The new album swirls triumphantly past genre barriers, their anthemic alt-metal hooks ricocheting between the circuitous twists of prog and jazz, the moody swirls of space-rock and noise, and the hypnotic pulses of trip-hop and 20th Century minimalism, with lead vocalist Baizley noting, "This is the most clear representation of the artistic vision I have for the band that we've ever done."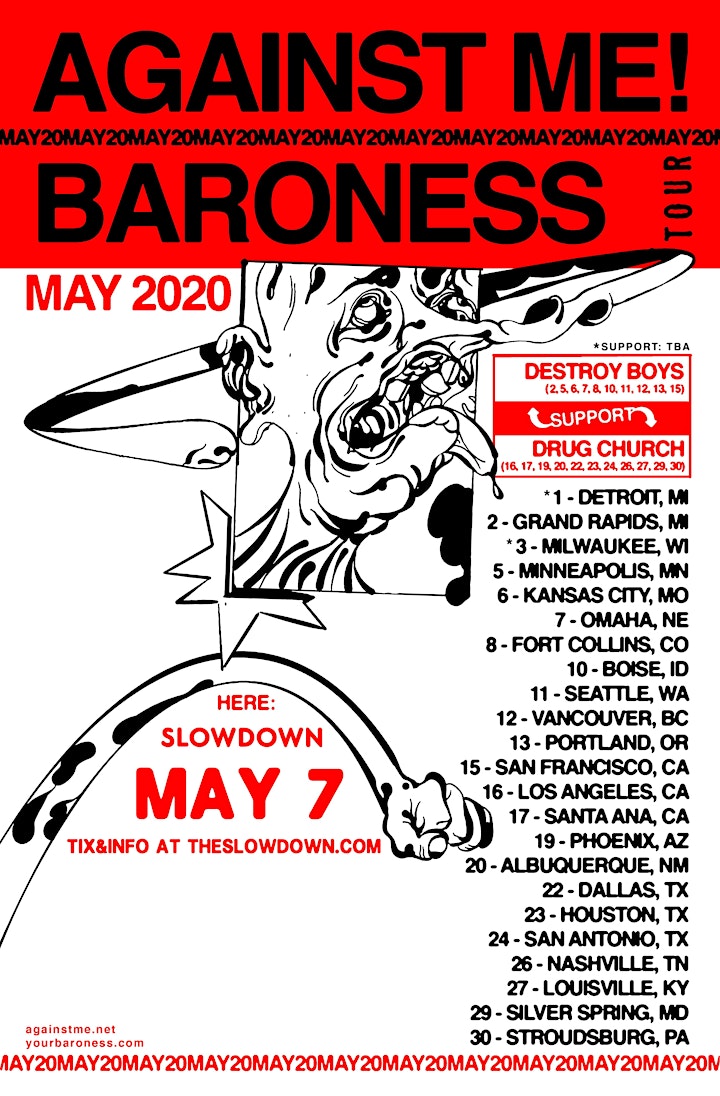 About Destroy Boys
Website | Facebook | Bandcamp | Spotify
Oakland based garage rock sweethearts Destroy Boys are showing expansion and demanding reaction on their latest newest EP, "Crybaby/Vixen". The female founded and fronted hi-fi rock band has grown since crossing the radar of music fans after a mention in the pages of Rolling Stone. After releasing their first album, band members Alexia Roditis and Vi Mayugba were then introduced to rock fans worldwide. Their new EP is a departure from the angsty relationship driven anthems of their debut album "Sorry, Mom" and a look into the inner thoughts of this generation's riot girls. Since inking their deal with Uncool Records in 2016, Destroy Boys has been rocking stages and festivals throughout the country including an invitation to House of Vans at 2017's SXSW.
Destroy Boys' new EP "Crybaby/Vixen" showcases the duo's growth as songwriters and musicians with Mayugba's driving sonic guitar creating a raw, gritty canvas for Roditis' ethereal, haunting, and sometimes comical vocals. A raucously introspective road trip to early adulthood, with the feeling of a cross between Blondie and Tragic Kingdom-era No Doubt. Destroy Boys are the perfect soundtrack for slaying the patriarchy or going skating with your friends.
Performers
Date and Time
Location
Refund Policy