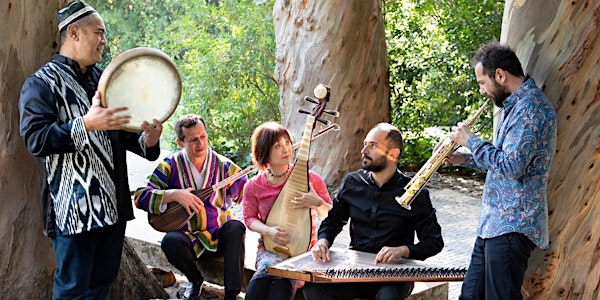 Aga Khan Master Musicians
World music star Wu Man hosts and performs in this debut broadcast of new music by artists from the Middle East, Central Asia, and China.
About this event
Aga Khan Master Musicians
Hosted by Wu Man, pipa
Saturday, November 14, 2020
7:30 pm
A YouTube Premiere event
You will receive a link to the event a week before the concert date.
World music star Wu Man -- a founding member of YoYo Ma's Silk Road Ensemble -- hosts and performs in a debut broadcast of new music by artists from the Middle East, North Africa, Central Asia, and China who form the Aga Khan Music Masters. This collaborative ensemble, performing on Asian and Western instruments, is inspired by their musical roots to explore how innovation helps revitalize cultural heritage. They have appeared with the Kronos Quartet and at Royal Albert Hall in London and will create this premiere video performance especially for the Freer and Sackler Gallerie
Performing on pipa (Chinese lute), Wu Man is joined by fellow members of this adventuresome musical collective consisting of artists who are accomplished performers of traditional and classical music. They also share a belief that tradition can serve as a compass for artistic explorations into new forms of creativity inspired by the past.
In 2019, the ensemble performed with the Gulbenkian Orchestra in Lisbon, at Germany's Mosel Musikfestival in Bernkastel-Wehlen and Konzerthaus Dortmund in North Rhine Westphalia. The program will include excerpts from the ensemble's private concert at Royal Albert Hall in London never before broadcast.
The Aga Khan Master Musicians include Tunisian-born Jasser Haj-Youssef on violin and viola d'amore; Syrian natives Feras Charestan on qanun (Arab zither) and Basel Rajoub on saxophone, tárogató, and duclar (Arab reed); Sirojiddin Juraev, from Tajikistan, on dutar and tanbur (Central Asian lutes), and Abbos Kosimov, from Uzbekistan, on doira (Central Asian frame drum). Together, they perform original music informed by classical, folk, jazz, and contemporary concert music and infused with traditions from across Asia and the Middle East.
This event is presented in collaboration with the Aga Khan Music Programme and is part of the 28th season of the Bill and Mary Meyer Concert Series.