AGA Baton Rouge - 2017 Spring PDT Conference
Description
Teamwork Makes The Dream Work
The Association of Government Accountants, Baton Rouge Chapter, is pleased to present our 2017 Spring Conference for registration. This year's Spring line-up of topics will include expert presentations on:
Internal Audit
Yellow Book
Tax Revenue Code
Public Bid Law
Grants
Forensic Accounting
State of the Economy
Cybersecurity & Mobile Device Management
Accounting for Capital Asset Impairment Following Disasters
Leadership
Team Building
Social Impacts of the Marriage Tax Penalty
Data Analytics
The conference will feature the well-received full breakfast again for our Spring morning kick offs to keep everyone fueled and focused! Networking and peer engagement during breaks adds to the value gained in attendance of our professional development training.
View the 2017 Spring Conference Schedule here: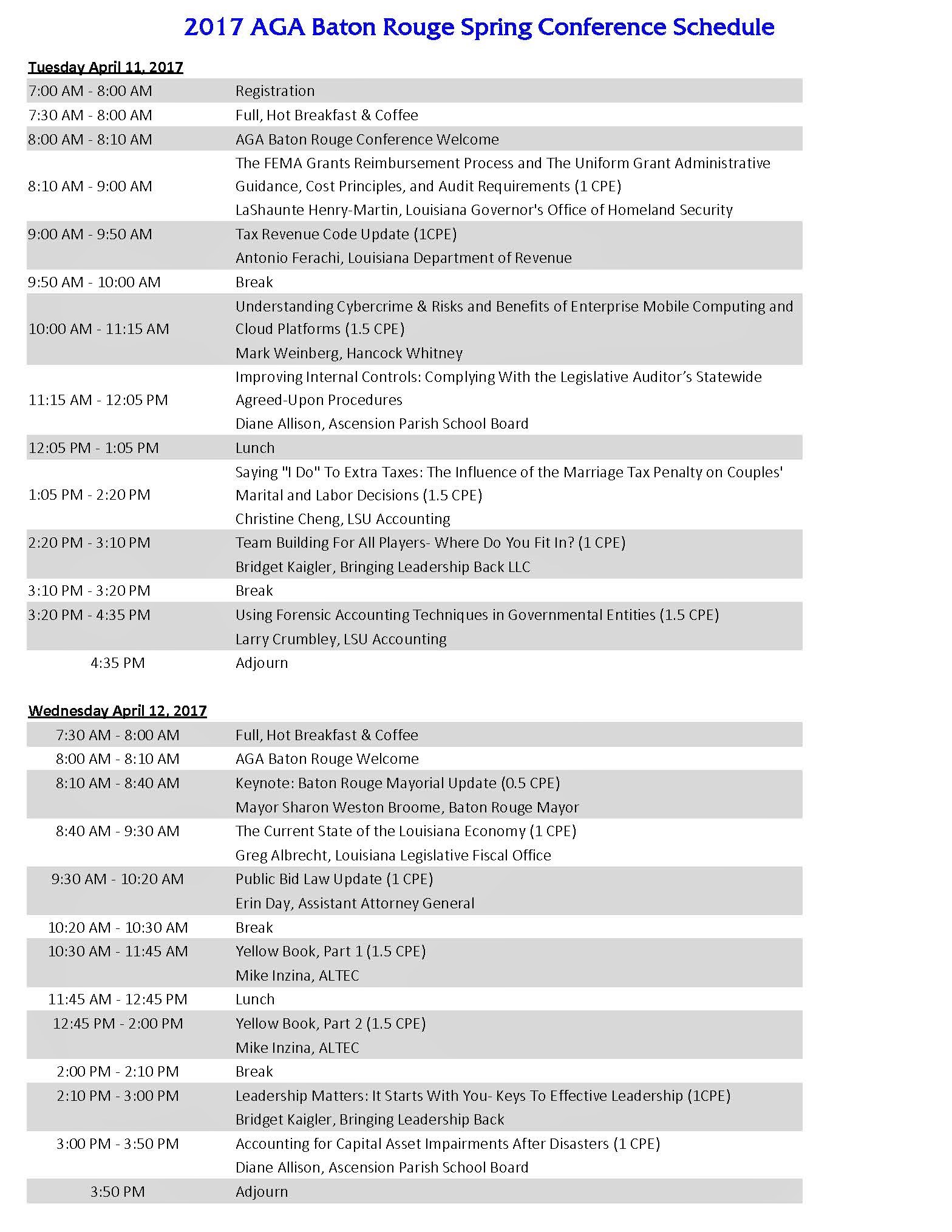 Plan to join us! Bring your co-workers and friends too.
FAQs
Can I pay with a check?
Yes, there is an "Other Payment Options" link in the lower right corner of the payment screen of this registration process. Checks can be mailed to:
AGA Baton Rouge
PO Box 65141
Baton Rouge, LA 70896
Can I pay at the event?
Yes, checks can be brought to the event and we can process credit cards as well at the event. Please complete the conference registration and note an alternate payment method.
What about the food options?
We will kick off both days with a full breakfast to keep everyone focused on the high-value material. Coffee and snacks for mid-morning and mid-afternoon will keep all attendees on track to experiencing the most productive conference ever. Delicous lunches will offer up hearty and filling entrees and sides. Attendees with specific dining requirements are asked to please contact us prior to the conference at aga.batonrouge@gmail.com