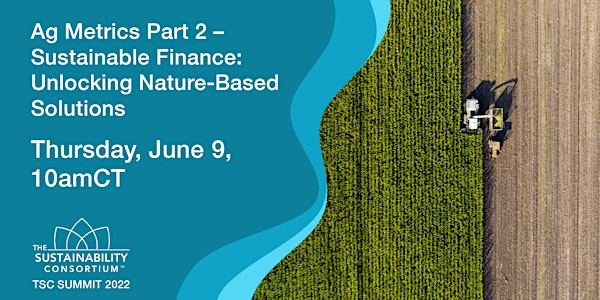 Ag Metrics Part 2 – Sustainable Finance: Unlocking Nature-Based Solutions
Join us for part 2 of our popular Ag Metrics workshop series.
About this event
Nature-based solutions to climate change that conserve, restore, and improve the management of ecosystems are accelerating the development of several opportunities for regenerative agriculture. Despite the expansion of current nature-based solutions, much more investment is needed to unlock their potential to tackle climate change. Innovative approaches to sustainable financing are essential to getting the outcomes of regenerative agriculture at scale to achieve more sustainable and resilient food systems and diversify farm income. In this session, experts will share nature-based solutions in practice and discuss the role of supply chain actors and the financial sector in scaling regenerative agriculture.
Speakers:​
Christy Slay, TSC, CEO & VP, Science and Impact, TSC
Teresa Garcia-Moore, TSC​, Manager, Science & Impact
Scott Herndon, President, Field to Market
Megan Reilly Cayten, Senior Investment Manager, Climate Assessment Management
Anoushka Mehta, Head of ESG Banking, Americas, HSBC
Sunny Schlesinger, Director, Finance, TSC (Moderator)