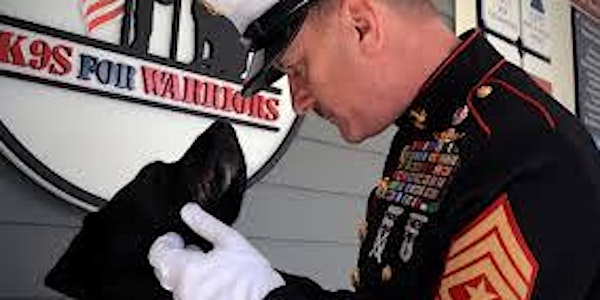 AFWC's American Wine Experience- HANGAR PARTY- Benefiting K9s For Warriors
Event Information
Location
Tropic Ocean Airways Hangar
1430 Lee Wagner Blvd.
Ft. Lauderdale, FL 33315
Refund policy
Refunds up to 7 days before event
Eventbrite's fee is nonrefundable.
Description
HONOR OUR VETS, SAVE LIVES, ENJOY GREAT WINE (see below Sponsors for list of wines to be poured)
Please join us for this awesome event. Wine, Food, Music, Auctions to benefit an incredible organization.
Taste dozens and dozens of world class American wines- you'll grab a glass, and try everything from Chardonnay to Syrah, Cabernet to Albarino, Roussanne to Zinfandel! Blends, single varietals. Wines from California, Ohio, Washington, New York, Michigan, Virginia, Oregon, and more! As a bonus, there will even be an International Rose wine table.
Visiting wineries include: Meredith from DAOU; Cindy from Kestrel; Michael from Hagafen... and who else.. we shall see!
Imagine dozens of festive tables- lots and lots of wine, tons of food, incredible party music and a Chinese Raffle to benefit K9s For Warriors.
The American Fine Wine Competition (AFWC) is excited to invite you to sample all of these delicious wines while enjoying food from area restaurants, a Chinese Auction and the "Cork Pull".
AND... How well do you REALLY know wine? Take the Consumer Challenge. Be one of only 12 Challengers to see just how much you know. Eight wines will be placed in front of you. You'll have a list of wines they could be. Can you tell us what they are? Guaranteed seat at the Consumer Challange table, $50 donation. Raffle to fill the rest of the seats, $20 donation. The winner will be rewarded with two tickets to the AFWC After Party on January 19th.
K9s For Warriors is dedicated to providing service canines to our warriors suffering from Post-Traumatic Stress Disorder, Traumatic Brain Injury, and/or Military Sexual Trauma as a result of military service post-9/11.
Their goal is to empower them to return to civilian life with dignity and independence. They are the nation's largest provider of service dogs for disabled American veterans.
K9s For Warriors is a tax-exempt 501(C)(3) nonprofit organization.
THANK YOU TO OUR AMAZING SPONSORS
STORAGE KING USA, ROBOVAULT
Suncoast Maketing
FIU, Chaplin School of Hospitality & Tourism Management
Advanced Roofing
Two Men & a Truck
VENU Magazine
South Florida Business Journal
FPL
A Flair For Fudge
RC Music Group
Chef & Sommelier (Wine Glasses)
City & Shore Magazine
Rod Coleman, Esq. & Associates
Preiser Key
Food for Thought Radio with Peter Leonard
BocaLocals.com
Opulence Magazine
LivingFLA.com
RealEats.org
Savor Our City Cuisine Tours
Cheney Brothers
Restaurant Placement Group
Culture Owl
Taste of America
SOME OF THE MANY WINES TO BE POURED
Youngberg Hill Pinot Gris
Atwater State Srah
Von Strasser Red Bleand Reserve
Tedeschi Petite Sirah
Rued Sauv Blanc
Flying Suitcase Red Blend
O'Brien Estate Chard
Castello di Amorosa Pinot Noir
St. Supery Estate Cab Sauv Rutherford
Bannister ZIN
Alpha Omega Cab Sauv
Noria Pinot Noir

Markham Vineyard Sauv Blanc
Hawthrone Chard Tres Belle
Krupp Brothers Cab Sauv
Rivino Cab Franc
Von Strasser Winery Petite Sirah The Poor Ranch
Vidon PN 3 Clones
Walla Walla Vitners Cab Franc
Youngberg Hill Pinot Noir Natasha
St. Supery Estate Cab Sauv
Michael David Winery ZIN Earthquake
Red Mare La Vaquera
Bee Hunter Red Blend

Betty's Vineyard OWSV Ballentine
JCB RBSB Passion
Aquiesce Vineyard GR
Brengman Brothers Chardonnay
Jane's Vineyard Pinot Noir Davis Bynum
Lagniappe Cabernet Sauvignon Pere
ElK Cove Pinot Noir Clay Court
Spoto Cabernet Sauvignon
Mari Vineyards DR
Alquimista Cellars Pinot Noir
Ledson Howel Mountain Cabernet Sauvignon
Jeff Cohn Cellars

Red Mare Sauvignon Blanc Alpha Mare
Bell Cellars Cabernet Sauvignon
Benovia Chardonnay
Howell Mountain Cabernet Sauvignon
Oak Farm Primitivo
Misc. Stuff Grenache
Knapp Sweet
Walla Walla Merlot
Ancient Vines Dashe
Acquimista Cellars Pinot Nior
North Star Merlot
Huge Bear Cabernet Franc

Rain Cloud Red Blend
Swick Wines White Single Varietal
Hunter Dehaven White Blend Collusion
Dry Creek Petite Sirah
Sol Rouge Cabernet Sauvignon
Michael David Winery Petite Sirah Earthquake
Antler Hill Cabernet Sauvignon
Chateau St. Michelle Merlot Ethos
San Simeon Chardonnay
Still Breathless Sweet Ratafia
Balletto Pinot Nior Burn Side Road
Ferrari Carano Pinot Noir
Chateau St. Michelle Merlot Ethos
Sol Rouge Cinsaut
The Hess Collection Cabernet Sauvignon
Kestrel Falcon Series Cabernet Sauvignon
St. Supery Estate Cabernet Franc
Balletto Chardonnay
Frostwatch Chardonnay
Luna Super Tuscan
Carol Shelton Red Blend Karma Reserve
Conerstone Cellars Sauvignon Blanc
Domaine Carneros Pinot Nior Le Ciel Serein

King Family Vineyards Meritage
Reustle Prayer Rock Vineyards White Single Varietal
Mi Sueño Winery Pinot Noir
Rosso Di Ca'momi Red Blend
Bee Hunter Grenache
Muscardini Cellars Red Single Varietal
The Winery SF Pinot Noir
Rocca Family Vineyards Cabernet Sauvignon
Reynolds Family Winery Chardonnay
JCB Chardonnay Nº81
Fox Run Vineyards Dry Riesling
Von Strasser Vineyard Cabernet Sauvignon

Date and time
Location
Tropic Ocean Airways Hangar
1430 Lee Wagner Blvd.
Ft. Lauderdale, FL 33315
Refund policy
Refunds up to 7 days before event
Eventbrite's fee is nonrefundable.