About this Event
Intrigued by the idea of having afternoon tea but afraid of not knowing teatime etiquette—pinkies up or pinkies down?
Let Lorna Reeves, editor of TeaTime magazine, show you the ropes—or rather the scones—in this virtual class that will help set you at ease. You'll learn a bit about the history of afternoon tea, its various courses, and how to properly eat each food item without embarrassing yourself. Lorna will also give you some pointers for hosting your own teatime, including how to select and steep a great pot of tea. The afternoon tea tasting kit included as part of this event (delivered to your home via FedEx) serves 2-4 people.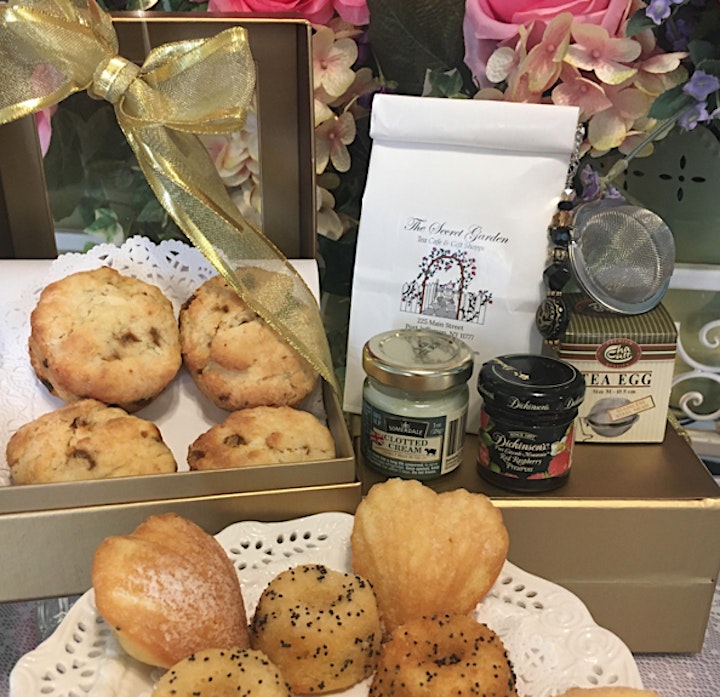 Perfectly suited to serve 2-4 people, your ticket ($49) for a delightful, virtual, afternoon tea includes the following:
(4) freshly baked scones
(4) almond madeleines
(4) petit lemon cakes
2 oz. of Fleur de Lis (a black tea with subtle notes of caramel and vanilla)
Sample jar of berry jam
Sample jar of imported clotted cream
Tea infuser
Direct shipping to your home
Access to the 90-minute virtual, interactive, and educational seminar with Lorna Reeves, Editor of TeaTime magazine
Tickets for this virtual experience are limited. Deadline to purchase is 9/21 (5pm). Buy now to guarantee delivery and participation. A sell-out is expected.
Although this virtual class is open to tea enthusiasts nationwide, please note this class will be taking place at 3:30pm EST and will be conducted in English. International shipping is not available for this event. Please refer to the FAQs below for additional information.
This virtual class is presented by the Coffee & Tea Newsletter, TeaTime magazine, and The Secret Garden Tea Room.

About the Presenters: Lorna Reeves, Editor, TeaTime Magazine
Lorna Reeves was introduced to the pleasures of afternoon tea at the Williamsburg Inn many years ago, and it wasn't long before tea drinking became an essential part her daily routine. She began her career at Hoffman Media, publisher of TeaTime, in 1991. Of her many responsibilities as editor, she especially enjoys discovering new places to have afternoon tea and planning the tea menus, pairings, and tablescapes pictured in the pages of the award-winning magazine. While Lorna has studied with World Tea Academy and the Specialty Tea Institute, her travels to tea estates in Sri Lanka and India have given her new appreciation for the marvelous beverage and those who produce it.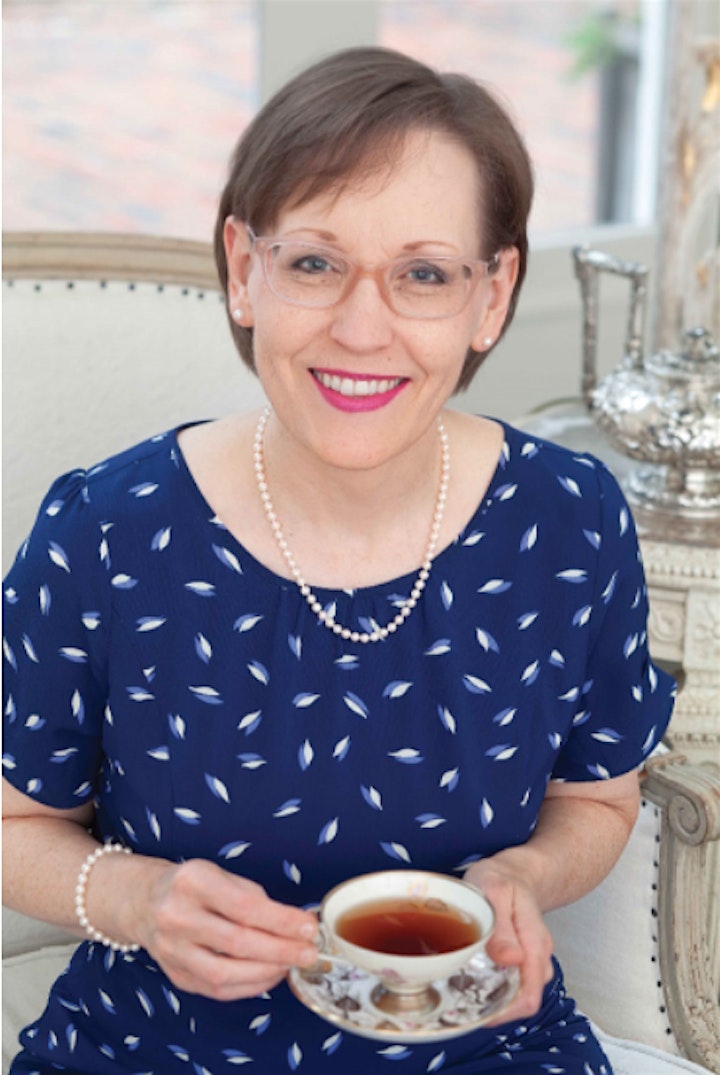 FAQs:
What is included in the ticket price? All tickets include access to the online event and the afternoon tea kit shipped direct to your home. The kit is perfect for 2-4 people to enjoy.
How will the afternoon tea kit be shipped to me? The kit will be shipped to the mailing address provided at the time of the ticket purchase. It will be shipped by FedEx.
Where do you ship to? We can ship nationwide. No international shipping at this time.
Can you ship to a PO Box? No. To guarantee on-time delivery, shipments can be made to home addresses only.
When will I receive the afternoon tea kit that is included with my ticket? Ticket sales end at 5:00pm on September 21 to ensure on-time delivery to your home. Kits will arrive 1-3 days prior to the virtual event in order to ensure freshness.
How do I join the online event? Prior to the online event taking place, you will receive a link to the Online Event Page which has the video conferencing link enabling you to join. The seminar will stream via Google Meet.
Can I ask questions during the online event? Yes! We encourage you to ask questions but please do so using the chat feature. This will ensure we avoid people talking over each other and all questions can be answered. The chat feature is typically located in the upper righthand corner of Google Meet.
How will you ensure the online event is a safe environment? We ask that all participants be polite and courteous. Starfish Junction and its sponsors/partners reserve the right to remove any participant from the video conference that is disruptive or behaving inappropriately with no refund.
Do I need to download special software or an app to participate in the video conference? The online event will be conducted via the video conferencing platform, Google Meet. You should be able to click the link provided and access the video conference in any web browser from a desktop computer or laptop. However, you will need to give permission to the browser to use your camera and microphone. If you would like to access the video conference on a smart device (smartphone, tablet, etc.) you will need to download the Google Meet app to the device that you are using to access it. Note, in rare cases you may need to update your browser or computer. Be sure to test your accessibility a day or two before the online event.
What happens if I lose internet connection during the online event? If you lose internet connection and leave the video conference, simply click the link again to re-join.
Can you help me with my technical difficulties accessing the video conference? Yes, please email help@starfishjunction.com. It is important for you to try accessing the video conference before the day of the online event so we can fully assist you as we have some limitations.
I can't make the online event but I would still like to purchase a ticket for the event, will the seminar be recorded for private viewing? Yes. If you are unable to attend the online event you may still buy a ticket to the seminar and have the kit shipped directly to the mailing address provided. Please note that all sales are final and there are no discounts, refunds or exchanges should you not join the online event portion. Note, the video conference will be recorded and a link will be sent to ticket purchasers for later viewing but it will not be available to the public.
Will the online event be recorded? Yes, we will be recording the video conference. After review of the recording, we will send a link out to all ticket purchasers so they can access it and view it at a later date should they be interested in doing so. The recording will not be made public.
Do I need to prepare anything in advance in order to participate? In addition to the afternoon tea kit you will be shipped for the tasting, the following supplies are suggested to elevate your experience:
--Teapot (16- to 32-ounce capacity preferred)
--Measuring spoon (1-teaspoon capacity)
--Small bowl or plate for used tea leaves
--Teacup and saucer—one per person
--Milk (optional)
--Sugar or sugar cubes (optional)
--Plate (salad size preferred)—one per person
--Utensils (table knife and spoon)—one of each per person
--Small napkin (cloth preferred)—one per person
Date and Time
Location
Refund Policy