About this Event
Afternoon Delights is a new series of headliner comedy Sundays 3pm at the Broadway Comedy Club. $20 cover. ONE drink minimum.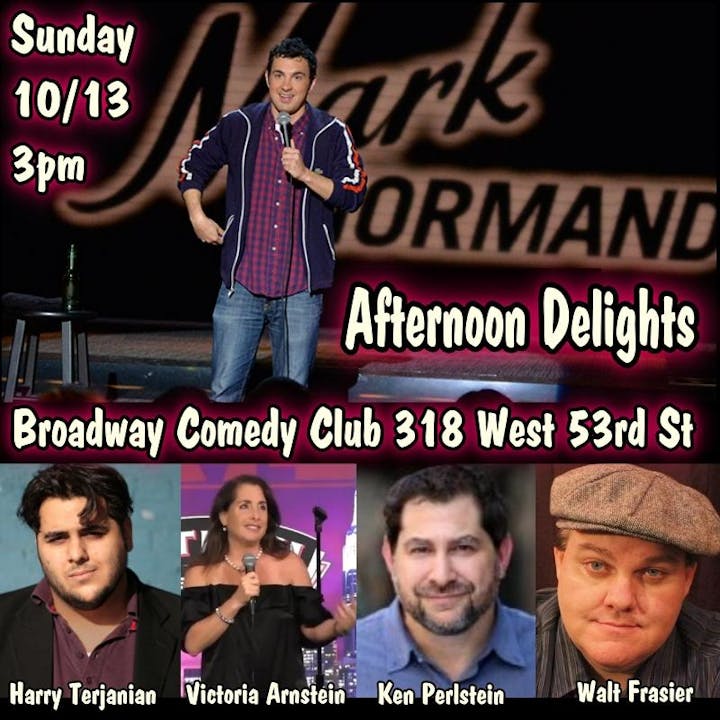 Mark has done a One-Hour Comedy Central special "Don't Be Yourself", a Comedy Central HALF HOUR special, has appeared on TBS's CONAN 6 times, Tonight Show with Jimmy Fallon, Late Show with Stephen Colbert, Showtime's "Live at SXSW", INSIDE AMY SCHUMER, TruTv, Best Week Ever, MTv, Last Comic Standing, @Midnight and released an album with Comedy Central records titled "Still Got It"
More annoying accolades that no one really cares about: Mark was named one of Comedy Central's Comics To Watch for the 2011 New York Comedy Festival. Mark was also named Esquire's "Best New Comedians 2012", Splitsider's "Top 10 Up and Coming Comedians on Each Coast", and Time Out New York's "21 New York Comedy Scene Linchpins". Village Voice's "Best Comedian of 2013"
Walt Frasier has been producing comedy shows in New York since 2002. Mostly known for his work in improvisation and corporate comedy, Frasier has hosted 5000+ shows. TV credits include Lilyhammer (NETFLIX), Blue Bloods (CBS), Friends of the People (TruTV), Royal Pains (USA), Naked Brothers Band (NICK), Fat Pants (Dr. Oz Promo), Late Night with David Letterman (9 eps 2006-2007). Also known as Dr. Oz's Fat Pants
Featuring
In addition to playing major clubs in New York City, Harry has toured clubs, colleges, and theaters across America, playing to audiences of hundreds and thousands at high capacity venues such as New York's Town Hall Theater, Chicago's McCormick Convention Center, Syracuse University, U-Mass, NYU, and many others, as well as opening for the likes of 30 Rock's Judah Friedlander. He has taken part in several national comedy festivals including being a runnerup in the New York Underground Comedy Festival's Emerging Comics Competition, a finalist at the New York Comedy Festival's Andy Kaufman Awards, and a finalist in the Disney sponsored Do You Think You're Funny? Contest
After a lengthily career on stage, Ken was delighted to be nominated as "Best Supporting Actor" for his work in Either/Or at the Midtown International Theatre Festival. His television and film credits include The Americans, Person of Interest, Those People, and Adam Bloom, The Americans, Person of Interest, and The Marvelous Mrs. Maisel .
Victoria has performed around the world, but is excited to be home form her six year vacation in Hawaii.
Other Special Guests TBA
#standupcomedy at the #broadway #comedy #club #NYC