"Afterimage" is Frank Lepkowski's debut solo exhibition, opening to the public on May 7th at 8711 Grand River in Detroit on view thru May.
About this event
"Afterimage" is Frank Lepkowski's debut solo exhibition, opening to the public on May 7th at 8711 Grand River. An "afterimage" is the phenomena of seeing a ghost image after being exposed to bright or bold stimuli. In this series of work, Lepkowski explores the concept of an afterimage while thinking about our relationship with online media as well as emulating the phenomena of unfinished thoughts and half-memories colliding together in the mind.
When our minds are at rest after everything we've seen, read or heard in a day, what is left over?
His digital paintings and large-scale interactive work pull from an archive of screenshots from social media, along with photos captured on his phone. In response, he has created a series of "afterimages" to represent each month of the last year. This show will be made up of a collection of physical works and large-scale interactive projections.
Frank Lepkowski explores the role of modern technology in society, both in his subject matter and his artistic process. Intertwining digital media tools and analog techniques, he creates maximalist, multi-layered compositions that include embroidery in his paintings and installations that reflect the noise and stimuli of the digital age. Lepkowski is a recipient of the 20/20 Emerging Artists Fellowship 2020. His artwork is currently featured on Artsy.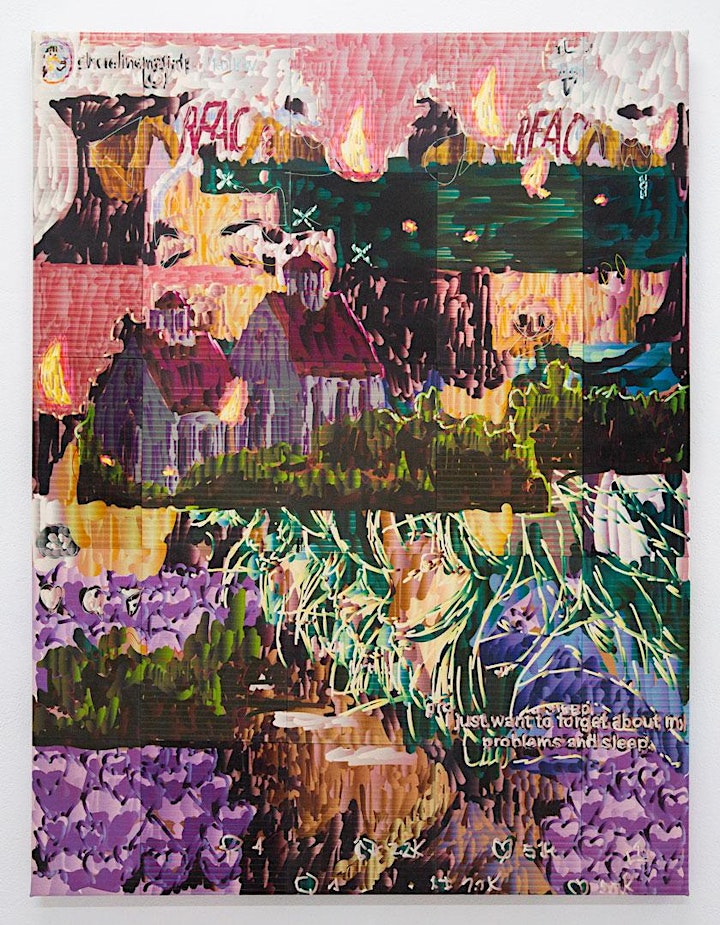 Sleep, Frank Lepkowski.
The exhibition will be on view by appointment with limited viewing hours at 8711 Grand River through the end of May 2021.
PUBLIC OPENING RECEPTION
Friday, May 7th
7-10PM
PUBLIC VIEWING HOURS (By Appointment)
FRIDAY 5-8PM
SATURDAY + SUNDAY 1-4PM
*Due to COVID-19, we are implementing safety precautions to protect visitors. Masks MUST be worn while inside the venue at all times and social distancing will be strictly enforced. Please respect others space and allow 6 feet of distance between yourself and others. Capacity will be strictly enforced to maintain space for social distancing.*
Organizer of Afterimage: Frank Lepkowski Solo Exhibition
PLAYGROUND DETROIT is a creative agency and gallery based in Detroit, Michigan.
PLAYGROUND DETROIT's mission is to support and develop opportunities both for creative professionals, artists and residents in order to enhance and sustain Detroit's creative economy. 
CONTACT // info@playgrounddetroit.com