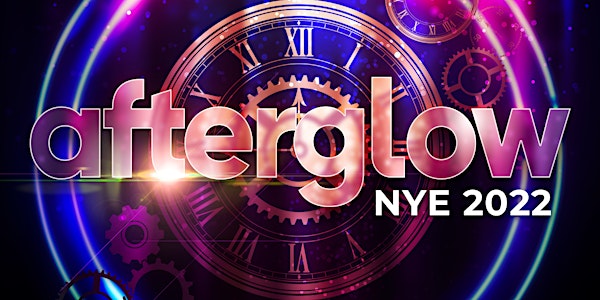 Afterglow NYE 2022
New Years Eve Afterglow—the wintry sister of our legendary Pride party—is returning to ring in 2023 with glowing queer TOGETHERNESS!
When and where
Location
Space 550 550 Barneveld Avenue San Francisco, CA 94124
Refund Policy
Contact the organizer to request a refund.
Eventbrite's fee is nonrefundable.
About this event
Comfort & Joy is breathlessly excited to present to you this year's AFTERGLOW NEW YEARS EVE – the wintry sister of our legendary Pride blockbuster – back again proffering a glowing fête full of chosen family, performative fun and quality time spent immersed in San Francisco Bay queer community as we collectively ring in 2023.
At Comfort & Joy we take pride in holding space for the transformational, at once celebrating the realities of humanity, while at the same time encouraging cathartic escape and soulful revivification. Join us as we seek to instantiate a space that is as open to our returning friends + lovers as it is welcoming to new folks to feel queer freedom ringing!
We can't wait to visualize, vocalize, dance, prance and play with you as we work together to make this a Most Queer New Year.
* * * * * * *
From when doors open until 6am we'll be taking you on a California-rooted journey to the stars with our spectacular musical guide spirits, including:
MAIN ROOM
9:00 - DJ ALI
10:30 - HOMERO ESPINOSA
12:00 - New Year Performances
12:15 - AH-MER-AH-SU
2:00 - DJ DENISE
3:30 - OMEDJ

DISCO (BACK) ROOM
9:00 - ALLEN CRAIG
11:00 - SINDRI
2:00 - SERGIO FEDASZ
UPSTAIRS
DJ TOMCAT
WHISKEY DEVIL
...OTHER PERFORMERS TBA!
As a prelude to our latenight celebratory madness, our amazing collection of performers will help you usher in the New Year with an explosive midnight mix of artistic performances, music, dance, hope and love! Don't miss the Main Room's midnight flight into a future formed by the hopes and the hands of our caring community.
* * * * * * *
In the Main Room, dance ecstatically in the spellbinding presence of time itself, where dayglo expression will take center-stage: join us in lifting up Time Well Spent while countering the cause of Time Wasted; praise the Ticking of Times we love, while throwing off the Time Sinks allowed to lurk in the shadows. Perhaps together our movements can flip the Arrow of Time forever!
Like clockwork, the Cuddle Space will return for soulful soloists, demure duos and friendly gaggles seeking grounded immediacy...make sure you attend the workshop by Ariel at 10pm:
Workshop Title: New Year - New You!
Its time to dust off the old and get into the new! Come explore our best selves as we learn how to step into our truest desires and welcome in 2023! This is a time for growing connections, building community, celebrating our accomplishments, and learning how to be fully comfortable and present at a play and dance party. Come gain new skills, meet old and new friends, and celebrate the beginning to an awesome New Year!
Trixie Lamonte (Ariel Vegosen) is a professional workshop facilitator, sex relationship confidence coach, educator, performer, and ritualist. Ariel is the founder of www.genderillumination.com and www.shinediversity.com - organizations dedicated to creating justice, inclusivity, and creative interactive workshop experiences. Ariel is proud to be kinky, queer, and nonbinary. Ariel is the co-founder of Gender Blender and Queerdome. Ariel is well known for hosting safer sex consent based play parties, gogo dancing, performing genderqueer art, and coaching people in poly, self-love, and quality communication. For more information or to hire Ariel go to www.polyexcellent.com
Upstairs is, as always, your chance to watch it all unfurl before you...or seize the moment and make it yours with verbal consent as your wing-person!
* * * * * * *
>>Special Note about Consent & Communication<<
Comfort & Joy is here for you! If you ever need support, see someone who may or have other concerns at our parties, please find one of our 'vibe-raters' (purple glow collars) or a house manager (pink glow collars).
We want everyone to always feel respected, adventurous and safe at our events. Consent makes that possible. Please communicate and check in before touching. If you aren't feeling it, a polite 'no thank you' is kind. 'No' *is* a complete sentence. If you receive 'no' in any form, please be gracious and respect it. Ultimately, we request that we ask each other for permission rather than forgiveness, when it comes to consent.

NYE gold glamor, disco realness, dayglo/neon, red-orange-pink-purple ombre and anything else that brings you into your best lyfe is most highly encouraged.
Photobooth fun and body-painting majik will be provided to ticketed guests!
Wave after wave of our tasty late-night fruity refreshments.
Clothes check available to help you metamorphose from warmly cocooned to dancing queen!
This event is 21+. Our apologies to the youngsters!
* * * * * * *
THERE ARE LOTS OF OPPORTUNITIES TO VOLUNTEER AND HELP US CREATE GLOW MAGIC! It takes a big ol' queer village to manifest all of this merry madness – each and every human who signs up + shows up to Volunteer will receive a free ticket as thank you!

NYE Afterglow is a luxurious, one-of-a-kind San Francisco celebration thrown by Comfort & Joy, a 501(c)(3) volunteer-run not-for-profit corporation. Proceeds enable us to host more fabulous parties, create our legendary village in the queerborhood at Burning Man, provide community art grants within and outside of San Francisco, and offer free or discounted events supporting inclusion of all queer, creative and expressive community members here in the SF Bay Area be their bodies black, brown, asian, white or something else we haven't learned to describe yet. If you can't afford a ticket but think you should be in attendance, tell us about it at afterglow@playajoy.org. We thank you for your support!
Highly encouraged: two-course COVID vaccination + two boosters (including bi-valent booster) as well as both courses of the MPX vaccination + PrEP (if applicable) before attending! Get STI tests a week before event and start treatment as needed - Magnet on Castro, SF City Clinic in SoMa and the Berkeley Free Clinic are fantastic places to get these things sorted free of charge. If you feel sick, please stay home - we will gladly refund tickets for anybody unable to attend due to health concerns.