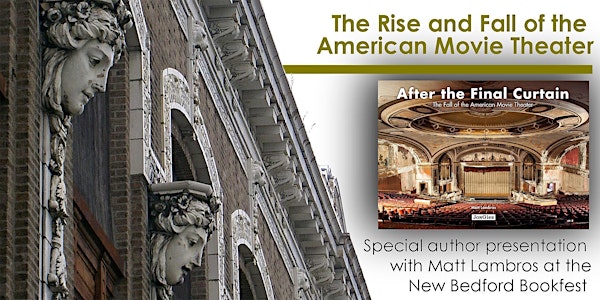 After the Final Curtain at New Bedford Bookfest
When and where
Location
Groundwork! 1213 Purchase Street New Bedford, MA 02740
Description
NEW BEDFORD, MA - The movie theatre occupies a unique space in American civic and cultural life. They help give a city its identity and shape a permanent moment of shared nostalgia. In Brooklyn, Loew's Kings Theatre all by itself can summon up the romance of the borough. The ghostly presence of The Orpheum Theatre stands out of time to symbolize an era in the City of New Bedford.
This April, New Bedford Bookfest is pleased to welcome a writer and photographer who has literally written the book on these movie palaces of old. Matt Lambros, author of "After the Final Curtain: The Fall of the American Movie Theater," and "Kings Theatre: The Rise, Fall and Rebirth of Brooklyn's Wonder Theatre" will present a special talk on the subject on Saturday, April 22 from 1:30 p.m. - 3:00 p.m.
"After the Final Curtain" has gained the author word-wide acclaim. The book has been featured by media outlets from BBC News to the Weather Channel. Lambros, a New York-based photographer, has spent over 10 years composing "photographic obituaries" for once-thriving buildings that are now crumbled and forgotten, he writes. His books are a result of that effort.
In the process, he has learned a thing or two about their revival as well. The story of the stunning restoration of the Kings Theatre is testament to that fact. And, Matt's travels have brought him to New Bedford and The Orpheum Theatre where he learned about efforts to save this beloved building.
What did he learn here? Find out during the New Bedford Bookfest. Matt Lambros will speak on Saturday, April 22 at 1:30 p.m. - the first day of the two bookfest at Groundwork!, New Bedford's first co-working facility at 1213 Purchase Street. A question and answer period and book signing will follow his presentation.
- New Bedford Bookfest takes place from 11:00am - 4:00pm on Saturday, April 22 and Sunday, April 23. Except for special features, the bookfest is free and open to the public. Dozens of authors will be in attendance to sell and sign their books during the bookfest, which takes place in Groundwork!, located at 1213 Purchase Street, New Bedford, MA. More information can be found at NBBookfest.com. Also, follow other special features and learn more at Facebook/NewBedfordNow and NewBedfordCoworking.com.