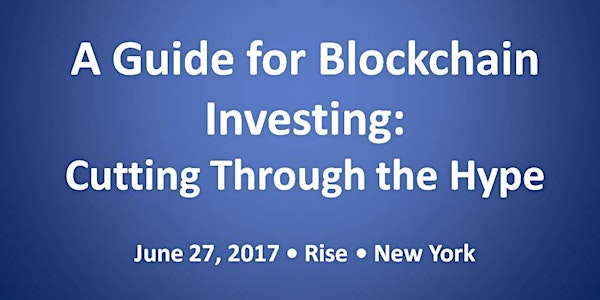 After the Bell: A Guide for Investing in Blockchain: Cutting through the Hy...
Event Information
Location
Rise New York
43 West 23rd Street
New York, NY 10010
Description
Blockchain. The word is talked about in all circles, in many markets but for those in the investment community they want to know what they're investing in and what their returns will be. What are the risks? The rewards? What do they need to know and what's dangerous if they don't know? And if you're looking for investors, what do you need to have prepared to attract the most interest?
These questions and more are addressed in a unique and the first-ever panel to discuss specifically for investors the pros, cons and need-to-know of blockchain. Join us in June for another of our in-depth, thought-provoking and informational After the Bell Panel Discussions. These panels are not recorded or streamed, so be there and hear first-hand information from our panel of experts.
Event Schedule - Tuesday June 27th, 2017
5:45 pm Registration
6:15 pm Panel Discussion Begins; Topics Addressed Include:
• Who's investing in bitcoin/digital currency/blockchain technology?
•What are some of the criteria you look at for investing?
•ICOs
•What areas within blockchain are becoming the "hot" areas of investing ?
•When you're looking for investors, what do you need to know/how to prepare/challenges?
•What are some long-term visions for future investing (5 year, 10 year+)
Panelists:
Cristina Dolan, Founding Partner, insideCHAINS

Kirill Gourav, CFA, Founder, Csqua.red

Steven Nerayoff, Esq., LL.M., Founder & CEO, Maple Ventures

Jack Saba, Managing Partner, Day One Investments

Nick Spanos, Founder, BitcoinCenter; Chairman, Blockchain Technologies Corp.
Facilitator: Stacey Mankoff, Managing Principal, The Mankoff Company & Founder, After the Bell Events
7:15 pm: Networking Reception
Date and time
Location
Rise New York
43 West 23rd Street
New York, NY 10010