Description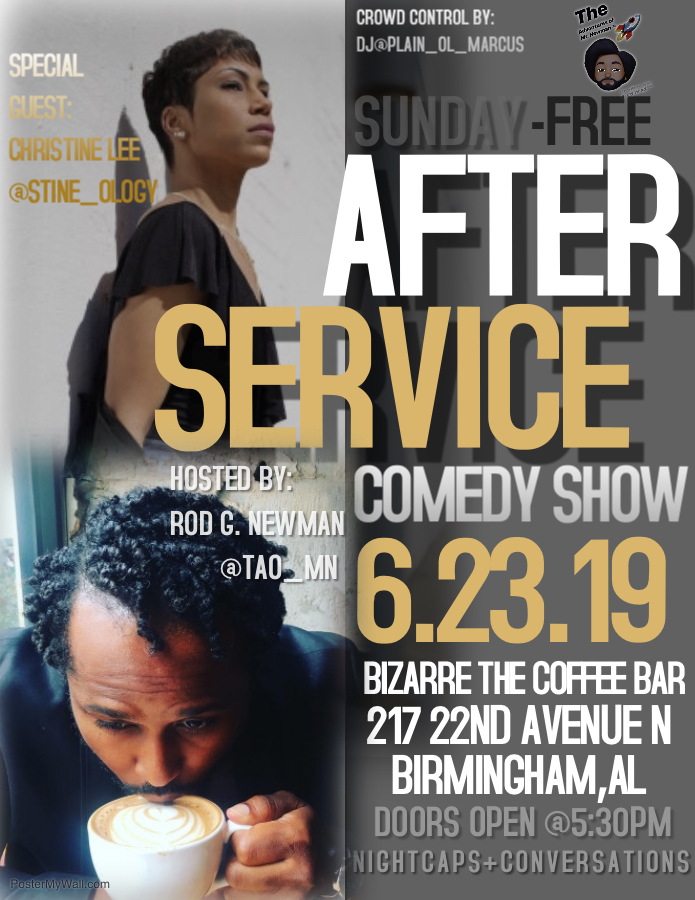 ---
After church service Come to the AFTER SERVICE Comedy show. Nightcaps+Conversations.
Hosted by: Rod G. Newman also known as- The Adventures of Mr. Newman.
This show is brought to you by, The Newman Media Group.
What is the most Frequently Asked question on Sunday evening after Church? "WHERE THE FOOD AT?"
NO...
Ok yeah, but the second most FAQ? "What are you going to do after Service?" - Most people would probably answer, going to bed getting ready for the work week. Yes, this true: Me too! Fortunately, at this show nightcaps can be purchased and conversations will be had. Basically, You will be able to eat a little bit, drink a little bit, and Laugh a whole lot! Our special guest this week is Christine Lee- Mother/Speaker/President of @SoberCulture. A non-profit organization that raises awareness for Substance Abuse within the community.
Who's Invited?
Ages- 21 and Up (Sorry kids!)
Open to the Public
People who just got out of about 3 Church Services and looking for something else to do, NOT CHURCH!
Location?
Bizarre the Coffe Bar- Restaurant, Coffeehouse style in Birmingham, AL.
Parking Availalbe on 2nd & 3rd Avenue North
Why should You Come?
Liquor is the medicine to relax the mind and body; but Laughter is the medicine to the Soul.
The show is FREE so get there Early seating is limited. (Please RSVP to Reserve your spot)
Food & Drinks will available for Purchase at the show.
FOR MORE INFORMATION:
TheNewmanMediaGroup@Gmail.com or Call: 615-540-8230