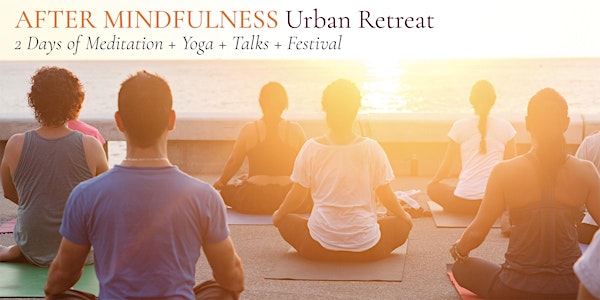 After Mindfulness, Urban Retreat
When and where
Location
UC Berkeley Campus 101 Zellerbach Hall UC Berkeley Berkeley, CA 94720
Description
General Admission includes:
Festival of Sharing where over 30 organizations come together to co-create this non-commercial event and offer an experience of generosity

8 panel discussions in Zellerbach, US Debut Concert by Imee Ooi, Sound of Metta

10 Guided Meditation, diverse forms and techniques

10 Yoga/Movement Classes

Children's Festival where Youths 18 and under come for free to outdoor Festival Activities.

Gift of The Heartfulness Way: Heart-Based Meditations for Spiritual Transformation, by Kamlesh D. Patel, Joshua Pollock
Hosted by Fung Institute of Engineering Leadership
Organized by aftermindfulness.org
Presented by the 11th Global Conference on Buddhism.
---
Event Overview
June 29-30, hundreds from around the Bay Area and the World will join together in Berkeley for an urban retreat to ask "What's After Mindfulness?" The Retreat will offer various tracks throughout the weekend filled with guided meditation, movement/yoga classes, panel discussions, small circle of sharing, dharma talks, live music, demonstrations, 2 movie screenings, and a closing concert by Imee Ooi. Local restaurants will offer vegetarian street food tents on site for a fully immersive gathering of activities.
Learn from great teachers
We'll explore potential answers to "What's After Mindfulness" through a mix of talks from world-renowned teachers, meditation, yoga, and a community of festival partners putting the Buddha's teaching into daily practice. Together, we hope to begin to move beyond mindfulness to cultivate wisdom and compassion and truly connect with the world in which we live. Learn various forms of meditation techniques and practices from diverse traditions and cultures embracing the core teachings of this ancient wisdom. Come meet masters and teachers from Theravada, Zen, Mahayana, Vajrayana, Tibeten, Jodo Shinshu, Heartnfulness, and Insight Meditation.
3 Venues
Enjoy community, festivities and spaciousness in 3 campus venues anchored by the world renown (1) Zellerbach Concert Hall; (2) Lower Sproul Plaza for the festival, Children's Village, Dance; (3) MLK Student Union for Meditation, Yoga and Art Auction.
Topics include:
Mindfulness Bliss and Beyond (Ajahn Brahm)

Deepening and Enriching Our Practices (Rev. Heng Sure)

Change Yourself, Change the World (Nipun Metha)

Mutual Healing through Self Transformation (Drukmo Gyal)

A New Paradigm: The Buddha's Teachings on Environment (Ayya Tathaaloka)

Compassionate Connections: Loving Kindness across Cultures (Karma Lekshe Tsomo)
Turn insights into practice
Between talks, there will be an outdoor festival where attendees and event partners can let go of transactional exchanges and practice giving and receiving with the simple goal of connecting and sensing their own experience. It's a festival of sharing. There will be gifts of art, books, healing, inspiration, and discussions. Conference attendees, community partners, and Sanghas from around the World are invited to share their work, stories, projects, books, and arts.
Embrace loving kindness through music
To close out the event, Imee Ooi and JSJG will premier their new, mesmerizing "Sound of Metta" performance in the US exclusively for After Mindfulness attendees. ​This special private concert is open to all registered After Mindfulness attendees. You will not need a separate ticket to attend.
Daily Program
5 Guided Meditation Sessions, 5 Yoga Sessions

Morning Talks (Talks, Stories, Panel Discussions)

Festival of Sharing (Interact, Engage more deeply, or Experience Joy when giving)

Afternoon Talks (Talks, Panel Discussion and Closing statement for the day)

Open Time (Group hikes, group yoga, affinity group gatherings, meet and greet dinners)
A 100% non-commercial event
Thanks to the generosity of an unsolicited grant, all event proceeds will be donated to nonprofit organizations helping answer the question "What's after mindfulness?" including:
Supporting monastic women in Buddhism @ Dhammadharini Support Foundation

Innovation in alternate forms of capital @ ServiceSpace

Awakening Wisdom in Community @ Dharma College

Bridging cultures @ Berkeley Buddhist Monastery
Also, as an alternative to traditional registration, you can now purchase a $0 unTicket through alternative forms of wealth, including kindness, creativity, community, and silence. Visit https://www.aftermindfulness.org/untickets for more information.
For more information