After Ignite: Microsoft MVP Governance & Adoption Workshops

Tuesday, October 24, 2017 from 8:30 AM to 2:00 PM (EDT)
Event Details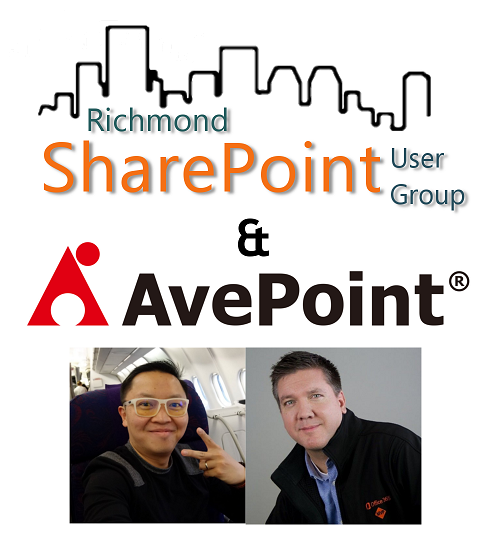 Present
After Ignite: Microsoft MVP
Governance & Adoption Workshops
Featuring Dux Raymond Sy & Christian Buckley
Hosted by the Richmond SharePoint User Group
Sponsored by AvePoint
8:30 AM to 2PM EST
Tuesday, October 24th
Workshops (only choose one)
Beyond SharePoint Deployment: How Can IT Inspire, Motivate and Drive Sustainable Adoption? 
Dux Raymond Sy
In most organizations today, SharePoint is nothing more than a glorified file share and while training is a critical component that can drive better adoption, it is not enough. 
To make the most of your SharePoint investment, it is critical that your users take advantage of SharePoint's full capability to address their day-to-day business needs. The key to drive excitement, organizational buy-in and adoption is being able to provide relevant, business-contextual application that drives consistent, sustainable usage. 
Join Dux Raymond Sy in this interactive workshop as he shares practical techniques on how you can drive sustainable SharePoint adoption in your organization. 
In this workshop, you will learn how to: 
Excite and inspire users with how SharePoint can support their daily business activities 
Align business needs and SharePoint capabilities to deliver relevant business solutions 
Identify training needs and delivery mechanisms 
Implement gamification techniques as a learning strategy to motivate and encourage SharePoint usage 
Groom champions from the business that can help promote the business benefits of SharePoint 
Establish an effective SharePoint support structure for on-demand learning, peer to peer knowledge sharing and higher level technical assistance 
Create a 12-month phased adoption program that facilitates change, empowers users and enables knowledge sharing within the organization 
Groups and Teams: How to Empower Collaboration within the Enterprise 
Christian Buckley
While Office 365 adoption continues to grow, some organizations struggle to get employees past the email and OneDrive basics to truly collaborate with their peers. Microsoft Groups and Teams are a new way to focus on collaboration, giving project teams and individuals the flexible features they need to get work done, while providing administrators with the security and governance controls required by the business. 
In this workshop, Christian Buckley will introduce Groups and Teams, explaining how they fit within the Office 365 ecosystem, and demonstrate a number of productivity features that will have an immediate effect on employee adoption and engagement. 
In this workshop, you will learn how to: 
Identify the different collaboration styles within your organization, and utilize the right tool for the right style. 
Explain the value of Groups and Teams to your users in relation to SharePoint, Yammer, Skype, and OneDrive. 
Set up and organize your Groups, Teams, Channels, SharePoint sites, OneDrive, and Office applications, in conjunction with other Office 365 workloads, to reinforce and clarify your company's messaging, communications, and organizational culture. 
Establish governance and compliance policies and procedures around Groups and Teams that re-assure Management that Groups and Teams are a productive and manageable work area, and serve as a set of welcome guideposts, easy to understand traffic signals, and safety sidewalks for employees who are entering into a new traffic pattern. 
Leverage bots, connectors, tabs, notifications – and the other Office 365 workloads – to get the most out of the communication platform and to spark the imagination and the creativity to help map prior business processes into the new set of tools. 
Create a phased adoption strategy for company-wide communication that focuses on measurable and sustainable success in the pilot phase, the early launch, the broadening and expansion and integration phases, and over a longer term. 
Understand examples of successful pilot programs within different business areas so that when you return to the office, you are ready to approach each business unit with strong value propositions, and provide the impetus for a successful pilot and launch. ​


AGENDA
8:30am    Registration & Breakfast
9:00am    Welcome & Workshops Begin
10:30am  Break
10:45am  Workshops Resume
12:30pm  Workshops End / Lunch is Served
1:00pm    Panel Discussion Begins
2:00pm    Panel Discussion Ends
When & Where

Microsoft
4301 Dominion Boulevard
Glen Allen, VA 23060


Tuesday, October 24, 2017 from 8:30 AM to 2:00 PM (EDT)
Add to my calendar
Organizer
We invite you to join the Richmond SharePoint User Group.  For more information, please contact us at richmondsug@live.com.
Visit us at www.richmondsharepoint.org.