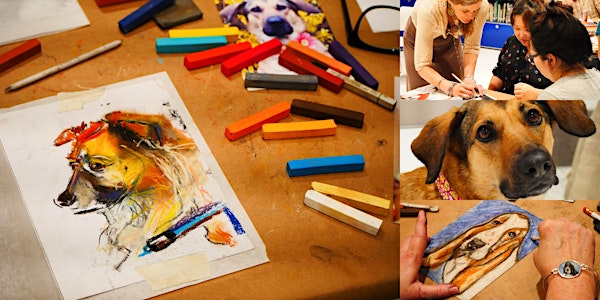 After-Hours Pastel Painting Workshop @ AKC Museum of the Dog
New York Adventure Club | www.AdventureClub.com
When and where
Location
Museum of the Dog (Entrance on 40th St) 101 Park Avenue New York, NY 10017
About this event
Calling all dog-lovers: this is your time, it's finally happening. An entire museum has been created in honor of your very best — and furriest — friends, and is ready to invite you to express your creative drawing skills to paint one very photogenic dog model, or a picture of your best bud.  
Join New York Adventure Club for an exclusive after-hours pastel painting workshop at the American Kennel Club (AKC) Museum of the Dog — now back in NYC after residing in St. Louis for 30 years, this one-of-a-kind museum showcases one of the largest repositories of canine-related art in the world.
Led by award-winning artist Karen Miura and her dog, Lucy, our fun and relaxed artistic experience will include:
Private access to the AKC Museum after the doors close to the public
A step-by-step demonstration on pastel painting dogs — bring a photo of your pet, or use Lucy as your muse!
A chance afterward to play with Lucy and browse the museum's collection that commemorates, signifies, and celebrates the human-canine relationship through fine art and artifacts, and dynamic exhibits and activities
An opportunity to visit the museum's gift shop before heading out
All painting supplies will be provided, and all art can be taken home!
Click here to see pictures from one of our last pastel painting workshops!
See you there!
*For guests who want to paint a picture of their pet, please bring a 5x7 or 6x8 Head Shot of your pet, along with a black and white photocopy of that photo
**Pets are not allowed inside the museum
***All interested are welcome, no painting experience is required
About Karen
Karen Miura is an award-winning artist and animal communicator from Dutchess County, New York, who discovered her affinity for animals and love of art at a very early age. Karen's concurrent work as an animal communicator grants her a deeper comprehension of her animal subjects. Follow Karen on Instagram at @artistkarenmiura.
Her dog, Lucy, is an extremely talented and well-behaved dog, who has her very own Instagram page! Follow her family adventures @lucydogadventures!
Testimonials
"Relaxed, easy going, all inclusive, friendly, unintimidating." -Michael
"Very organized. Karen was helpful and got around to everyone a couple of times" -Kathy
"The project was fun, the teacher was lovely" -Naidre
"It was a lot of fun, and very creative. The instructor went out of her way to make everyone welcome, and she gave invaluable help and instruction." -Nancy
"The space, the activity, the instructor, the dog" -Amanda
"It was fun and the teacher was very helpful!" -Kathryn
"I liked doing the pastel painting and getting to paint a picture of my own dog." -Shanna
"It was fun to make the pastel in a relaxed environment." -Meleena
"It was a great atmosphere, the artist was very helpful and just a very enjoyable experience overall." -Anita
"Relaxed, enjoyable event with excellent patient instructor. Instructor very obviously knew what she was doing. She handled the class with calm and expertise." -June
" Lucy! And the instructor was really good, as was the museum staff member who made us all feel quite welcome." -Lorena
"It was fun. Did not expect to be able to paint a portrait of anything much less a dog." -Mary
"Loved the hands on aspect and Karen was a wonderful, reassuring teacher." -Amanda
"Very informative, interesting and enjoyable." -Yadira
"Easy, convenient, friendly atmosphere. No pressure. Good instruction. Fun project." -Marian
"Great time with the very skilled painter, easy to follow." -Inna
"Easy accessible, well organized, friendly, high quality materials to work with" -Petra
"Best time I had of whole trip. Dog people are friendly and loving" -D.G.
"It was fun and relaxing. The staff were great and Lucy was the best." -Aelin
"Great time learning pastel technique in a friendly environment" -Michelle
Disclaimer
By attending a New York Adventure Club experience, you accept our terms of service.
By attending this New York Adventure Club experience, you agree for your contact information to be shared with the Museum of the Dog
Categories: In-Person, Instructional