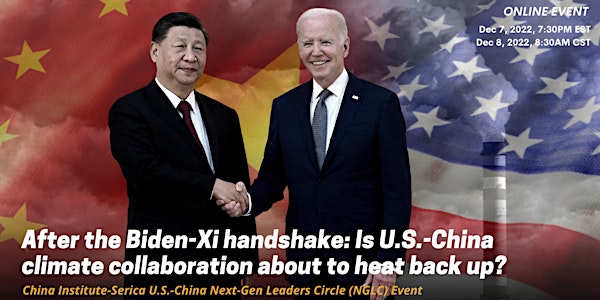 After Biden-Xi Handshake: Is U.S.-China Climate Collab About to Heat Up?
After the Biden-Xi handshake: Is US-China climate collaboration about to heat back up?
Refund Policy
Contact the organizer to request a refund.
Eventbrite's fee is nonrefundable.
About this event
The U.S. and China have hurtled toward decoupling in recent years. Relations between the world's biggest superpowers reached an unprecedentedly low point this year, as most U.S.-China bilateral dialogues — including on climate — were frozen after Speaker Nancy Pelosi's visit to Taiwan this August.
Yet, climate change waits for no one. Climate, perhaps more than any other field in the bilateral relationship, demands the highest level of collaboration between the U.S. and China. What are the biggest opportunities and challenges for U.S.-China climate cooperation going forward? Does the handshake seen around the world between Presidents Xi Jinping and Joe Biden — as well as the resumption of informal talks between U.S. Climate Envoy John Kerry and his Chinese counterpart, and Secretary of State Anthony Blinken's planned visit to China in 2023 — portend that U.S.-China climate partnership will soon warm up again?
Join China Institute-Serica U.S.-China Next-Gen Leaders Circle online on Wednesday, December 7, 2022 at 7:30PM Eastern Time/Thursday, December 8, 2022 at 8:30AM Beijing Time with a panel of top experts across sectors — from investors, policymakers, philanthropists, academics, and nonprofits — to discuss the road ahead for U.S.-China climate collaboration in the age of decoupling.
Speakers:
HE Siddharth Chatterjee is the United Nations Resident Coordinator in China, the highest-ranking representative of the UN Development System in China. He has more than 25 years of experience in international cooperation, sustainable development, humanitarian coordination and peace and security. Most recently, he served as the UN Resident Coordinator in Kenya after holding other leadership positions across the Organization, including as Resident Representative of the UNDP and Representative of the United Nations Population Fund (UNFPA) in Kenya; Regional Director for the Middle East and Europe for the United Nations Office for Project Services (UNOPS) in Denmark; and Chief of Staff in the United Nations Assistance Mission for Iraq (UNAMI). He also held leadership positions with the United Nations Children's Fund (UNICEF) in Indonesia, Somalia, South Sudan, and Sudan, and in UN Peacekeeping Operations with the UN Mission in Bosnia and Herzegovina (UNMIBH). Mr. Chatterjee has also served in the Red Cross Movement (IFRC) as the Chief Diplomat and Head of Resource Mobilization in Switzerland. Mr. Chatterjee holds a master's degree in public policy from Princeton University in the United States of America and a bachelor's degree from the National Defence Academy in India.
Ma Jun
Founding Director of IPE, author of China's Water Crisis (1999)
Ma Jun led the development of China's first environmental public database in 2006 and then the Blue Map, a mobile app that visualizes environmental and climate data to help the public monitor corporate emissions and use "micro-reports" against environmental violations.
Based on Blue Map data, IPE continues to promote green supply chain, serve green finance and empower public supervision, motivating more than 20,000 companies to openly address their violation problems or disclose carbon emissions data.
In 2006, he was awarded as China's "Green Person of the Year" and was named as one of TIME Magazine's World's 100 Most Influential People. Ma was also honored with the Magsaysay Award in 2009 and the Goldman Environmental Prize in 2012. In 2015, he received the Skoll Award for Social Entrepreneurship. In 2019, Ma was invited as a Special Observer by the Ministry of Ecology and Environment. In 2022, Ma received the Asia Game Changer Awards from Asia Society.
Panelists:
Andrew Chung has been a tech investor and entrepreneur for over 20 years with deep experience investing in climate tech and healthtech as an early investor in breakthrough companies that created US$30 billion of market value. He founded 1955 Capital that focuses on sustainability (energy, food, agriculture), education, health, and other emerging technologies. Prior to launching 1955 Capital, Chung was a general partner at Khosla Ventures, a venture capital firm with over $6 billion under management and the world's largest sustainable technology venture portfolio. As a thought leader in sustainable technology and U.S.-China collaboration, Chung served on a White House roundtable on advanced manufacturing during the Obama Administration and has advised global leaders on energy policy. He has given talks on the future of food and energy, moonshot entrepreneurship, ESG investing, and U.S.-China relations at numerous global conferences. Chung holds a BA in Applied Mathematics from Harvard University and an MBA from the Wharton School of Business. He currently serves on the Dean's Advisory Cabinet at the Harvard John A. Paulson School for Engineering and Applied Sciences, where he sits on the Harvard Life Sciences & Innovation Task Force, and served on the Advisory Board for the Wharton Initiative for Global Environmental Leadership.
Professor Xuhui Lee is Sara Shallenberger Brown Professor of Meteorology, Director of the Yale Center for Earth Observation, and Program Coordinator of the Yale-Tsinghua dual degree program. His research areas include boundary-layer meteorology, micrometeorological instrumentation, remote sensing, and carbon cycle science. One focus of his research activity is on biophysical effects of land use on the climate system. Other ongoing projects investigate greenhouse gas fluxes in the terrestrial environment (forests, cropland and lakes), isotopic tracers in the cycling of carbon dioxide and water vapor, and urban climate mitigation. He is recipient of the 2015 Award for Outstanding Achievement in Biometeorology from the American Meteorological Society. His recent textbook Fundamentals of Boundary-Layer Meteorology offers the accumulation of insights gained during his academic career as a researcher and teacher in the field of boundary-layer meteorology.
Moderator:
Jeremy Goldkorn is co-host of the Sinica podcast and editor-in-chief of SupChina.com. He moved to China in 1995 and became managing editor of Beijing's first independent English-language entertainment magazine. In 2003, he founded the website and research firm, Danwei, which tracked Chinese media, markets, politics and business. It was acquired in 2013 by the Financial Times. Goldkorn is founder of Great Wall Fresh, a social enterprise to help Chinese peasant farmers run small tourism businesses catering to foreign outdoor enthusiasts. He has lived in a workers dormitory, produced a documentary film about African soccer players in Beijing, and rode a bicycle from Peshawar to Kathmandu via Kashgar and Lhasa. He moved to Nashville Tennessee in 2015 and is a board member of the Tennessee China Network.
This event is co-presented by China Institute and the Serica Initiative, in partnership with U.S. China Climate Forum.