Description
Attend the Event
We are at capacity for this event. Thank you very much for your interest.

For press related inquiries, please contact Info@wearttaiwan.org.


After Party

Meet Macy at the after party, which is located within walking distance from the concert venue. Welcome to invite friends! Macy's album will also be available for sale at the party.

Time: July 15th, 10:30pm
Location: Nirvana (346 Lexington Ave, between 39th/40th Street.)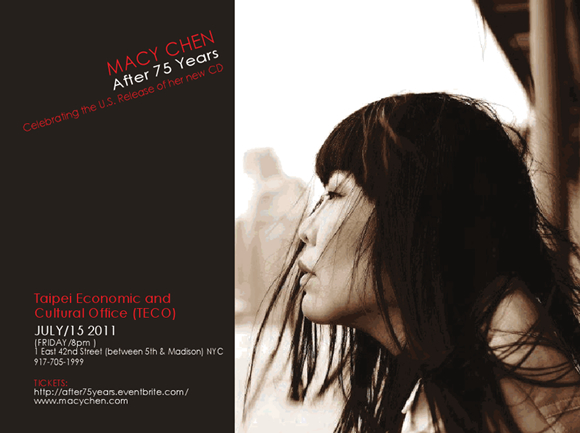 A Stunning Debut

Be a part of a revolutionary moment in music history on July 15th when famed Taiwanese vocalist Macy Chen performs live and records the music video for "After 75 years", a unique Jazz album recorded with some of the biggest names in American Jazz and showcasing Macy's unrivaled voice.
About the Album
Ten years ago, a Taiwan-born songstress journeyed to New York City in the footsteps of Sarah Vaughn. What she found was a startling musical revelation that linked Harlem to Keelung Harbor, stretching through decades and generations of her own family past.

Five years in the making, this album features both originals and classic Chinese songs that defined an era now faded in memory, re-interpreted by veteran New York musicians and delivered with heart-wrenching soul, by a voice that speaks to the truth and longing in us all.

This album is a sterling work of Asian jazz diaspora, of which nothing is lost in translation.


Reviews
A beautiful bridge between eastern and western cultures

Macy Chen has built a beautiful bridge between two very different cultures. Her translations and re-imaginings of classics from the American song book into Mandarin have created a lovely new sound. Although I do not speak the language, I marvel at how musical her new lyrics sound in that exotic ancient tongue. "After 75 Years" is a rare and special treat. I played a few selections from the album for my graduate audio mastering class at New York University and students from both China and the US were very enthusiastic in praising Macy's voice and style. -A.S.
Organizer of After 75 Years - US Album Release Concert